Will Za'Darius Smith Be Back in 2023? + Top NFL Offseason Storylines
Jul 29, 2022; Minneapolis, MN, USA; Minnesota Vikings outside linebacker Za'Darius Smith (55) speaks to the press after training camp at US Bank Stadium. Mandatory Credit: Matt Krohn-USA TODAY Sports.
New Vikings defensive coordinator Brian Flores is currently immersed in evaluating the team's defensive players so he can make his pitch to head coach Kevin O'Connell and GM Kwesi Adofo-Mensah on who he'd like to keep and who can be let go in free agency or via cuts. 
When Flores watched tape of outside linebacker/edge rusher Za'Darius Smith over the first nine games last season, he saw one of the NFL's most impactful defenders who was playing at an elite level and among the league leaders with 9 1/2 sacks, 17 quarterback hits, 14 tackles for loss and 29 tackles. Smith was a bargain at that point for his $14 million per year contract. 
Will Za'Darius Smith Be Back in 2023? + Top NFL Offseason Storylines
But when Flores watched Smith over the last eight games, he saw an overpaid, much less effective player trying to overcome a knee problem and more attention from opposing teams. The stats for Smith went from terrific to dramatically worse with only 1/2 sack, 8 QB hits, 2 tackles for loss, and 18 tackles over his last eight games, including a too quiet playoff performance with no sacks and no QB hits when a much greater impact was needed in the loss to the Giants.
Decision day is coming in mid-March for Vikings players such as Smith. $23 million must be cleared for the Vikings to be under the NFL-mandated salary cap to begin the 2023 league year. The team will commence the process of extending key players such as Kirk Cousins, Justin Jefferson, and Danielle Hunter, re-signing (if the team so desires) the likes of pending free agents Dalvin Tomlinson, Garrett Bradbury, Patrick Peterson, Alexander Mattison, Irv Smith Jr., and Greg Joseph and then having the cap room to pursue outside free agents and sign incoming draft picks. 
We know extending Cousins' contract to gain significant cap relief will be one of the team's first moves. The big questions will involve highly-paid vets such as Smith and whether the Vikings will choose to restructure their contracts, possibly through extensions with voidable years, or release them. 
The Vikings would save $13.6 million under the cap by cutting Smith before March 17, when $5.05 million of his 2023 base salary would become guaranteed. Or they can try to keep him with a restructured deal that could include a pay cut with play-time and sack incentives which would allow Smith to regain salary he gives up. 
I did plenty of those restructure or paycut plus incentives deals during my GM days that must include the player wanting to stay with the team along with him and his agent believing there would not be a significantly better offer from another team if he's released. 
It would be fascinating to hear Flores give his opinion to the Vikings brass on Smith, along with other high-salaried defensive players such as Hunter, Tomlinson, Peterson, Eric Kendricks, and Harrison Smith, many of whom I'm sure Flores will say he needs to run his D at a much higher level than Minnesota's No. 31 ranked unit last season.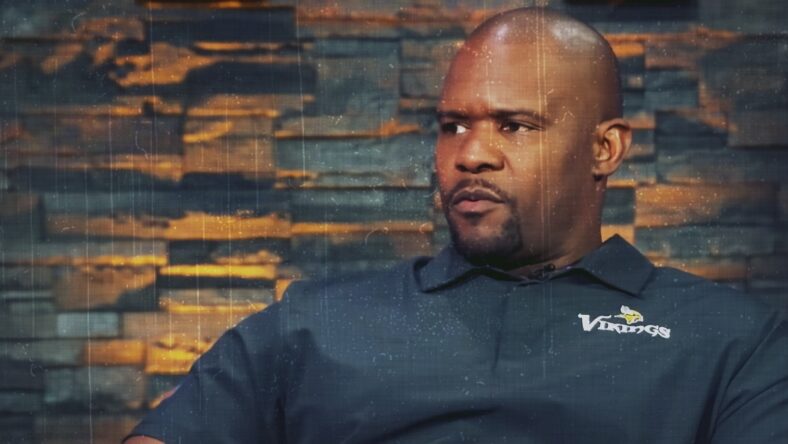 A big part of the decision on Za'Darius Smith (who turns 31 in September) will be whether the team doctors and athletic trainers feel he can hold up physically over the season or if his knee and other potential ailments (such as his back that knocked him out of his last season in Green Bay in 2021) will again curtail his productivity as it did late in 2022. 
Smith's situation is different than Dalvin Cook's (with his $14.1 million cap hit in 2023 that makes him vulnerable to trade or release) in that an edge rusher is much more highly valued in today's NFL than running backs, as we saw in the Super Bowl with neither the Chiefs nor Eagles paying a back over $2 million in 2022.
The top pass rushers, such as Nick Bosa and T. J. Watt, are making over $25 million per year, and teams have no problem paying big bucks to their top edge rushers, such as Smith and Hunter, as long as they stay healthy (which Hunter did but Smith's knee was a problem last season).
We'll soon know if Za'Darius is a keeper or a goner in 2023. If he is released, the Vikings will need to find a viable pass-rushing option via free agency, the draft, and by further development of young returnees D.J. Wonnum and Patrick Jones, who have shown promise but not yet at the elite level of Smith or Hunter when they're playing at their peak.
Around the NFL Observations:
Here are the top storylines I'll be following in the 2023 offseason and on into the regular season that will open with the Super Bowl champion Chiefs hosting the "NFL Kickoff Game" on Thursday, September 7:
1. Will Aaron Rodgers return to Green Bay or be traded to the Raiders, Jets, or a more under-the-radar team? I think when he returns from his ridiculous "darkness retreat," he'll have decided to continue playing so he can receive his $59 million for 2023 rather than retiring, partially because his ego won't allow him to share the spotlight by entering the Pro Football Hall of Fame as a first-ballot enshrinee in the same year as the now-retired Tom Brady. 
2. Whither Lamar Jackson's next contract: will he and the Ravens agree to a long-term deal, or will Jackson be hit with the one-year franchise tag? That will depend in large part on if Jackson comes off his demand for a fully guaranteed contract similar to what Deshaun Watson was able to get from the desperate Browns in order for Watson to waive his no-trade clause.
I think Jackson should hire an agent (he's currently acting as his own agent) and compromise by taking a partially guaranteed deal as other top QBs, such as Rodgers and Patrick Mahomes, have done. But after missing six games (including the Ravens' playoff loss to the Bengals) with a knee injury last season, the Ravens may be content to franchise him for 2023 before committing to a long-term deal in the $45-50 million per year range. I see a franchise tag season coming for Lamar. 
3. Bears and the No. 1 pick: do they keep the pick and likely take the best defensive player in the draft—either Georgia defensive tackle Jalen Carter or Alabama edge rusher Will Anderson? Or, more likely, trade down a couple of spots and still get the defensive player they want while picking up more high draft picks to add receiver help for QB Justin Fields? 
4. Will new Denver Head Coach Sean Payton revive Russell Wilson as a top QB capable of leading the Broncos to playoff contention after their dismal 5-12 season in 2022 when Wilson played far below his Seattle standard?
5. What will happen with the cream of the 2020 draft class and potential lucrative extensions for Pro Bowl quarterbacks Joe Burrow, Justin Herbert, Jalen Hurts, and of course Justin Jefferson?
6. Coaching hot seat — there were only five head coaches fired during and after the 2022 season compared to 10 the previous year. I think the number of 2023 firings will be closer to the 10 in 2021, and we'll be following the plight in a positive or negative direction for this group of coaches already on the hot seat in varying degrees: Dennis Allen–Saints; Todd Bowles–Bucs; Matt Eberflus–Bears; Mike McCarthy–Cowboys; Josh McDaniels–Raiders; Ron Rivera—Commanders; Brandon Staley—Chargers; Arthur Smith—Falcons, and Kevin Stefanski—Browns.  
---
Jeff Diamond is a former Vikings GM, former Tennessee Titans President and was selected NFL Executive of the Year after the Vikings' 15-1 season in 1998. He now works for the NFL agent group IFA based in Minneapolis and does other sports consulting and media work along with college/corporate speaking. Follow him and direct message him on Twitter– @jeffdiamondnfl