Vikings Need More from Cousins and Flores among Others to Get on Track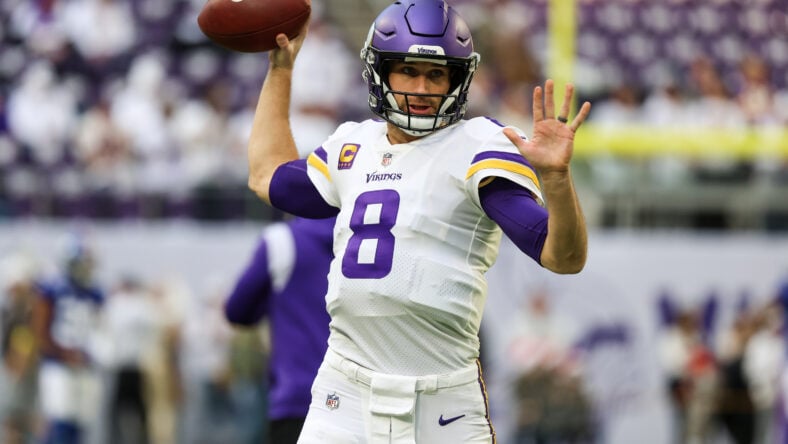 Dec 24, 2022; Minneapolis, Minnesota, USA; Minnesota Vikings quarterback Kirk Cousins (8) warms up before the game against the New York Giants at U.S. Bank Stadium. Mandatory Credit: Matt Krohn-USA TODAY Sports.
It seems way too early to call Sunday's game in Carolina a must-win for the Vikings, but let's be realistic. A loss to the Panthers would drop the Vikings to 0-4 (the same number of losses they had the entire 2022 regular season).
Vikings Need More from Cousins and Flores, among Others to Get on Track
And with the defending Super Bowl champion Chiefs and Patrick Mahomes coming to town the following Sunday, the Vikings would be staring at a likely 0-5 record, which is almost certainly too big of a hole to climb out of and make the playoffs.
With last Sunday's avoidable defeat at the hands of the Chargers, the Vikings have lost two winnable home games, including the Bucs opener. The vultures are circling, and they're focused on Kirk Cousins, who has five turnovers and did a horrific bad job of clock management by not spiking the ball with 30 seconds left last Sunday. I think the critics also should be tougher on defensive coordinator Brian Flores, who has been way too slow to make adjustments thus far.
Cousins said this week, "It's a long football season, and we have a lot of opportunities up ahead. But we've dug ourselves a hole and have a long way to climb out."
The climbing better start in Charlotte on Sunday, or the chatter about Cousins' future and even the speculation on trading superstar Justin Jefferson (a totally ridiculous idea) will further intensify.
Here are my keys to the Vikings beating the Panthers:
1. Cousins must play better and smarter at crunch time: He was great in late-game situations last season (until the playoff loss) with the eight comeback wins, but he's now lost four straight, including the playoff game against the Giants, and has not been clutch at the end of games. The fiasco against the Chargers with forcing the ball to a covered T. J. Hockenson (shades of the last play of the Giants playoff loss) after not spiking the ball simply should not happen with a 12-year vet and four-time Pro Bowler.
Cousins' stats look great as he leads the league with 1,075 passing yards and ranks third in passer rating at 108.2. He's made a lot of excellent throws, such as the 52-yard TD pass under pressure to Justin Jefferson against the Chargers, but he's made too many critical mistakes with the turnovers and awful ending last week. 
If Cousins wants a new contract in 2024 from GM Kwesi Adofo-Mensah in the $45 million per year range so he can stay in Minnesota as he wants to do, he needs to lead the Vikings back to the playoffs and probably win at least one postseason game. Otherwise, I expect the Vikings GM to look to a strong 2024 QB draft class headed by USC's Caleb Williams (with five or six potential first-round QBs) so he can have a quarterback on a cheap rookie deal.
He could then use some of the extra cap room from a less expensive QB toward new deals for Jefferson (who leads the league in receiving yards) and Danielle Hunter (second in the league with five sacks).
2. Back to Flores, I expected more out of him with all the preseason talk of his aggressive scheme improving the Vikings' defensive play. Well, the team ranks 26th in total D after finishing 31st last season, and that's not enough improvement. I'm surprised by the slow adjustments Flores has made in the first three games with Tampa Bay and Baker Mayfield going to a quick passing game (and getting Mike Evans on safety Josh Metellus in deep coverage), the Eagles running at will against Flores' three-man front and then Justin Herbert and the Chargers repeatedly beating Flores' excessive blitzing (81% of the snaps) which left corner Byron Murphy trying to single cover five-time Pro Bowler Keenan Allen.
That turned out badly, with Allen having a franchise-record 18 receptions for 215 yards. So stay aggressive, Flores, but back off a bit on the blitzing. 
3. Be better in the red zone and finally come out ahead in the turnover battle: one TD and one field goal in five red zone trips won't cut it, especially when the Vikings came up with no points on the last two drives when they reached the Chargers 2 and 6-yard line.
The Vikings are an NFL-worst minus 7 in turnover ratio and have lost the turnover battle in all three losses. That has to change on Sunday and moving forward.
4. Target J.J. early and often: no targets in the first 20 minutes is inexcusable for the best receiver in the game, and I don't care how well the team is running the ball. Jefferson is the difference-maker on the Vikings offense. 
5. Don't wait on O-line changes: O'Connell indicated center Garrett Bradbury is expected to start on Sunday even though he's been limited in practice. That will help the Vikings cause, but they must get Dalton Risner in the lineup at right guard in place of Ed Ingram, who gave up six pressures in the Chargers game and has not improved in pass protection from a shaky rookie season. Cousins was sacked four times and hit 13 times last Sunday, and he needs better protection to keep two-time Pro Bowl edge rusher Brian Burns off him (3 sacks this season; 12.5 in 2022 for Burns). 
6. Run the ball effectively: the Panthers rank 28th against the run and 10th vs. the pass, so the Vikings should try to be somewhat balanced offensively. One hundred thirty rushing yards last week was a big improvement over the first two games, but Alexander Mattison has to hang onto the ball, and it will be interesting to see what Cam Akers can do as a runner and receiving back (and I say give Ty Chandler more touches with his speed and agility as Mattison is a plow-ahead back who doesn't seem to have the vision to cut back which Chandler does and we'll have to see with Akers). 
7. If Bryce Young plays, be more aggressive, and someone else gets sacks besides Hunter: Young missed the Panthers' loss in Seattle last week with an ankle injury, and Andy Dalton stepped in with 361 passing yards and 2 TDs with no turnovers. Young started the first two games (also losses to Atlanta and New Orleans) and was not overly impressive, with a 59% completion rate and a 66.6 passer rating while taking six sacks and throwing two interceptions. Perhaps the Vikings are better off with Young playing this week as the first-overall pick continues his adjustment to the NFL. 
Flores should call more blitzes against Young than if the vet Dalton plays. And Hunter has five of the team's six sacks, so it's about time for some sacks and pressures from D.J. Wonnum, Patrick Jones, and Marcus Davenport (if they can get him on the field and at least he's practicing on a limited basis this week). Interior D-linemen such as Dean Lowry, Harrison Phillips, and Jonathan Bullard also must be more impactful rushing the passer along with stopping the run (which Bullard did well on his fourth-down stop late in the Charger game). 
8. Cover Thielen and contain Sanders: full disclosure is my agent firm, IFA, represents Adam, so I'd love to see him have another big game like he did in Seattle (11 catches, 145 yards, 1 TD) but I'd prefer it to be in a losing cause this week. The Vikings corners obviously need to do a much better job against Thielen than they did vs. Allen last week. And the D must contain Pro Bowl back Miles Sanders, who left the Eagles and joined the Panthers in free agency. It's been tough so far for Sanders, with only 139 rushing yards and a 3.4-yard average. 
9. Win the special teams battle: ex-Viking Ihmir Smith-Marsette is Carolina's punt returner, and he has only a 3.7-yard average on seven returns so far. The Panthers' kicker and punter–Eddy Pineiro and Johnny Hekker—are having good seasons, so Vikings kicker Greg Joseph (perfect on field goals and PATs) and Ryan Wright (a fine 50.8-yard punting average) must continue to kick well, and a big punt return (and hanging onto the ball) by Brandon Powell would help the Vikings' cause.
Jeff's Pick:
Nothing is coming easy this season, and I expect a close game. The Vikings are the more talented team, and I see them making enough big plays on offense while playing a bit better on defense. Both teams are struggling to score enough points to win games, so I see a relatively low-scoring game. I pick the Vikings 27-21.
Around the NFL Observations:
1. The Packers have had their share of injury issues during their 2-1 start going into their Thursday night matchup with Detroit. Now they have placed often-injured Pro Bowl left tackle David Bakhtiari on injured reserve, so he'll miss at least the next four games, which will include the Vikings' Week 8 game at Lambeau Field. 
2. Game of the week in the NFL is 3-0 Miami at 2-1 Buffalo. Too bad it's a noon start and not a more showcased game with star QBs Tua Tagovailoa and Josh Allen trying to get a big AFC East win. Buffalo's second-ranked defense is lightyears better than the Denver D that the Dolphins just put up 70 points against, and I like the Bills to get a close and exciting win at home.
3. Another interesting matchup is a pair of 2-1 AFC North teams meeting with Baltimore at Cleveland. The Browns have the league's top defense, led by Myles Garrett (4.5 sacks), and QB Deshaun Watson is coming off a strong game in last week's win over the Titans. I think the Browns will contain Lamar Jackson and do enough on offense to beat the Ravens. 
4. The Sunday night game looked like a fun matchup back when the schedule was released with the Chiefs and Patrick Mahomes at the Jets, who we thought would have Aaron Rodgers. Now, with Rodgers out, it's Zach Wilson at QB, and he is struggling as he did last year. Mahomes vs. Wilson is a QB mismatch, and the Chiefs should win this one rather handily despite facing an inspired Jets team on national TV.  
---
Jeff Diamond is a former Vikings GM, former Tennessee Titans President and was selected NFL Executive of the Year after the Vikings' 15-1 season in 1998. He now works for the NFL agent group IFA based in Minneapolis and does other sports consulting and media work along with college/corporate speaking. Follow him and direct message him on Twitter– @jeffdiamondnfl