Keys to a Vikings Bounce Back Win over Eagles
Sep 19, 2022; Philadelphia, Pennsylvania, USA; Minnesota Vikings offensive tackle Christian Darrisaw (71) prepares to block against the Philadelphia Eagles at Lincoln Financial Field. Mandatory Credit: Eric Hartline-USA TODAY Sports.
It's not a good thing for the Vikings when the toughest game on their schedule is a road game in a short week on Thursday night against the defending NFC champions, and it follows a clunker of a performance in the opening loss to Tampa Bay.
Keys to a Vikings Bounce Back Win over Eagles
Yet this is where the Vikings find themselves after losing a very winnable game at home against an average team because of three turnovers, too many key penalties, and a worn-down defense late in the Bucs game. And they're in a tough spot after Detroit and Green Bay won their openers and have winnable games this Sunday — at home against Seattle for the Lions and at Atlanta for the Packers.
It was interesting that the Vikings did not practice on Monday or Tuesday to keep the players fresh in the short week. They're surely doing walk-throughs, but is that enough to prepare for the powerful Eagles? Philly won its opener 25-20 in New England (but the Eagles weren't overly impressive in the process) and are considered the favorite to repeat as NFC champs after keeping most of their key players through extensive use of voidable contracts. They also added defensive talent in the first round with Georgia stars Jalen Carter at DT and Nolan Smith at edge rusher/OLB.
It will be a wild night with the usual rabid crowd at Lincoln Financial Field for the Eagles home opener.
Here are my keys to the Vikings beating the Eagles (an unlikely outcome, but you never know):
1. Protect the ball, Kirk: After his three turnovers (with guard Ed Ingram responsible for knocking the ball loose in the first quarter), Cousins must be more aware of the stout Eagles pass rushers (70 sacks to lead the league last season) led by Haason Reddick (16 sacks in 2022). He must protect the ball when pressured and throw it away or take a sack but not fumble as he did on the Antonie Winfield blitz on Sunday.
Cousins also can't make risky throws as he did to K.J. Osborn on the goal-line interception at the end of the first half against the Bucs (unless he's throwing to Justin Jefferson). Cousins was picked off three times by the Eagles in the 24-7 Monday night loss in Week 2 last season. He made plenty of good throws to Justin Jefferson and Jordan Addison on Sunday, but the turnovers were a game-killer.
2. The offensive line will be severely tested in this game, and there's a good chance they will be without Garrett Bradbury, whose back injury flared back up, so there is immense pressure on backup center Austin Schlottmann to do the job. Ingram is a big concern going against the Eagles excellent group of defensive tackles (Fletcher Cox — who is battling a rib injury — plus Jordan Davis and Carter). The Vikings definitely need their excellent left tackle Christian Darrisaw to recover from his ankle injury and be able to stay on the field throughout this game.
3. Run it better than last week — after only 41 yards rushing (2.4 yards per carry) against the Bucs when there were few open holes, the Vikings need their run game to step up against the Philly D that ranked 17th against the run last year while leading the league in pass defense. But the Vikings only gained 62 yards in last year's matchup, with 20 of those yards coming from Cousins.
4. J.J. has to have his usual 100-plus yard game and make a few big plays, but the Osborn/Addison duo must step up along with Hockenson: Jefferson was held to 48 receiving yards on six catches as Pro Bowl corner Darius Slay did a fine job on him with safety help last time. Slay is expected to shadow J.J. again, and he must always be targeted 10-15 times (and definitely more than two times in the second half, which happened last week).
But Second-team All-Pro corner James Bradberry is expected to miss this game while in concussion protocol, which should open things up for Osborn (who must play better than he did vs. the Bucs) and Addison, who did have a promising debut with his 39-yard TD catch and four receptions overall.
Hockenson should be open against the Eagles linebackers and safeties, who are average players, and starting linebacker Nakobe Dean is out with a foot injury.
Of course, the chances for Cousins and the receiving corps to make plays are predicated on having time to throw, which is questionable against this group of pass rushers.
5. Win the turnover battle and cut down on the costly penalties: enough said regarding these obvious areas of concern from the opener.
6. Contain Jalen Hurts: Last year's Second-team All-Pro QB was held in check by Bill Belichick's Patriots D last week with only 170 passing yards and 37 rushing yards. He hurt the Vikings last year with 333 yards passing (1 TD) and 57 yards rushing with 2 TDs. Vikings DC Brian Flores is a Belichick disciple, so he's undoubtedly studying the game tape from last week to see what the Pats did to contain Hurts. But do the Vikings have the defensive personnel to get it done? They surely need pass rusher Marcus Davenport recovered from his ankle injury after getting little pass rush in the second half last week.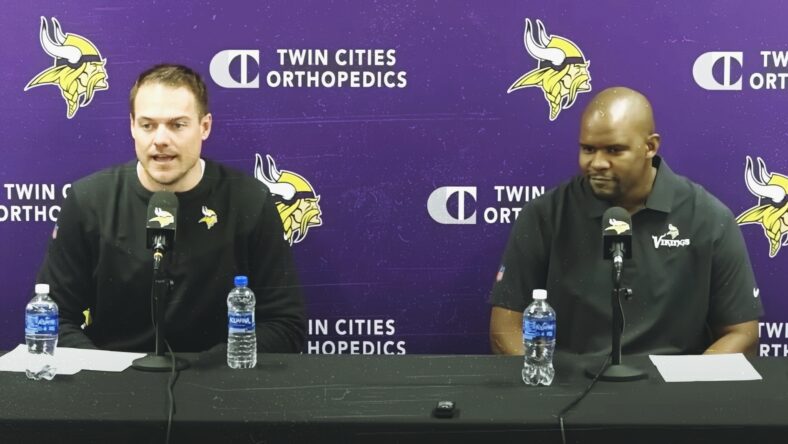 7. Cover two great receivers and a fine tight end: A.J. Brown and DeVonta Smith are an excellent duo at WR, and TE Dallas Goedert had a big game against the Vikings last year with five catches for 82 yards. Hopefully, safety Josh Metellus won't find himself having to cover these wide receivers after Mike Evans beat him deep last week. Corners, not safeties, need to cover wideouts.
8. Stop the run: Pro Bowl back Miles Sanders is in Carolina now, and the Eagles go with running back by committee led by Kenneth Gainwell, who had 54 yards rushing last week, and he's a good receiving back (but he has a rib problem so we'll see if he can play). The Vikings did well against the run last week (only 73 yards allowed), but the Eagles O-line has three Pro Bowlers (led by center Jason Kelce), so Minnesota's run D and ability to pressure Hurts will be tested.
9. Win the special teams battle: The Vikings kick coverage units and kicking game were good enough last week until rookie Jay Ward lined up offside to give the Bucs a shot at a TD instead of a field, which became the damaging result. Maybe Brandon Powell can break a punt return to help the Vikings' cause.
Jeff's Prediction: The Vikings need to pull an upset somewhere to make up for dropping a game against the inferior Bucs. It won't happen on a short week in Philly unless some crazy things occur. The Eagles have too much talent, and I think they will win it all this season. There's no such thing as moral victories in the NFL, but making this a close game could be a confidence booster even if the result is a 0-2 start. Eagles win 27-17.
Around the NFL Observations:
1. The season-ending Achilles tendon injury to Aaron Rodgers actually helps the Vikings in that the Packers now will receive the Jets' second-round pick in next April's draft instead of a first-rounder if Rodgers had played 65% or more of the offensive snaps this season.
2. Several 2022 playoff teams who, like the Vikings, laid an egg as favorites in their openers will hope to bounce back this week. The Bengals were awful on offense in rainy Cleveland (career-low 82 yards passing from Joe Burrow, who may be struggling with the calf that kept him out of most of training camp). I like the Ravens to pull an upset in Cincinnati this week in a key AFC North game.
Can the Seahawks rebound in Detroit after they were outscored 23-0 in the second half of their home loss to the Rams? I'm going with the Lions to get to 2-0 and put more pressure on the Vikings in the division race.
Kansas City at Jacksonville is a rematch of the Chiefs' seven-point win in last year's AFC Divisional Playoff. With DT Chris Jones back from his holdout and if star tight end Travis Kelce can play with his knee issue, I'll take the Chiefs to return to their winning ways in a close game that could be a shootout between Patrick Mahomes and Trevor Lawrence.
3. In other interesting games, I see the Packers winning in Atlanta behind Jordan Love, who is gaining confidence. I think the 49ers bring the Rams back to earth after L.A.'s dominant upset win in Seattle. The 49ers have won eight of the last nine meetings between the two teams and were very impressive in whipping the Steelers in Pittsburgh in Week 1.
The Jets lost their chance to pull an upset in Dallas when Rodgers was lost for the year. Zach Wilson will be under siege from the fierce Cowboys pass rush that sacked Daniel Jones seven times last Sunday.
Can Belichick come up with a defensive gem against the potent Dolphins offense that was dynamic in their win over the Chargers, with QB Tua Tagovailoa (446 passing yards, 3 TDs) and WR Tyreek Hill (11 catches for 215 yards, 2 TDs) lighting up the Chargers? Pats QB Mac Jones looks back on track under new OC Bill O'Brien after throwing for 316 yards and 3 TDs against the usually tough Eagles D. I like New England to win a close, exciting Sunday night game at home.
---
Jeff Diamond is a former Vikings GM, former Tennessee Titans President and was selected NFL Executive of the Year after the Vikings' 15-1 season in 1998. He now works for the NFL agent group IFA based in Minneapolis and does other sports consulting and media work along with college/corporate speaking. Follow him and direct message him on Twitter– @jeffdiamondnfl