Why Folks Don't Believe in the Vikings This Year
Nov 20, 2022; Minneapolis, Minnesota, USA; Minnesota Vikings head coach Kevin O'Connell looks on prior to the game against the Dallas Cowboys at U.S. Bank Stadium. Mandatory Credit: Brace Hemmelgarn-USA TODAY Sports.
After winning 13 games with a new head coach in 2022, the Minnesota Vikings undertake a moiling task of replicating or improving.
Thirteen wins were the most ever by a first-year Vikings head coach and only the third time in franchise history that the club won 13 games at all.
Why Folks Don't Believe in the Vikings This Year
But even as the Vikings embark on Kevin O'Connell's second season with the nifty resume from last year, many don't believe the team will match 2022's output or perhaps even come close. There is no benefit of the doubt. In fact, oddsmakers maintain the Vikings will finish 8-9 or 9-8 — the new emblem of mediocrity in a 17-game season.
And for better or worse, here's why experts and sportsbooks feel that way.
1. Guaranteed Regression
Leading into every regular season, pundits peer at the landscape of the league and determine 'who will miss the playoffs that made it last year.' The Vikings are normally the first team mentioned this go-round.
The Vikings won the NFC North with an upside-down point differential last year, surrendering three more points than they scored. O'Connell's Vikings were often flogged in the first three quarters of games, but when the 4th Quarter arrived, every player sat up from his chair like he was playing NBA2K or Madden with his little brother.
Fast forward to 2023, and experts believe Minnesota is incapable of duplicating its 'situation mastery' late in games once again. Therefore, regression is on the menu. That's the working theory, anyway.
2. The Defense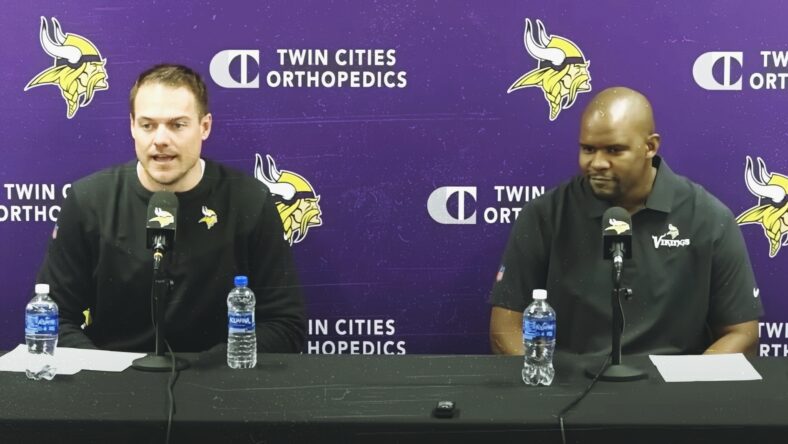 Minnesota ranked 27th in defensive DVOA last year and later said goodbye to Eric Kendricks, Za'Darius Smith, Dalvin Tomlinson, Patrick Peterson, and Duke Shelley. Some say the Vikings defense needed a full renovation — it finished sixth-worst in defensive DVOA for God's sake — while others shout that losing such players is a death blow.
Thankfully for all parties, Brian Flores was hired to fix Ed Donatell's sins. Minnesota's front office is banking on Flores as a cure-all.
Vegas doesn't believe Flores can repair the defense alone. Otherwise, the Vikings wouldn't be forecasted for 8.5 wins. The over-under would be closer to 10.
3. Folks Don't Understand a 'Competitive Rebuild'
General manager Kwesi Adofo-Mensa defined his competitive rebuild philosophy in this way last year, "I think when people look at teams, they sometimes do it in a very binary way. And they ask, 'Are you either all-in or tearing down and rebuilding?' And I don't really look at the world that way."
"The way we look at it is, we're trying to navigate both worlds, we're trying to live in today and tomorrow, or the competitive rebuild — however you want to phrase it or market it — and so I think that's kind of how we've approached this offseason and our time horizons going forward," Adofo-Mensah said a year ago.
The problem is some people don't believe him. They write and tweet on the internet that the Vikings have an 'identity crisis' or that they're 'sending mixed signals' by trying to live in both philosophical zones.
Accordingly, non-believers of Adofo-Mensah's words label the Vikings 2023 offseason strategy as confusing, botched, or incompetent. And once they can't figure out Minnesota's path — even though the GM has vividly explained it on a microphone a few times — they shrug their shoulder and exclude Minnesota from their playoff predictions.
Must be a full rebuild because I can't read or hear Kwesi's words right, and I don't know what's going on — is where they land.
4. Kirk Daniel Cousins
Sometimes, NFL brains merely glance at the Vikings depth chart, see Kirk Cousins at QB1, and think, "Ope. There's Kirk. They won't go far." They then jot down 8-9, and that's that.
Such is life with Cousins at QB1, at least per people's predetermined opinions regarding the man. Cousins is the only quarterback in history who's thrown 4,000+ passing yards and 30+ touchdowns per season like clockwork while educated men and women surmise, "Is that really any good? The Vikings can do better."
Meanwhile, Minnesota has won just one playoff game on Cousins' watch, fueling the divisive vibe of his employment in the North Star State. Tell a Cousins naysayer that the Vikings finished 13-4 despite utilizing the NFL's third-worst defense per points allowed in 2022, and within minutes, they'll tell you why Cousins was to blame last year or how he didn't do enough to drag the team to the Promised Land. Those guys and gals simply ignore the defense's efficacy.
Remember all that sympathy from the media and fans afforded to Matthew Stafford in Detroit from 2009 to 2020? Poor guy never gets any help. Take that mindset — and flip it. That's the Kirk Cousins experience. That damn Kirk can't win the Super Bowl with NFL's third-worst defense per points allowed [insert resentment here].
From 2018 to 2021, some Vikings fans would assert, "Cousins needs everything to be perfect for the Vikings to win." Then 2022 hit the calendar, and Cousins needed to be perfect for the Vikings to win. That became the new standard.
Even if it's debunked by ironclad statistical evidence, Cousins' detractors will tell you his 4,000+ passing yards and 30+ touchdowns are replaceable and that the Vikings can do better with the 'next guy.'
After that, they scribble 8-9 in bold font next to the Vikings 2023 projection and start writing about how Jared Goff will lead the Detroit Lions deep into the postseason.
---
Dustin Baker is a political scientist who graduated from the University of Minnesota in 2007. Subscribe to his daily YouTube Channel, VikesNow. He hosts a podcast with Bryant McKinnie, which airs every Wednesday with Raun Sawh and Sal Spice. His Vikings obsession dates back to 1996. Listed guilty pleasures: Peanut Butter Ice Cream, 'The Sopranos,' Basset Hounds, and The Doors (the band).
All statistics provided by Pro Football Reference / Stathead; all contractual information provided by OverTheCap.com.