Vikings Projected to Receive Extra Draft Pick
Kwesi Adofo-Mensah
Minnesota Vikings general manager Kwesi Adofo-Mensah swung extraneous deals for cornerback Akayleb Evans, wide receiver Jalen Reaor, and tight end T.J. Hockenson in Year One of duty, and the 2023 draft cupboard is a little barren.
The Vikings are scheduled to draft just four times between April 27th and 29th, an oddity for a franchise that usually ends up with about 10 picks after a given draft.
Vikings Projected to Receive Extra Draft Pick
But the skimpiness appeared to ease this week, as Minnesota is projected to receive an extra draft pick from the NFL's compensatory process — a 5th-Rounder, in all likelihood.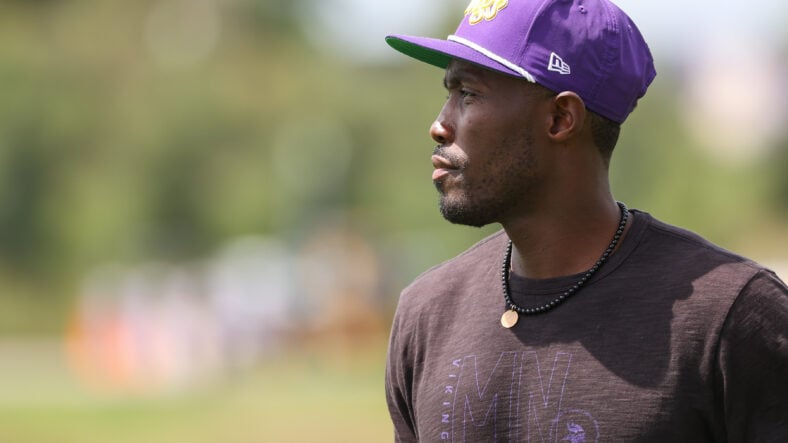 The spooky "only four picks" menu was probably a "much ado about nothing" ordeal to begin with, as the young general manager has shown a fervor to trade with other general managers — meaning Adofo-Mensah will likely still find a way to stockpile draft picks between now and the end of the draft. The Vikings traded more than any team during the 2022 NFL Draft, and there's no evidence to suggest this April will be different.
On the upcoming compensatory 5th-Roud pick, OverTheCap's Nick Korte tweeted after the Vikings playoff exit, "I found another incentive that may alter the 2023 comp pick projection. Chandon Sullivan may have earned $400,000 based on snap count and team improvement metrics."
"That could push him to qualifying as a compensatory free agent, affecting both the Vikings and Packers," Korte added.
What does that mean? Well, Minnesota was tentatively scheduled to gain a 6th-Rounder in this year's draft because of Xavier Woods' free-agent departure to the Carolina Panthers last year. But a Sullivan exit via free agency would essentially cancel that compensation.
And that would leave the aforementioned 5th-Rounder as the solo Vikings treat in April, courtesy of tight end Tyler Conklin's march to the New York Jets.
Last year, in Adofo-Mensah's first draft as bossman, the Vikings drafted defensively, selecting five defenders in their first six picks, with right guard Ed Ingram as the lone offensive commodity. Fast forward to the 2022 regular season, and several of Adofo-Mensah's defensive rookies didn't make an impact as injuries beset keynote picks Lewis Cine, Andrew Booth, and Akayleb Evans.
That must mean it's time to swing the pendulum and draft for offensive playmaking, right? Not quite. Minnesota finished 2022 ranked 27th via defensive DVOA, 30th in points allowed to opponents, and 31st in yards allowed — terrible rankings for a 13-win, division-winning team (or any team, really). This draft, too, could be defensively themed for a second consecutive year.
With the probable 5th-Rounder on the way, the Vikings now have these selections on tap for April:
Round 1, Pick 23
Round 3, Pick 87
Round 4, Pick 116 (from DET)
Round 5, Pick 155
The Compensatory 5th from Conklin FA
The NFL Draft is 90 days away.
---
Dustin Baker is a political scientist who graduated from the University of Minnesota in 2007. Subscribe to his daily YouTube Channel, VikesNow. He hosts a podcast with Bryant McKinnie, which airs every Wednesday with Raun Sawh and Sal Spice. His Vikings obsession dates back to 1996. Listed guilty pleasures: Peanut Butter Ice Cream, 'The Sopranos,' and The Doors (the band).
All statistics provided by Pro Football Reference / Stathead; all contractual information provided by OverTheCap.com.