Vikings Gain Extra Draft Pick
It's compensatory draft pick season, and the Minnesota Vikings have a skimpy cupboard.
Because general manager Kwesi Adofo-Mensah finagled trades for Akayleb Evans, Ross Blacklock, Jalen Reagor, and T.J. Hockenson in 2022, just four draft picks were on the original menu for 2023 when the offseason arrived.
Vikings Gain Extra Draft Pick
Well, the number spiked to five Thursday, as the club was allotted a compensatory 6th-Round pick via the NFL's complicated formula. Minnesota gets one more draft pick in April because tight end Tyler Conklin jettisoned to the Big Apple last offseason in free agency.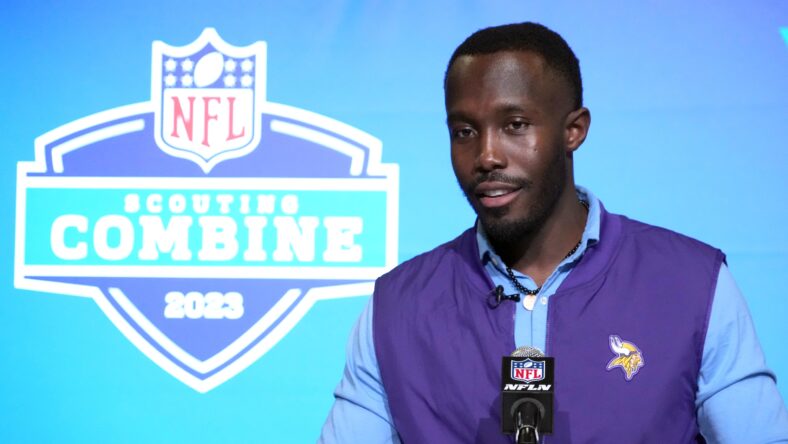 The Vikings main social media account confirmed the news Thursday with a tweet, "The Vikings have been awarded a 6th-round compensatory pick for the 2023 NFL Draft."
That's the 211th pick in April's draft, and yes, by that time in the pecking order, teams are usually just throwing darts at a board, hoping to be "the one team" that hits it big in Round 6.
So, for your scorecards at home, this is the Vikings draft docket as of early March:
No.

23

— 1st Round
No.

87

— 3rd Round
No.

119

— 4th Round
No.

158

— 5th Round
No.

211

— 6th Round
Minnesota has oodles of draft needs — especially after this week's releases of longtime veterans Eric Kendricks and Adam Thielen — so the draft lead-up in the next seven weeks will be peppered with theories. Adofo-Mensah could spend his first pick on a wide receiver because somebody must replace the aforementioned Thielen.
Otherwise, cornerback is a popular forecast for Minnesota in Round 1. University of Maryland corner Deonte Banks has been mock-drafted to the Vikings all over the place, highlighted by the likes of Mel Kiper, Todd McShay, and Daniel Jeremiah.
The team could also use help at center if Garrett Bradbury signs with a new team next week. Bradbury is a free agent and can sign anywhere Monday if his pricetag is too lofty for Minnesota's budget. Thankfully for the Vikings sake, if Bradbury departs, about five Week-1-ready centers are marinating in the 2023 draft class.
Too, the Vikings could need an EDGE rusher before too long. Za'Darius Smith shocked the masses this week when he appeared to say goodbye to Minnesotans via tweet. Minnesota's brass quickly indicated it had no plans to release the veteran pass rusher, but something's gotta give before too long.
Finally, with Kendricks hitting free agency, the Vikings could use one of their five draft picks on an off-ball linebacker like Trenton Simpson or Drew Sanders. Somebody must pair with second-year defender Brian Asamoah in September, a necessity that will intensify if Jordan Hicks is released this weekend.
Matt Birk was notably drafted in the 6th Round of the 1998 NFL Draft. There is a small precedent for 6th-Round success in Minnesota.
The NFL Draft is 48 days away.
---
Dustin Baker is a political scientist who graduated from the University of Minnesota in 2007. Subscribe to his daily YouTube Channel, VikesNow. He hosts a podcast with Bryant McKinnie, which airs every Wednesday with Raun Sawh and Sal Spice. His Vikings obsession dates back to 1996. Listed guilty pleasures: Peanut Butter Ice Cream, 'The Sopranos,' and The Doors (the band).
All statistics provided by Pro Football Reference / Stathead; all contractual information provided by OverTheCap.com.