Meet the Vikings 9 New Starters for 2023
Jul 28, 2022; Minneapolis, MN, USA; Minnesota Vikings running back Alexander Mattison (2) during training camp at TCO Performance Center. Mandatory Credit: Matt Krohn-USA TODAY Sports.
Although some maintain the Minnesota Vikings are 'running it back' in 2023, and others claim the club is amid an all-out, tear-it-down rebuild, the Vikings conducted several roster moves this offseason to become younger, faster, and more affordable.
Meet the Vikings 9 New Starters for 2023
And when September 10th rolls around, the franchise should have about nine new starters on offense and defense for Kevin O'Connell's second season. These are those men, listed in alphabetical order.
1. Jordan Addison | K.J. Osborn (WR)
Adam Thielen plays for the Carolina Panthers, and someone else will take over his WR2 job this season. After a summer camp battle, that could be rookie Jordan Addison or last year's WR3, K.J. Osborn.
Addison will eventually wear the WR2 crown, but it wouldn't be weird one bit if Osborn refused to hand over the diadem right away. No matter what, though, a non-Thielen human being will play 'the other WR role' opposite reigning Offensive Player of the Year Justin Jefferson in three months.
2. Brian Asamoah (LB)
No Vikings rookie generated more excitement for the future than Asamoah in 2022. He was electric, opportunistic, slippery, and productive. The Oklahoma alumnus will start in 2023 unless something weird happens this summer.
In theory, he should be the perfect young linebacker for Brian Flores' rough-and-tumble defensive scheme.
3. Andrew Booth (CB)
Booth's rookie campaign was totally forgettable. He played poorly when on the field — in the preseason and regular season — and was injured most of the time regardless. The 2nd-Round CB flat-out disappointed.
But he doesn't have to do that in 2022, as general manager Kwesi Adofo-Mensah has cleared a path for Booth to start this season. He's one of the most critical players on the Vikings at the moment. If he isn't any good, the secondary will leak, and Adofo-Mensah's second-ever draft choice will appear boneheaded.
4. Lewis Cine (S)
Like Booth, Cine was injured for most of his rookie season but didn't perform underwhelmingly when on the field. His only misgiving was failing to defeat Camryn Bynum for a starter's job last summer.
Cine's recovery from a broken leg in the last eight months has been nothing short of breathtaking. Now, he just has to translate the momentum to a regular season field.
5. Marcus Davenport (OLB)
Minnesota traded Za'Darius Smith to the Cleveland Browns on May 12th, marking the end of a rumor mill saga that twisted around the internet for two months. His departure is a tip of the cap to Davenport's starting assignment as an outside linebacker, and the 2018 draft alumnus hopes to effectuate his 1st-Round draft stock in Minnesota.
Barring injury, Davenport is guaranteed to start on the edge of the Vikings defensive line.
6. Dean Lowry (DT)
A Packer defector, Lowry should, in theory, take over Jonathan Bullard's 2022 job. Bullard is still on the roster but may not make the 53-man roster. We shall see.
Lowry has a documented history of starting in Green Bay, and that will translate to purple and gold in the fall. He's not a Pro Bowler; he's not a bench warmer — somewhere smack dab in the middle.
7. Alexander Mattison (RB)
The Dalvin Cook era is kaput. He isn't coming back and will sign with a new NFL team before too long.
That paves the way for Mattison, a fifth-year running back chomping at the bit for his chance at RB1. While the Vikings will probably execute a running back by committee, Mattison will take the first handoff in September.
8. Byron Murphy (CB)
Arguably the most significant move of the offseason, at least in free agency, the Vikings added Murphy from the Arizona Cardinals. The last time Minnesota added a free-agent corner from the desert, Patrick Peterson helped stabilize an ailing secondary. Kevin O'Connell's team needs the same production from Murhpy — and then some.
Minnesota said goodbye to several 2022 CBs while welcoming just Murphy, Joejuan Williams, and John Reid as veterans. Murphy is an obligatory starter and the new elder statesman in Minnesota's CB room.
9. Khyiris Tonga (NT)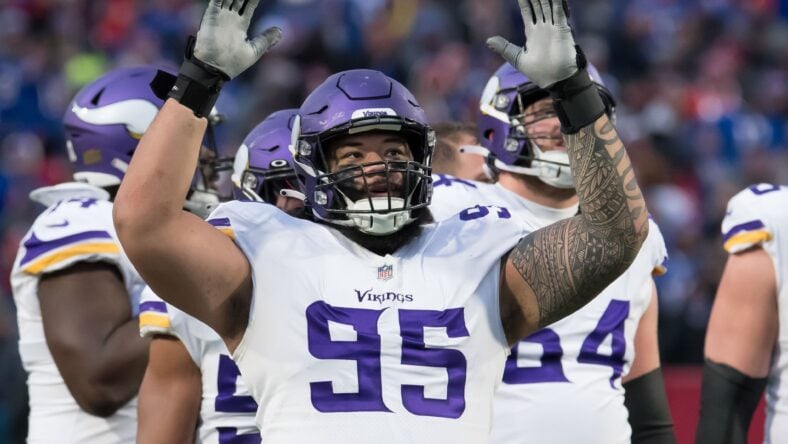 Dalvin Tomlinson walked in free agency, joining the Cleveland Browns for four years and $57 million. The Vikings are on tap to replace Tomlinson with Tonga, who costs 940,000 bucks. If he does the job commendably, he'll be one of the best value players in the sport.
Tonga isn't an absolute shoo-in to start Week 1 against the Tampa Bay Buccaneers, but it would be a little weird if he didn't. The big-bodied veteran played marvelously for the Vikings last year and was 'the Duke Shelley' of the defensive line.
---
Dustin Baker is a political scientist who graduated from the University of Minnesota in 2007. Subscribe to his daily YouTube Channel, VikesNow. He hosts a podcast with Bryant McKinnie, which airs every Wednesday with Raun Sawh and Sal Spice. His Vikings obsession dates back to 1996. Listed guilty pleasures: Peanut Butter Ice Cream, 'The Sopranos,' Basset Hounds, and The Doors (the band).
All statistics provided by Pro Football Reference / Stathead; all contractual information provided by OverTheCap.com.