The Top 5 Discount Players for Vikings in 2023
Oct 9, 2022; Minneapolis, Minnesota, USA; Minnesota Vikings running back Alexander Mattison (2) runs with the ball against the Chicago Bears linebacker Roquan Smith (58) in the first quarter at U.S. Bank Stadium. Mandatory Credit: Brad Rempel-USA TODAY Sports.
The Minnesota Vikings have used the 2023 offseason to transform the roster on the fly, saying goodbye to expensive, aging veterans like Adam Thielen, Dalvin Cook, Patrick Peterson, and Eric Kendricks, among others.
The Top 5 Discount Players for Vikings in 2023
The club will become more affordable, younger, and faster in 2023.
To do so, they'll need contributions from cheaper players, like every NFL team. These are the Vikings top five discount players this season, ranked in ascending order (No. 1 = top discount value).
Please Note: Rookies were excluded from this analysis because, of course, rookies are great value.
5. Dean Lowry (DT)
Contract Average Annual Value = $4.25 Million
Like many before him, Lowry is the latest installment in a Packer-turned-Viking. He's penciled in as a starting defensive tackle for the 2023 Vikings unless general manager Kwesi Adofo-Mensah swings an unforeseen trade or signs Ndamukong Suh.
He's a solid defender who will bank oodles of defensive snaps in 2023, making his $4.25 million rather economical.
4. Harrison Phillips (DT)
Contract Average Annual Value = $6.5 Million
Phillips tallied a 72.1 Pro Football Focus grade in 2022, which is more than worth the $6.5 million pricetag. Moreover, Minnesota lost Dalvin Tomlinson to free agency and Za'Darius Smith via trade, so the more familiar veteran defenders who remained, the better.
The former Bill was one of the first signings of the Kwesi Adofo-Mensah era and was a wise investment.
3. Byron Murphy (CB)
Contract Average Annual Value = $8.75 Million
The Vikings said goodbye to almost every cornerback not a rookie from the 2022 NFL Draft this offseason, and adding Murphy was the keynote solution. Minnesota is counting on Murphy to totally anchor the CB room while players like Andrew Booth and Mekhi Blackmon develop.
Imagine your feelings about the Vikings CB room if Murphy was not on this roster. It'd cause shivers.
2. Alexander Mattison (RB)
Contract Average Annual Value = $3.5 Million
The NFL is breaking to the point where every running back seems like a steal of a deal. General managers have determined they don't need to break the bank on a single RB to win Super Bowls.
Accordingly, the Vikings have embraced this path, too, cutting ties with Dalvin Cook, who was on tap with a $14.1 million cap hit in 2022 and subbing in Mattison for $3.5 million annually.
Mattison should fetch about one-third of all Vikings touches on offense this season. That's worth $3.5 million, especially if he's ultra-productive.
1. Khyiris Tonga (DT)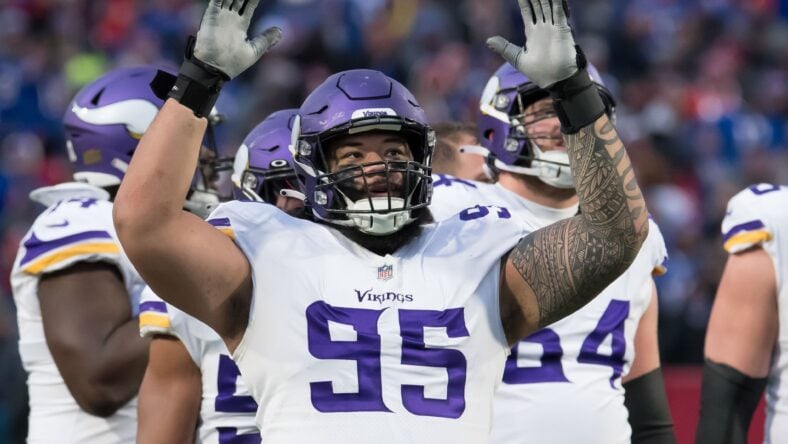 Contract Average Annual Value = $750,oo
Forget the Vikings parameter; Tonga might be one the best value commodities in the NFL. Minnesota plans to use the veteran at nose tackle in 2023 after a wonderful 2022 breakout season. Tonga ranked 13th last year per Pro Football Focus' interior defensive lineman scoring with a 77.8 grade. No wonder the Vikings welcomed him back with open arms in 2023.
Unlike cornerback Duke Shelley, who produced a similar out-of-nowhere season to Tonga, Minnesota has given Tonga a chance this season to prove the 2022 performance wasn't a mirage. And his pricetag is incredibly affordable.
---
Dustin Baker is a political scientist who graduated from the University of Minnesota in 2007. Subscribe to his daily YouTube Channel, VikesNow. He hosts a podcast with Bryant McKinnie, which airs every Wednesday with Raun Sawh and Sal Spice. His Vikings obsession dates back to 1996. Listed guilty pleasures: Peanut Butter Ice Cream, 'The Sopranos,' Basset Hounds, and The Doors (the band).
All statistics provided by Pro Football Reference / Stathead; all contractual information provided by OverTheCap.com.