The 4 Most Shocking Moments of the Vikings Offseason
Nov 7, 2021; Baltimore, Maryland, USA; Minnesota Vikings fullback C.J. Ham (30) runs after the catch during the second half against the Baltimore Ravens at M&T Bank Stadium. Mandatory Credit: Tommy Gilligan-USA TODAY Sports.
Foremost, VikingsTerritory doesn't consider the releases of players like Adam Thielen or Eric Kendricks 'shocking,' as the two men were widely predicted to leave the franchise amid this offseason of change.
The 4 Most Shocking Moments of the Vikings Offseason
But a handful of moves were a wee bit shocking, and these are those. They're ranked in order of shock value (No. 1 = most shocking).
4. Brian Flores Enters the Chat as DC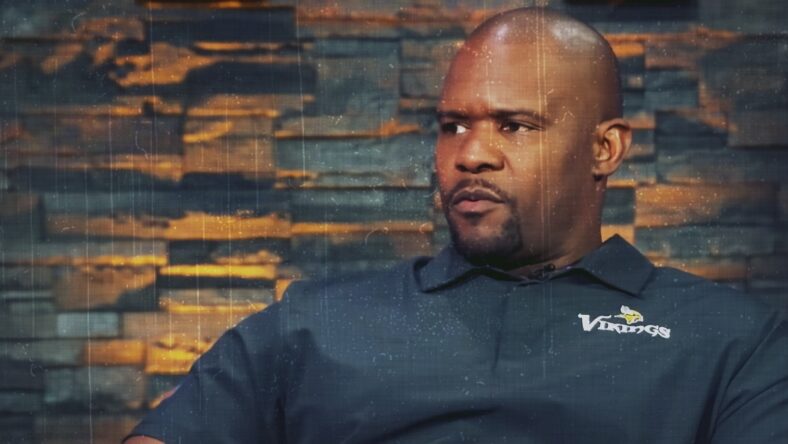 There was a buildup to this, so by the time Flores was hired, it wasn't utterly shocking. However, Flores as the immediate frontrunner — as universally desired by fans and then coming to fruition — was stunning after Ed Dontaell was dismissed.
Flores didn't seem gettable, or at least Vikings fans were so used to Mike Zimmer running the show on defense that a 'big name' defensive coach like Flores was fool's good. Alas, it was not.
Minnesota hired Flores in February to fundamentally change from the brief Donatell era. Flores preaches aggression, aggression, and more aggression, whereas Donatell, well, doesn't. It took a few weeks, but the Vikings 'got their man' in Flores. It felt like they might've ended up with a first-year defensive coordinator fresh off a Los Angeles Rams promotion when the search began.
3. C.J. Ham Retained — and Extended
Because the Vikings were cash-strapped back in February, Ham seemed like a goner, as teams rarely employ fullbacks anymore. Additionally, the Vikings only used Ham on 15% of offensive snaps in 2022. Spitballing Ham as a cap casualty was a no-brainer for some — this website included.
But then general manager Kwesi Adofo-Mensah did the opposite of releasing Ham; he extended the native Minnesotan. Hambone is now committed to the Vikings through the end of 2025, as the club has pledged to run the football more in September.
2. The First Big Free-Agent Signing Is … a TE
Heading into the 2023 offseason, Minnesota was set at two roster areas — offensive tackle and tight end.
Then your phone buzzed, and guess what — a tight end was the first major free-agent signing. Some freaked out. Others scratched heads. Eventually everyone understood — the Vikings signed a run-blocking tight end because the mission statement in 2023 is to run the ball more.
Oliver also has upside as a pass-catcher. If something grim happens to T.J. Hockenson, the season won't swirl down the toilet. That's what Oliver's for, a contingency plan against injury to Hockenson and lane-plower for Vikings runnings backs.
1. EDGE Rusher Marcus Davenport Signed
Yes, Za'Darius Smith tweeted a bizarre goodbye four days before the Vikings signed Davenport. Yes, it made sense that Davenport would join in Minnesota in hindsight.
Yet, no Vikings fan, expert, or website anywhere had Davenport linked to the Vikings before free agency. He was thought of as too expensive. Davenport was also the top EDGE rusher on the open market, according to Pro Football Focus, and how would the penny-pinching Vikings afford him?
Well, they figured it out. Smith was traded two months later, and Davenport is in line for Smith's job. Moral of the story? Don't ever be afraid to dream too big about which free agents Minnesota can afford when March rolls around.
---
Dustin Baker is a political scientist who graduated from the University of Minnesota in 2007. Subscribe to his daily YouTube Channel, VikesNow. He hosts a podcast with Bryant McKinnie, which airs every Wednesday with Raun Sawh and Sal Spice. His Vikings obsession dates back to 1996. Listed guilty pleasures: Peanut Butter Ice Cream, 'The Sopranos,' Basset Hounds, and The Doors (the band).
All statistics provided by Pro Football Reference / Stathead; all contractual information provided by OverTheCap.com.