Soft Timeline Established for Kirk Cousins' Return
Aug 29, 2019; Orchard Park, NY, USA; Minnesota Vikings quarterback Kirk Cousins (8) looks on from the sidelines against the Buffalo Bills during the second quarter at New Era Field. Mandatory Credit: Rich Barnes-USA TODAY Sports
The Minnesota Vikings will finish the 2023 campaign with some combination of Josh Dobbs, Jaren Hall, Nick Mullens, and Sean Mannion at quarterback.
Soft Timeline Established for Kirk Cousins' Return
Kirk Cousins was lost for the season at Lambeau Field in Week 8 to a torn Achilles and isn't coming back, unlike Aaron Rodgers, who claims he could return if the New York Jets reach the postseason. The problem for Rodgers is that New York probably isn't good enough to play meaningful January football.
As soon as Minnesota's season ends, whether after Week 18 or in the playoffs, all things Vikings will turn to Cousins' free agency and the quarterback position on the whole. Unless the Vikings front office re-signs Cousins, he's scheduled to hit the open market in March and could sign anywhere in the league.
And this week, regardless of his 2024 employment status, general manager Kwesi Adofo-Mensah established a soft timeline for Cousins' return — May 2024.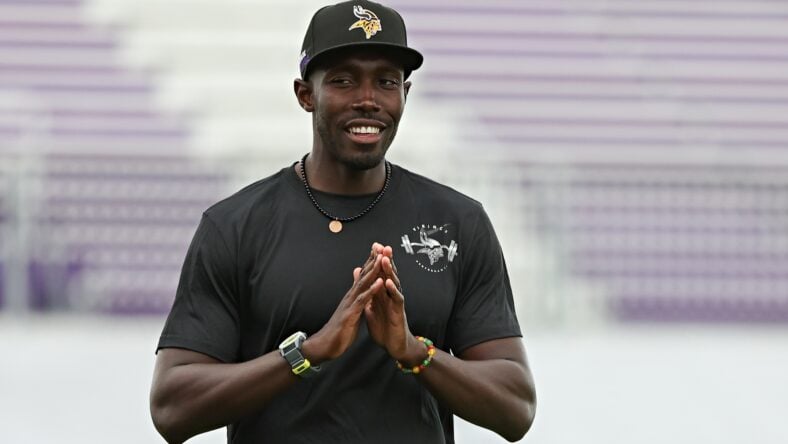 "Talking with Kirk, the way his mind works, he's so process-oriented and so intentional, he's talking about being back at OTAs and doing all the different things, where his schedule is going to be. That's how his mind works," Adofo-Mensah told reporters.
The Vikings have actually been beset by two Achilles injuries, one to Cousins a week and a half ago, the other to running back Akers last Sunday. Akers' return timetable is unclear, and he is also scheduled for 2024 free agency.
If the Vikings re-sign Cousins for a year or two, a May return date is ideal. He'd have a full offseason, in theory, and be prepared for the start of the 2024 regular season. Cousins had never missed time due to injury in his career — an impressive feat in 12 NFL seasons — so life without him is a brave new world.
Without Cousins last weekend, the Vikings rolled with the aforementioned Hall in Atlanta, but he was quickly concussed and knocked out of the game. Journeyman Josh Dobbs joined the huddle and created a mythological performance, with 3 touchdowns and a game-winning drive for the ages, considering he joined the team just five days prior.
Dobbs' production the rest of the way could also affect Cousins' future with the Vikings. For example, if Dobbs balls out and guides the team to a playoff win or two, general manager Kwesi Adofo-Mensah could re-sign Dobbs and allow Cousins to walk while selecting a rookie quarterback from the 2024 NFL Draft with high-round capital.
Decisions, decisions.
Yet, if one hopes Cousins stays in Minnesota, he should be back in the saddle by May.
---
Dustin Baker is a political scientist who graduated from the University of Minnesota in 2007. Subscribe to his daily YouTube Channel, VikesNow. He hosts a podcast with Bryant McKinnie, which airs every Wednesday with Raun Sawh and Sal Spice. His Vikings obsession dates back to 1996. Listed guilty pleasures: Peanut Butter Ice Cream, 'The Sopranos,' Basset Hounds, and The Doors (the band).
All statistics provided by Pro Football Reference / Stathead; all contractual information provided by OverTheCap.com.