Salary Cap Wizard Clarifies Vikings Trade Problem
Dec 17, 2022; Minneapolis, Minnesota, USA; Minnesota Vikings quarterback Kirk Cousins (8) and wide receiver K.J. Osborn (17) celebrate the win against the Indianapolis Colts after the game at U.S. Bank Stadium. With the win, the Minnesota Vikings clinched the NFC North. Mandatory Credit: Matt Krohn-USA TODAY Sports.
Trading Kirk Cousins before June 1st would be one of the dumbest and most infeasible actions imaginable if the Minnesota Vikings want to operate a budget wisely.
Ever the divisive NFL creature, some Vikings fans are ready to conclude the Kirk Cousins era in Minnesota. He joined the club as a free agent in 2018 and has guided the Vikings to the league's 12th-best record in the timeframe.
Salary Cap Wizard Clarifies Vikings Trade Problem
And as recently as this week, new and semi-credible rumors surfaced, insinuating the Vikings could be interested in San Francisco 49ers quarterback Trey Lance.
Pro Football Talk's Mike Florio reported Wednesday, "Per a league source, the two teams [Minnesota Vikings and San Francisco 49ers] talked about Trey Lance. The source doesn't know whether that's currently happening. The Vikings have since restructured the Cousins contract. They'd take a significant cap hit ($38 million) if the Vikings traded Cousins before June 1. But the Vikings need an answer for 2024, and beyond. It's unclear whether they truly think Lance could be the answer."
If the Lance-to-Vikings hubbub materializes during the 2023 NFL Draft, Cousins is severely unlikely to be included as a trade piece.
OverTheCap.com founder Jason Fitzgerald clarified the Vikings trade predicament with Cousins Thursday, "Regarding a Cousins trade by the Vikings it would be difficult during the draft. Vikings would need to have him agree to a trade and clear around $18M in cap before the trade (O'Neill, Smith restructure; Cook cut/restructure). Would leave them in awful shape for the season."
Minnesota would lose money against the salary cap if they shipped Cousins elsewhere before June 1st. After that date is a different story, but a draft trade with Cousins as the centerpiece right now is baloney.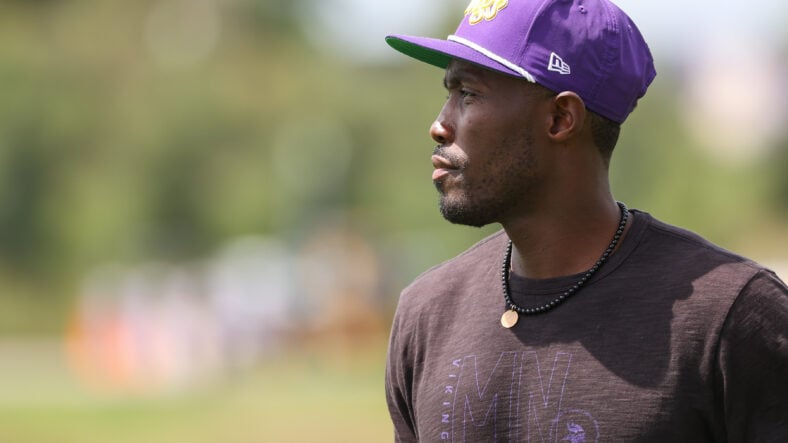 The club would knowingly punish itself to the tune of $28.5 million by trading Cousins before June 1st. These are the numbers:
Cap Savings, Trading Cousins before 6/1 =

-$18.5M

Cap Savings, Trading Cousins after 6/1 =

$10M
And the pesky salary cap, at least as of April 20th:
Vikings Cap Space, Trading Cousins before 6/1 =

-$17.2M

Vikings Cap Space, Trading Cousins after 6/1 =

$11.2M
The only way a Cousins trade would work before June 1st is if general manager Kwesi Adofo-Mensah simply didn't care about his team's financial standing and purposely sought to sabotage himself and the franchise. Trades cannot be dated with a post-June-1st designation like contractual releases.
If Cousins is traded anywhere — a longshot as a standalone possibility — it will have to be this summer, not before. Otherwise, the Vikings would plop themselves in a situation where they're clearing cap space — trading players like Dalvin Cook and Za'Darius Smith — just to make room for a Kirk Cousins trade penalty.
Finally, the scenario outlined by Fitzgerald isn't bad luck or a raw deal. When Adofo-Mensah converted a bulk of Cousins' 2023 salary to 2024+ cap hit, a pre-June-1st trade became effectively impossible. The Vikings structured that move knowing they wouldn't trade Cousins.
Don't hold your breath — at all — for any Cousins trade next week.
---
Dustin Baker is a political scientist who graduated from the University of Minnesota in 2007. Subscribe to his daily YouTube Channel, VikesNow. He hosts a podcast with Bryant McKinnie, which airs every Wednesday with Raun Sawh and Sal Spice. His Vikings obsession dates back to 1996. Listed guilty pleasures: Peanut Butter Ice Cream, 'The Sopranos,' and The Doors (the band).
All statistics provided by Pro Football Reference / Stathead; all contractual information provided by OverTheCap.com.