The Mt. Rushmore of the Vikings Offseason
Mount Rushmore.
So far this offseason, the Minnesota Vikings have added seven newcomers via free agency: Josh Oliver (TE, Ravens), Marcus Davenport (EDGE, Saints), Byron Murphy (CB, Cardinals), Dean Lowry (DT, Packers), Brandon Powell (WR, Rams), Troy Reeder (LB, Chargers), and Joejuan Williams (CB, Patriots).
Cameron Dantzler (CB, Commanders), Eric Kendricks (LB, Chargers), Patrick Peterson (CB, Steelers), Adam Thielen (WR, Panthers), Dalvin Tomlinson (DT, Browns), Duke Shelley (CB, Raiders), Irv Smith (TE, Bengals), Kris Boyd (CB, Cardinals), and Chandon Sullivan (CB, Steelers) left to other teams.
The Mt. Rushmore of the Vikings Offseason
Twenty-one rookies waltzed through the door in Eagan, including six from the 2023 NFL Draft. The 15 others arrived via undrafted free agency.
The regular season is four months away, and this is the Vikings Mount Rushmore of offseason decision-making to date. That is — the top four items to occur in the last four months since the club prematurely lost in the playoffs to the New York Giants.
George Washington

Brian Flores Hired as DC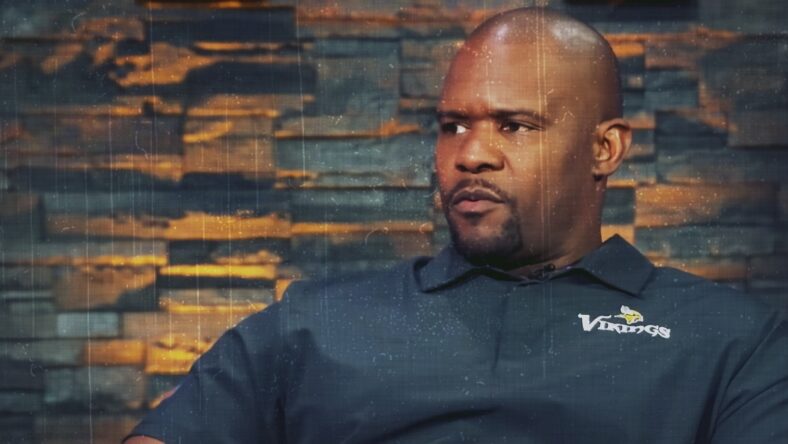 After one season and lackluster results on defense, the Vikings dismissed defensive coordinator Ed Donatell four days following the loss to the Giants. Minnesota's defense looked silly against New York, so a new man was tasked with rectifying the other side of the ball.
He's Brian Flores, owner of a robust and respected NFL resume. With a similar defensive roster — sans Dalvin Tomlinson, Patrick Peterson, Eric Kendricks, Duke Shelley, and Chandon Sullivan — Flores will be asked to fix the defense with youngsters. It's a tall order.
Thank God he's in charge. Imagine the Vikings hiring a 30-something ex-assistant cornerback coach from the Los Angeles Rams — or something like that — and merely hoping for the best. Having Flores in the house seems to guarantee improvement.
Thomas Jefferson

Byron Murphy Signed
There is one cornerback on the Vikings roster who is a guaranteed startable commodity — just one. He's Byron Murphy, a free agent from the Arizona Cardinals.
Without Murphy on Minnesota's depth chart, fans would feel lost and anxietal. After him, Andrew Booth, Akayleb Evans, Joejuan Williams, rookie Mekhi Blackmon, and hybrid rookie Jay Ward exist at CB. All are hopeful maybes; some beset by injury in the recent past.
But at least the team and its fans can point to Murphy as a sure thing, while Booth, Evans, Williams, Blackmon, Ward, and Gowan fight for starting duties.
Murphy is attached to the Vikings for two years and $17.5 million.
Theodore Roosevelt

Jordan Addison Drafted
General manager Kwesi Adofo-Mensah could've stepped up the plate last Thursday night, sent the name(s) Joey Porter Jr. or Deonte Banks, two cornerbacks, to the NFL's front office as his draft pick, and no fan anywhere would've been upset. That's how unproven the CB room is at the moment.
Yet, the Vikings scoffed at adding a defensive player in Round 1, preferring an obscenely rich aerially attack with the selection of USC's Jordan Addison.
Remember those 2022 games where Justin Jefferson was tamed by opposing defensive coordinators? Well, Minnesota no longer needs to lose those showdowns because, in theory, Addison can pick up the slack. In Addison, Adofo-Mensah plucked a sure-thing asset, not a boom-or-buster simply good at one thing.
Addison is tactical, a workhorse, and young (21). The Vikings future pivoted during the draft to two high-octane wide receivers for the next five years.
Abraham Lincoln

Future Flexibility from GM
Excluding this year's undrafted free-agent class, 35 players are scheduled for free agency next spring. The Vikings could field a team peppered with wholesale change in 16 months (to start the 2024 regular season).
Adofo-Mensah has total flexibility next offseason, not glued to quarterback Kirk Cousins beyond this year. Cousins has not signed a contract extension as of May 2nd. As of right now, he'd hit free agency next March, likely landing with the San Francisco 49ers.
These are next year's free agents:
Ross Blacklock (IDL)
Blake Brandel (LT)
Jonathan Bullard (IDL)
Ezra Cleveland (LG)
Kirk Cousins (QB)
Sheldon Day (IDL)
Marcus Davenport (IDL)
Troy Dye (LB)
Ben Ellefson (TE)
T.J. Hockenson (TE)
Jordan Hicks (LB)
Danielle Hunter (EDGE)
Tay Gowan (CB)
Theo Jackson (S)
Trishton Jackson (WR)
Greg Joseph (K)
James Lynch (IDL)
Josh Metellus (S)
Johnny Mundt (TE)
Nick Muse (TE)
K.J. Osborn (WR)
Brandon Powell (WR)
Blake Proehl (WR)
Jalen Reagor (WR)
Chris Reed (LG)
Austin Schlottmann (LG)
T.J. Smith (IOL)
Josh Sokol (C)
Khyiris Tonga (IDL)
Olisaemeka Udoh (RT)
Curtis Weaver (EDGE)
Benton Whitley (EDGE)
Kenny Willekes (EDGE)
Joejuan Williams (CB)
D.J. Wonnum (EDGE)
Most of these men will return if the 2023 season goes swimmingly for Kevin O'Connell's Vikings. Should the opposite occur, Adofo-Mensah now has the financial elasticity to effectuate change. He didn't truly have the option in 2022 or 2023.
Everything in the NFL starts at the quarterback, and for the first time since the end of 2017, the Vikings are open to all options at QB1 after this season.
---
Dustin Baker is a political scientist who graduated from the University of Minnesota in 2007. Subscribe to his daily YouTube Channel, VikesNow. He hosts a podcast with Bryant McKinnie, which airs every Wednesday with Raun Sawh and Sal Spice. His Vikings obsession dates back to 1996. Listed guilty pleasures: Peanut Butter Ice Cream, 'The Sopranos,' and The Doors (the band).
All statistics provided by Pro Football Reference / Stathead; all contractual information provided by OverTheCap.com.