Rick Spielman Connects Vikings to Free Agent RB
Jun 15, 2021; in Eagen, Minnesota, USA; Minnesota Vikings general manager Rick Spielman looks on during drills at OTA at TCO Performance Center. Mandatory Credit: Harrison Barden-USA TODAY Sports.
Most hardcore Minnesota Vikings fans don't believe the franchise needs any more running backs.
As of July 4th, the Vikings employ Alexander Mattison, Ty Chandler, Kene Nwangwu, and rookie DeWayne McBride.
Rick Spielman Connects Vikings to Free Agent RB
But a prominent former Vikings personality slightly disagrees. He's Rick Spielman, Minnesota's bossman for over a decade and a half — and he believes his former team could peek at free-agent RB Kareem Hunt.
The Draft Network also connected Hunt to the Vikings in the rumor mill last month, so this is apparently a thing. Hunt was the RB2 to Nick Chubb in Cleveland for four years and is looking for his next NFL gig.
Writing for The 33rd Team, Spielman detailed Hunt's free agency, "Hunt's touches decreased, but he's still a powerful runner with excellent vision to catch the ball out of the backfield. He had some durability issues last season, so he'll need to show he can stay healthy because he turns 28 in August. There are a handful of teams that still need backup running backs."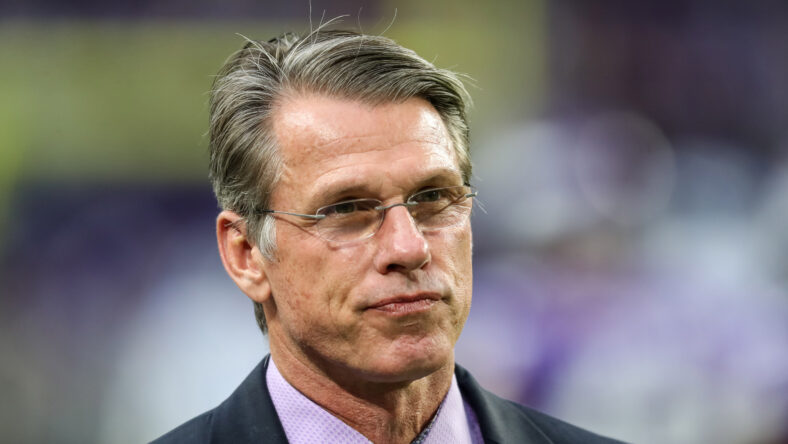 Before the subtle 2022 downturn, Hunt tabulated an impressive 4.9 yards per carry in 2021. But the figure dipped to 3.8 yards per rush last year.
"One is the Dallas Cowboys, although I anticipate Ezekiel Elliott will re-sign there. The second is the Dolphins, but everyone is linking Cook there. Three is the Minnesota Vikings now that they've released Cook. They don't have a proven commodity behind Alexander Mattison […] Hunt is an excellent No. 2 back if he can stay healthy," Spielman added.
Any prospective interest in Hunt boils down to a simple question for Vikings fans — are Mattison, Nwangwu, Chandler, and McBride enough to get the job done on the ground in 2023? The club has vividly professed a desire and plan to run the football more in 2023, and it's a bit strange that it decided such in the same offseason when Cook skedaddled.
Still, head coach Kevin O'Connell believes in Mattison — perhaps even a bellcow-style RB1 — while the other three are available for committee-like support. At this stage in his career, chiefly because he fulfilled backup duty for Nick Chubb in Cleveland, Hunt is really just diet Dalvin.
Of course, if Mattison succumbed to injury at training camp or in the preseason, adding Hunt would take on new legs and logic. And don't look now, but if Spielman were still in charge, perhaps Hunt would already be a Viking.
Hunt is four days older than Dalvin Cook.
---
Dustin Baker is a political scientist who graduated from the University of Minnesota in 2007. Subscribe to his daily YouTube Channel, VikesNow. He hosts a podcast with Bryant McKinnie, which airs every Wednesday with Raun Sawh and Sal Spice. His Vikings obsession dates back to 1996. Listed guilty pleasures: Peanut Butter Ice Cream, 'The Sopranos,' Basset Hounds, and The Doors (the band).
All statistics provided by Pro Football Reference / Stathead; all contractual information provided by OverTheCap.com.