Get Your Purple Popcorn Ready | Draft Night
Vikings NFL Draft
The Minnesota Vikings undergo general manager Kwesi Adofo-Mensah's second draft Thursday night. The young executive took over the organization 15 months ago after Rick Spielman departed.
Total bewilderment surrounds this draft for Vikings fans, as the quasi-predictability of years past is missing. Usually on this day, Minnesota desperately needs to improve the offensive line. Somehow now, though, the offensive trenches aren't a glaring need. One can thank Brian O'Neill and Christian Darrisaw for that.
Get Your Purple Popcorn Ready | Draft Night
Here's what to know about the 2023 NFL Draft for the Vikings, which begins at 7:00 pm CST in Kansas City and will be broadcast on ABC, ESPN, and NFL Network.
The Picks
Adofo-Mensah traded for TE T.J. Hockenson, WR Jalen Reagor, and CB Akayleb Evans last year, depleting this year's draft piggybank. Therefore, he has just five picks to start the event:
Round 1,

Pick 23

Round 3,

Pick 87

Round 4,

Pick 119

(from DET)
Round 5,

Pick 158

Round 6,

Pick 211

(Comp)
Many Vikings enthusiasts expect Adofo-Mensah to trade back from No. 23 — he did so last year — to accumulate extra picks and subsequent draft capital. It's like fishing. Extra lures in the lake catch more walleye.
If not, Adofo-Mensah could rattle the rim and trade up for the quarterback identified as the savior after Kirk Cousins. Momentum for that, per mock drafters, has increased in the last week.
Otherwise, the Vikings can stay put at No. 23 and hope a delectable prospect like Joey Porter Jr. (CB, Penn State) falls.
The Long-Term Roster Needs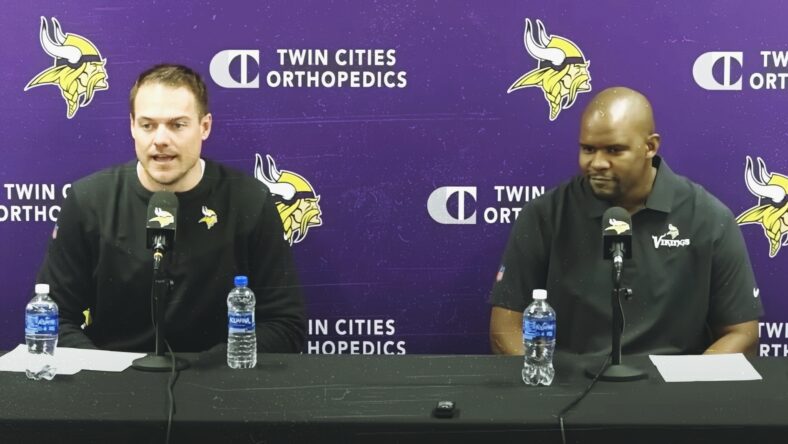 This is where it gets dicey. The Vikings weren't silent in free agency, but they left some roster holes to be addressed in the draft — or free agency again after the draft. In debatable order of need, these are the positions that require attention:
Cornerback
Off-Ball Linebacker
Wide Receiver
Interior Defensive Line
Quarterback
Unless new defensive coordinator Brian Flores fully trusts last year's rookie CBs, Andrew Booth and Akayleb Evans, the team needs beef in the cornerback room.
On the whole, though, this draft is so damn mysterious because of the five-pronged list above. Adofo-Mensah could select a player from any of those five positions, and no Vikings fan anywhere would be shocked.
The Likely Draft Candidates
These are the most likely draftees with the Vikings first pick, per fans — in order of likelihood:
Jordan Addison

(WR, USC)

Hendon Hooker

(QB, Tennessee)

Quentin Johnston

(WR, TCU)

Zay Flowers

(WR, Boston College)

Deonte Banks

(CB, Maryland)

Will Levis

(QB, Kentucky)

Joey Porter Jr.

(CB, Penn State)

Mazi Smith

(DT, Michigan)
Per oddsmakers:
Jordan Addison

(WR, USC)

Calijah Kancey

(DT, Pittsburgh)

Zay Flowers

(WR, Boston College)

Quentin Johnston

(WR, TCU)

Deonte Banks

(CB, Maryland)

Bryan Bresee

(DT, Clemson)

Joey Porter Jr.

(CB, Penn State)

Hendon Hooker

(QB, Tennessee)
---
Dustin Baker is a political scientist who graduated from the University of Minnesota in 2007. Subscribe to his daily YouTube Channel, VikesNow. He hosts a podcast with Bryant McKinnie, which airs every Wednesday with Raun Sawh and Sal Spice. His Vikings obsession dates back to 1996. Listed guilty pleasures: Peanut Butter Ice Cream, 'The Sopranos,' and The Doors (the band).
All statistics provided by Pro Football Reference / Stathead; all contractual information provided by OverTheCap.com.