The P/PTSD Perspective: Joining Aaron Rodgers, the Danielle Deadlock, & a QB Trade that Makes Sense
Andrew Nelles/The Tennessean-USA TODAY Sports
PurplePTSD works in partnership with Vikings Territory, similarly doing their utmost to offer top-notch coverage of the Minnesota Vikings. As a result, we're promoting their top 5 articles of the past week in "The P/PTSD Perspective." Take a peak at some of their best stuff.
The P/PTSD Perspective: July 29th, 2023
1) Former Vikings Defender Joins Aaron Rodgers in New York: Rodgers isn't in Green Bay anymore — a welcome sight for many Vikings fans — but he's still among the least favorite players in the Land of 10,000 Lakes. The former defender joining the Jets is simply part of the NFL as players constantly move around for the next opportunity.
2) The Danielle Hunter Deadlock May Have Just Gotten Easier to Navigate: Indeed, I think so. The deal involving the Steelers' young pass rusher will function as just one more data point for the team and pass rusher to work with. Forced to guess, I'd say the Vikings and Danielle Hunter settle on a raise for 2023, allowing him to hit the open market at the conclusion of the current season.
3) Social Media Sleuths Believe They Have Unveiled a Potential Danielle Hunter Trade Destination: There's still a fair bit of mystery surrounding how things will work our for Hunter. A trade is definitely a possibility and yet the simple fact that he has reported to TCO Performance Center is a positive sign.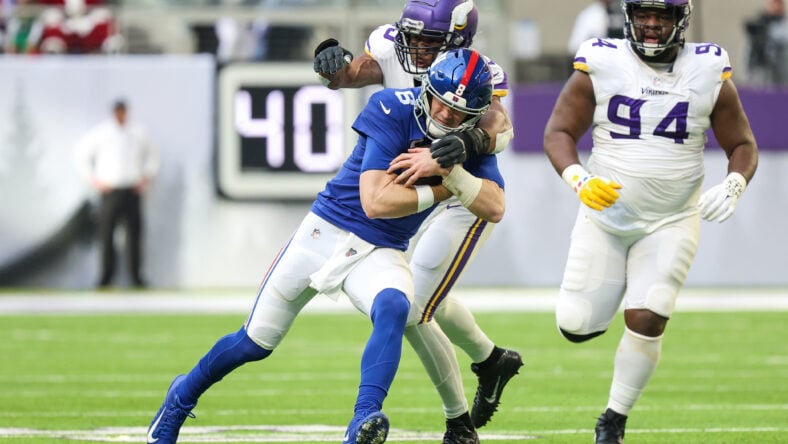 4) A Vikings QB Trade That Actually Makes Some Sense: Kwesi Adofo-Mensah likes adding young players with large upside. That's what he did when adding Ross Blacklock, Jalen Reagor, and T.J. Hockenson. Each one was a highly-picked player who was still operating on his rookie deal. The Titans' QB fits that criteria and Minnesota's GM is friends with Tennesee's GM.
5) A Trade that Could Raise the Vikings' Defensive Ceiling in 2023: Anytime a player is holding out, analysts and fans alike will speculate about a trade. Even still, I don't see this one ending in a swap. The tremendous defender plays for a team with a legitimate shot at the Super Bowl, so I think the contract issue gets resolved.
Enjoy the extra reading, Vikings fans.