The P/PTSD Perspective: 5 Vikings on the Bubble, Kwesi's Checklist, & Sour News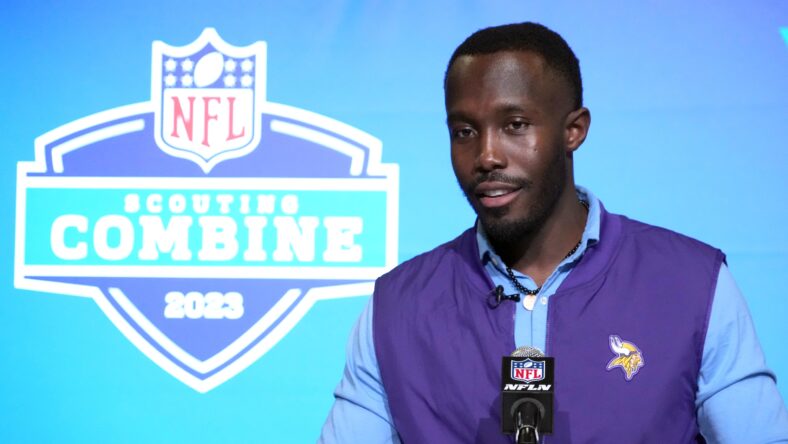 Feb 28, 2023; Indianapolis, IN, USA; Minnesota Vikings general manager Kwesi Adofo‐Mensah during the NFL combine at the Indiana Convention Center. Mandatory Credit: Kirby Lee-USA TODAY Sports.
PurplePTSD works in partnership with Vikings Territory, similarly doing their utmost to offer top-notch coverage of the Minnesota Vikings. As a result, we're promoting their top 5 articles of the past week in "The P/PTSD Perspective." Take a peak at some of their best stuff.
1) Are These Vikings on Their Way Out? 5 Veterans That May Be on the Roster Bubble: Every year, there are surprise cuts and trades. Bringing in a fresh batch of youthful (and cost-controlled!) talent creates the roster crunch. Some Vikings vets won't stick around for the 2023 season.
2) Vikings' & Kwesi's Checklist Shrinks Downs to 5 Items: Getting the Za'Darius deal done was a major item on the list. Even still, there's some notable stuff that needs accomplishing. Dalvin Cook, the extensions, and several other items remain.
3) New Report Sours the Za'Darius Smith Trade for Vikings: In the end, it's not a major deal. The Vikings added a hearty amount of cap space through the trade to Cleveland. The GM who loves value upgraded his draft capital and added cap room. Not an A+ trade, but a notable one nonetheless.
4) Predicting the 2023 Vikings Starters: Offense: I'm among those who are very curious to see how much opportunity C.J. Ham gets. The base offense is likely still 11 personnel – as Josh Frey details in his predictive piece – but the team does want to run the ball more.
5) Predicting the 2023 Vikings Starters: Defense: The defense has its concerns. There is some high-end talent (hello, Danielle Hunter). And, of course, there are plenty of solid players who aren't quite elite (Harrison Phillips, Byron Murphy, etc.). Is there enough depth, though? That's my main concern.
Enjoy the extra reading, Vikings fans.