An Update on Vikings Cap Space after Danielle Hunter Deal
Dec 10, 2017; Charlotte, NC, USA; A Minnesota Vikings helmet lays on the field prior to the game against the Carolina Panthers at Bank of America Stadium. Mandatory Credit: Jeremy Brevard-USA TODAY Sports
The Minnesota Vikings ended all lingering mysteries regarding the 2023 regular season last weekend, granting EDGE rusher Danielle Hunter a new contract for one year and $17 million.
Hunter can earn up to $20 million with sack incentives.
An Update on Vikings Cap Space after Danielle Hunter Deal
And as some cynical Vikings brains assumed Hunter's new money would debit the 2024 or 2025 budgets, general manager Kwesi Adofo-Mensah did the opposite, scheduling most of Hunter's increasing earnings for 2023 — not the future.
ESPN's Field Yates tweeted on the X app Wednesday, "Danielle Hunter's new deal with the Vikings: Signing bonus: $5.5M. Base salary: $10M (guaranteed. Per-game bonuses: $1.5M (guaranteed). Incentives: Up to $3M. Updated 2023 cap hit: $20.95M."
The deal shrunk the Vikings available cap space, as of August 2nd, from around $18 million to $10.2 million, a sum ranking 22nd leaguewide. A neat way to think of it? Minnesota has about $10 million to sign any additional free agents for the rest of 2023.
Theoretically, if the Vikings needed more cap space for an unknown sexy free agent(s) exceeding the $10 million, they could restructure a different player's deal (for instance, Brian O'Neill). However, needing more than $10 million is somewhat unlikely this late in free agency.
Earlier this week, Minnesota hosted veteran guard Dalton Risner for a free-agent visit. The Vikings brass sounded optimistic that a deal might eventually come together for Risner, but the ex-Denver Bronco left Eagan without a contract. His status is firmly to be determined.
Moreover, most big-name free agents — other than Dalvin Cook — are off the board by now. If the Vikings need help at a roster spot, like cornerback, the market is down to slim pickings. Veterans William Jackson, Anthony Brown, and Cameron Dantzler are available, but Minnesota has shown no enthusiasm in the last few months to bolster the CB room. From a bird's eye view, the Vikings 'like what they have' at corner, despite employing mostly inexperienced defenders.
Meanwhile, keep an eye on Ndamukong Suh. The future Hall of Famer lives on the free-agent wire, and the Vikings were reportedly interested in his services last summer — before he landed with the Philadelphia Eagles. Suh told NFL media earlier this summer he wasn't interested in any team's training camp but would likely sign on someone's dotted line at some point in 2023. If Adofo-Mensah is intrigued by Suh's candidacy, he'll be gettable for less than $10 million.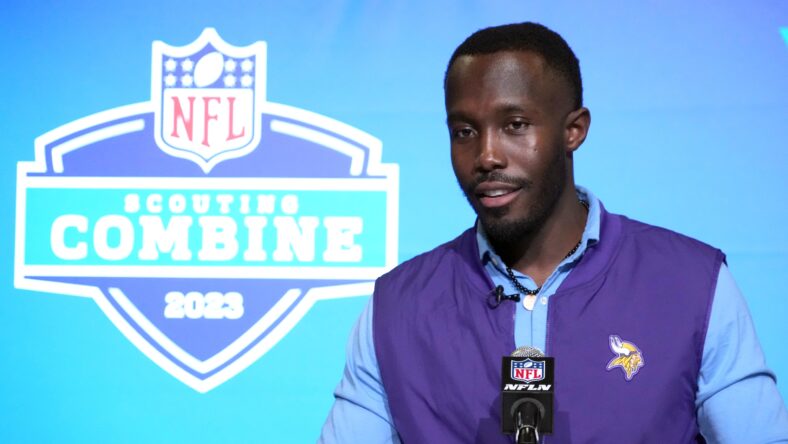 Minnesota can also roll the money over to next year, but it is more likely that it will sign somebody between now and the regular season, which kicks off in 39 days.
Oddsmakers forecast the Vikings to win 8.5 games this season.
---
Dustin Baker is a political scientist who graduated from the University of Minnesota in 2007. Subscribe to his daily YouTube Channel, VikesNow. He hosts a podcast with Bryant McKinnie, which airs every Wednesday with Raun Sawh and Sal Spice. His Vikings obsession dates back to 1996. Listed guilty pleasures: Peanut Butter Ice Cream, 'The Sopranos,' Basset Hounds, and The Doors (the band).
All statistics provided by Pro Football Reference / Stathead; all contractual information provided by OverTheCap.com.