4 Vikings Players Who Need More Playing Time
Jan 8, 2023; Chicago, Illinois, USA; Chicago Bears running back Khalil Herbert (24) runs against the Minnesota Vikings defensive tackle Khyiris Tonga (95) during the second half at Soldier Field. Mandatory Credit: Matt Marton-USA TODAY Sports
The Minnesota Vikings are off to an 0-2 start in 2023, losing the first two contests to the Tampa Bay Buccaneers and Philadelphia Eagles, a disappointing opening after a 13-4 record in 2022.
4 Vikings Players Who Need More Playing Time
The Los Angeles Chargers travel to Minnesota for a date with the Vikings in Minneapolis next weekend, a showdown almost feeling like desperation for the purple team.
And with two games in the books, these four Vikings players should fetch more playing time before too long. They're ranked in ascending order (No. 1 = most urgently needs more action on the field).
4. Jalen Nailor (WR)
The Vikings have targeted second-year wideout Jalen Nailor zilch in the passing game. Instead, these men have patrolled the Vikings offense for Kirk Cousins' weaponry. Here's the target allotment in two weeks:
Justin Jefferson: 25
T.J. Hockenson: 17
K.J. Osborn: 12
Jordan Addison: 11
Alexander Mattison: 10
Josh Oliver: 6
Ty Chandler: 3
C.J. Ham: 3
Jalen Nailor: 0
Brandon Powell: 0
Johnny Mundt: 0
Nick Muse: 0
Nailor showed flashes of promise down the stretch of 2022 and deserves a look at some point later this season.
3. Lewis Cine (S)
Indeed, the Vikings roster six safeties — an unusually large amount — but Cine, a 1st-Rounder from the 2022 NFL Draft, seems to be relegated indefinitely to the bench.
He broke his leg 11 months ago, and perhaps Minnesota is taking it easy with the Georgia alumnus, but Cine needs playing time sooner or later — unless he's just awful behind the scenes.
If Cine and his draft-mate Andrew Booth don't pan out, the 2022 NFL Draft will look terrible in hindsight.
2. Jordan Addison (WR)
It's time to hand over the baton. Yes, already.
Addison burst on the scene in Week 1 with a balloon-ball touchdown throw from Kirk Cousins, and he followed up in Week 2 with a 62-yard touchdown grab to keep the score reasonable. The Vikings chose the young wideout with the 23rd overall pick in April's draft, and the world now understands why.
This guy will be attached to the Vikings roster for the next five years, a salivating prognosis to partner with Justin Jefferson for a half-decade at minimum.
For now, K.J. Osborn holds the WR2 title, but that feels like a lifetime achievement award. Addison is already the practical WR2.
1. Khyiris Tonga (NT)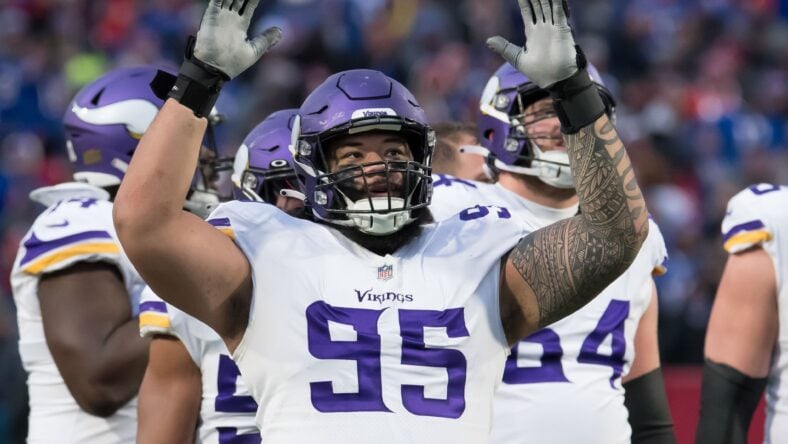 Minnesota is struggling to stop the run. Tonga, a large human, has played just 21 defensive snaps. At some point, defensive coordinator Brian Flores will realize he needs big-bodied defenders to clog the middle.
Tonga is a big-bodied defender.
Most Vikings-themed analysts had Tonga penciled in as a starter this summer, but when the Week 1 depth chart dropped, Tonga lived on the bench.
He needs more playing time to help stop the run. Otherwise, teams will copy the Eagles model from Week 2, running the same play repeatedly with a running back like D'Andre Swift while abusing the Vikings on the ground.
---
Dustin Baker is a political scientist who graduated from the University of Minnesota in 2007. Subscribe to his daily YouTube Channel, VikesNow. He hosts a podcast with Bryant McKinnie, which airs every Wednesday with Raun Sawh and Sal Spice. His Vikings obsession dates back to 1996. Listed guilty pleasures: Peanut Butter Ice Cream, 'The Sopranos,' Basset Hounds, and The Doors (the band).
All statistics provided by Pro Football Reference / Stathead; all contractual information provided by OverTheCap.com.