National Broadcast Maps for Week 3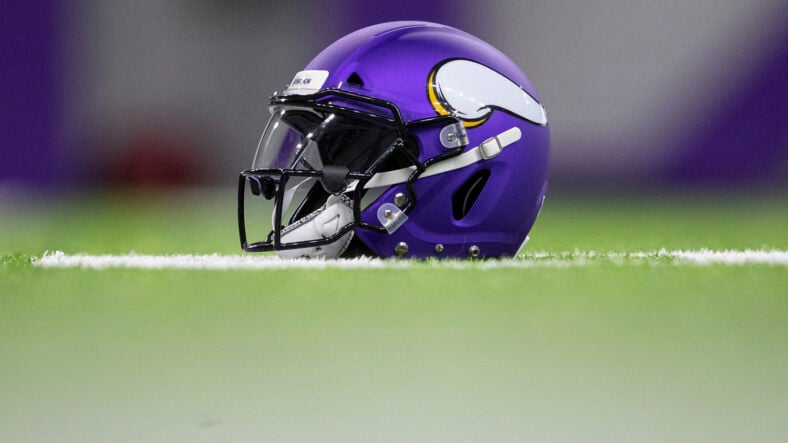 Jun 11, 2019; Eagan, MN, USA; A Minnesota Vikings helmet sits on the field at TCO Performance Center. Mandatory Credit: Harrison Barden-USA TODAY Sports
Heading into Week 3, Vikings fans are hoping that the purple team can turn things around after an 0-2 start to the year.
They will play host to the Los Angeles Chargers on Sunday, who are also hoping to escape from an 0-2 hole of their own. Ahead of the Week 3 slate getting under way, here is a look at all of the national broadcast maps for Sunday afternoon's NFL action. Per usual, these maps are courtesy of 506sports.com.
CBS (Single)
Red: New England Patriots at New York Jets
Green: Denver Broncos at Miami Dolphins
Yellow: Buffalo Bills at Washington Commanders
Orange: Tennessee Titans at Cleveland Browns
Light Blue: Indianapolis Colts at Baltimore Ravens
Blue: Carolina Panthers at Seattle Seahawks (LATE)
For Vikings fans looking to watch a couple different games on Sunday, folks in the Twin Cities can tune into the Carolina Panthers and Seattle Seahawks game during the late-afternoon slate this weekend.
It will allow fans to do a little bit of scouting prior to Minnesota's trip to Carolina in Week 4 when they take on the Panthers and former Vikings wide receiver Adam Thielen.
FOX (Early)
Red: Atlanta Falcons at Detroit Lions
Green: Los Angeles Chargers at Minnesota Vikings
Blue: New Orleans Saints at Green Bay Packers
Yellow: Houston Texans at Jacksonville Jaguars
Of course, fans in living in Minnesota will be tune into the Vikings game on FOX at 12 PM. However, there are a couple other intriguing games to follow along with as well, including the New Orleans Saints visiting the Green Bay Packers.
The Vikings will play both teams at later dates in the season (Green Bay in Weeks 8 and 17, New Orleans in Week 10). Currently, the NFC South is 3-0 against NFC North teams this season, so this should be a great test for Green Bay.
FOX (Late)
Red: Chicago Bears at Kansas City Chiefs
Blue: Dallas Cowboys at Arizona Cardinals
Following the conclusion of the Vikings game, fans will get to tune into the Chicago Bears and Kansas City Chiefs squaring off at Arrowhead. It's been a very interesting week for Chicago ahead of this game, and again, this is a game between two future Vikings opponents.
Minnesota will host the Chiefs in Week 5, and they have matchups with the Bears scheduled for Weeks 6 and 12 later this season.
NOTE: This article originally appeared on our sister-site, PurplePTSD.com.
Josh Frey is a Class of 2020 graduate of The College of Idaho and managing editor of PurplePTSD.com. When he's not writing about the NFL, Josh enjoys running, gaming, or rooting for the Milwaukee Brewers and Bucks. Check out his Twitter account: @Freyed_Chicken.