Trade-Kirk Narrative Resumes after Vikings 1-4 Start
Oct 8, 2023; Minneapolis, Minnesota, USA; Minnesota Vikings quarterback Kirk Cousins (8) passes against the Kansas City Chiefs in the second quarter at U.S. Bank Stadium. Mandatory Credit: Brad Rempel-USA TODAY Sports.
After the Minnesota Vikings toppled the Carolina Panthers eight days ago, all Kirk Cousins-themed trade rumors quieted as it appeared the club could possibly salvage its season.
But after a depressing home loss to the Kansas City Chiefs and the NFL's trade deadline three weeks away, the Cousins-trade noise resumed.
Trade-Kirk Narrative Resumes after Vikings 1-4 Start
Minnesota owns a 1-4 record, with a date at Soldier Field on the itinerary next weekend, the San Francisco 49ers after that, and Lambeau Field in Week 8. The Vikings basically have three games left to determine if Cousins should remain at QB1 or if a trade is wiser — if they're even considering trading him in the first place.
Cousins is the NFL's 10th-best passer through five weeks, per EPA+CPOE, bedfellows with Jalen Hurts (ranked ninth) and Dak Prescott (11th). As soon as Aaron Rodgers was injured four plays into the 2023 season and the Vikings hopped out to an 0-3 start, trade fodder involving Cousins ran rampant.
Former NFLers like Rob Gronkowski and Kyle Rudolph have recommended the Vikings exploration of a Cousins trade if the season isn't rectified, and a 1-4 start fits the argument.
ESPN entered the Cousins trade forum Monday, immediately after the club lost to the Chiefs, claiming a Cousins swap to a new team would not be an overreaction by trade theorists or the Vikings front office.
"He could help someone, and the sooner he gets to the Jets or Falcons or whoever needs a real quarterback to maximize an otherwise strong roster, the better. He'd likely have to learn a new offense on the fly. Now, Cousins has a no-trade clause, and he and his family like it in Minnesota. This is an obstacle, and possibly one that couldn't be overcome. But if Cousins is not in the Vikings' 2024 plans, and they went to him and told him that and asked if he wanted them to deal him to a contender, you'd think he'd at least have to consider it," ESPN's Kevin Seifert wrote about Cousins' potential to boost a playoff-contending team.
It's significantly more likely that the Vikings ride it out with Cousins, hoping to turn the 2023 season around when the schedule turns easier after the trade deadline. But the theory, trading Cousins, suggests it could take the trade capital for Cousins and flip it to move up the draftboard in April, a tantalizing idea if Minnesota nears the doldrums of a 1-7 or 2-6 record by Halloween.
Seifert continued, "Clearly, the 2022 Vikings were overachievers in the first year under a new coach and new GM. Good for them. Things have turned around in 2023, though, and this team needs to be thinking about what the post-2023 plan is at QB. If that's Cousins, cool. There are worse choices. But if it's not, and if this coach and GM who didn't bring in Cousins but inherited him decide they want to go another direction, it probably makes sense to see what they can get for him over the next couple of weeks."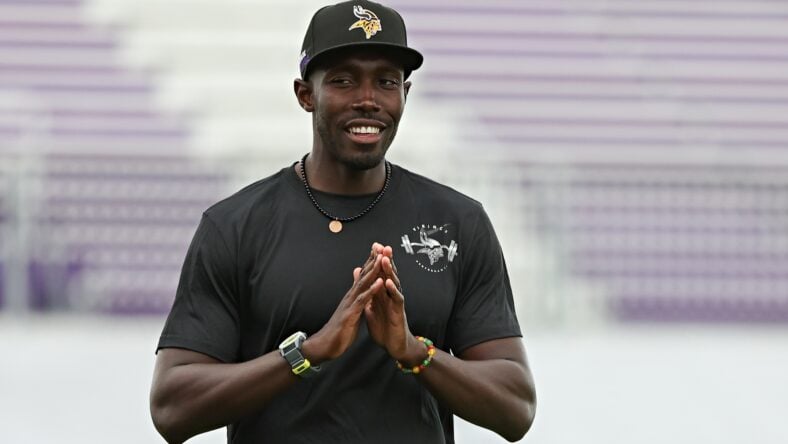 Cousins leads the NFL in touchdown passes as of October 8th with 13. If general manager Kwesi Adofo-Mensah did pull the trigger on a Cousins trade to the Falcons, Jets, or Patriots, for example, he'd probably fetch a 1st- or 2nd-Round pick in the 2024 or 2025 NFL Draft.
The Vikings have a 21% chance to reach the postseason, according to oddsmakers.
---
Dustin Baker is a political scientist who graduated from the University of Minnesota in 2007. Subscribe to his daily YouTube Channel, VikesNow. He hosts a podcast with Bryant McKinnie, which airs every Wednesday with Raun Sawh and Sal Spice. His Vikings obsession dates back to 1996. Listed guilty pleasures: Peanut Butter Ice Cream, 'The Sopranos,' Basset Hounds, and The Doors (the band).
All statistics provided by Pro Football Reference / Stathead; all contractual information provided by OverTheCap.com.