The 6 Vikings Players Most Likely to Break Out in 2023
Nov 24, 2022; Minneapolis, Minnesota, USA; Minnesota Vikings wide receiver Jalen Nailor (83) celebrates after making a stop against the New England Patriots during the fourth quarter at U.S. Bank Stadium. Mandatory Credit: Matt Krohn-USA TODAY Sports
The Minnesota Vikings will hope to maintain or stave off regression from a 13-4 record in 2022, and they'll need help from upstart faces to do it.
General manager Kwesi Adofo-Mensah parted ways with a handful of players on fat contracts, pivoting the roster to a younger, cheaper, faster, and leaner feel.
The 6 Vikings Players Most Likely to Break Out in 2023
With the same offense intact but a new defensive coordinator in Brian Flores, these are the six Vikings players most likely to break out in 2023, ranked in ascending order (No. 6 = least likely).
6. Khyiris Tonga (DT)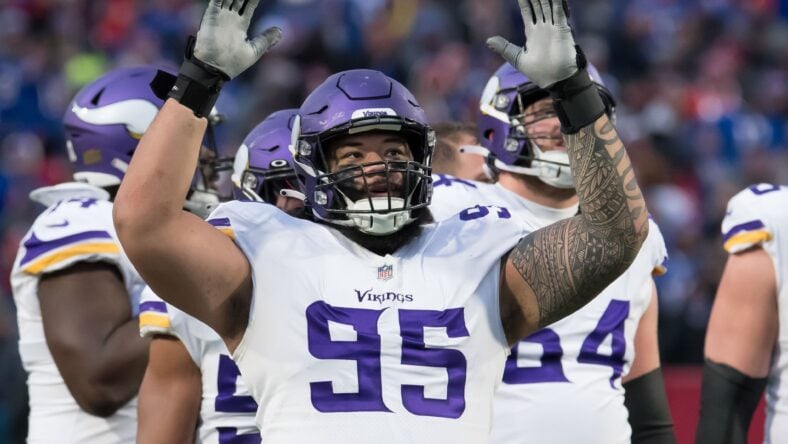 Pro Football Focus called Tonga the NFL's 13th-best interior defensive lineman in 2022. Where did that come from?
The Vikings said sayonara to Dalvin Tomlinson and his elephantine four-year, $57 million contract in Cleveland, and for now, Tonga is on tap for the Vikings nose tackle duty. Based on his 2022 performance, the man deserves a sequel — much like Duke Shelley, who now plays for the Las Vegas Raiders.
Minnesota could still draft a nose tackle or sign a free agent, sending Tonga to a reservist role, but if they don't, Tonga is on deck to start and could further blossom with Brian Flores' tutelage.
5. Jalen Nailor (WR)
Vikings fans already know that K.J. Osborn is pretty damn good, but the verdict is out on Nailor.
The speedster produced great plays in mostly meaningless situations down the stretch of 2022, but those moments weren't meaningless to Nailor. He's faster than a gazelle and seems hungry for his shot.
Nailor could end up as the Vikings WR3 in September if the club doesn't sign Odell Beckham off the free-agent wire or spend a 1st-Round pick on a wide receiver.
4. Andrew Booth (CB)
Should the Vikings not prioritize signing more depth cornerbacks or draft any in early rounds later this month, Booth has to be good — like right away.
Minnesota's CB room is skinnier than Cameron Dantzler, and it feels like the purple powers that be just know Booth is ready for the bright lights of a starting CB job. Otherwise, they would've pursued an additional corner in free agency after Byron Murphy.
Booth was selected with 2nd-Round draft stock, and after recovering from 2022 injuries, he could live up to his potential in Year No. 2 as a pro.
3. Alexander Mattison (RB)
Dalvin Cook will likely be traded sometime before the summer. The re-signing of Alexander Mattison implied such.
Mattison will split time with Ty Chandler in a running back by committee, but when the 2023 season caps, he'll likely be the rushing attempts leader in Minnesota. Mattison has filled in adeptly every step of the way when Cook missed time, and now he's ready to grab the RB1 job by the throat and make it his own.
2. Lewis Cine (S)
Cine should've started opposite Harrison Smith in 2022, but he evidently wasn't ready, and Camryn Bynum won the job. Then, Cine broke his leg in London, and that was a wrap on his NFL maiden voyage.
Now, though, Bynum showed in 2022 that he wasn't a Pro Bowl-caliber safety, setting the stage for Cine to snatch the starting gig later this summer. He's the kind of player who should fit in Flores' defense like a puzzle piece and terrorize ball carriers.
Cine's mean, and he'll have a chance to prove it in five months.
1. Brian Asamoah (LB)
The heir apparent to Eric Kendricks, Asamoah is freakishly athletic like his teammate Lewis Cine. Flores loves these "types."
Asamoah is a shoo-in to start with Kendricks now playing for the Los Angeles Chargers, and after the re-signing of Jordan Hicks, no formidable threat to his starting job exists on the roster. In theory, Minnesota could draft Trenton Simpson (Clemson) to thicken the linebacking plot, but then Simpson and Asamoah would probably be named the starters.
The Oklahoma alumnus was brilliant in a small sample as a rookie, and his time is now.
---
Dustin Baker is a political scientist who graduated from the University of Minnesota in 2007. Subscribe to his daily YouTube Channel, VikesNow. He hosts a podcast with Bryant McKinnie, which airs every Wednesday with Raun Sawh and Sal Spice. His Vikings obsession dates back to 1996. Listed guilty pleasures: Peanut Butter Ice Cream, 'The Sopranos,' and The Doors (the band).
All statistics provided by Pro Football Reference / Stathead; all contractual information provided by OverTheCap.com.