5 Former Vikings You Knew and Loved Who Remain Free Agents
Nov 25, 2018; Minneapolis, MN, USA; Minnesota Vikings linebacker Anthony Barr (55) reacts after making a play during the third quarter against the Green Bay Packers at U.S. Bank Stadium. Mandatory Credit: Harrison Barden-USA TODAY Sports.
NFL free agency began on the second Monday in March, some 2.5 months ago.
The Minnesota Vikings welcomed Josh Oliver (TE, Ravens), Marcus Davenport (EDGE, Saints), Byron Murphy (CB, Cardinals), Dean Lowry (DT, Packers), Brandon Powell (WR, Rams), Troy Reeder (LB, Chargers), Joejuan Williams (CB, Patriots), and John Reid (CB, Falcons) as new free agents.
5 Former Vikings You Knew and Loved Who Remain Free Agents
And ex-Vikings players that fans knew and loved are curiously unemployed with summer hitting the calendar. These are those, ranked in no particular order.
1. Mackensie Alexander (CB)
Selected in the 2nd Round of the 2016 NFL Draft — so, you know, not that old — Alexander remains a free agent after brief stints with the Miami Dolphins and Dallas Cowboys in 2022. Alexander battled injuries last year, one season removed from a Vikings sequel in 2021.
He'll turn 30 in November and can probably latch on somewhere as a depth corner. When he re-signed with the Vikings in 2021, the start of his season was noteworthy, but he declined down the stretch.
2. Linval Joseph (NT)
This 34-year-old damn near won his second Super Bowl ring in February. Joseph spent about half the 2022 season with the Philadelphia Eagles, compiling a 58.9 Pro Football Focus grade in his 13th year.
He has the juice to continue playing nose tackle, but 2023 or 2024 will probably be his last hurrah.
Joseph spent six tremendous years in Minnesota from 2014 to 2019 and is one of the best free-agent additions in team history.
3. Teddy Bridgewater (QB)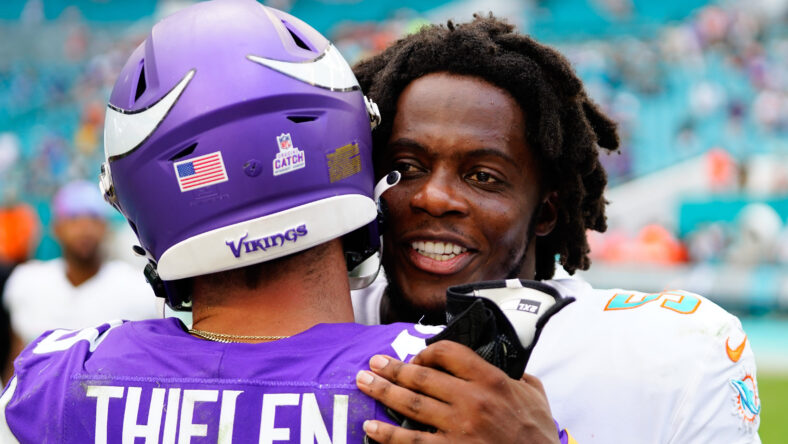 By now, fans, coaches, and general managers have learned that Bridgewater is a QB2 in the NFL. His last starting stint with the Denver Broncos in 2021 was unfavorable, so he swung down to Miami for QB2 duties behind Tua Tagovailoa.
The caveat here, though, is that Bridgewater is a Top 5 backup quarterback in the business. He's 30 years old and will latch onto a team before the regular season kicks off on September 7th.
4. Anthony Barr (LB)
Of all men on this little list, Anthony Barr makes the most sense by the current brand of Vikings to sign — if they're interested at all. Minnesota doesn't have wildly established off-ball linebackers, and Barr is wildly established. He's a veteran presence guy.
He produced a 59.7 PFF grade with the Dallas Cowboys in 2022, his first trip outside the confines of purple and gold clothes. Barr turned 31 in March, and health pending, should have about 1-3 seasons left in the tank.
5. Kyle Rudolph (TE)
Rudolph was a commentator this spring for USFL games, a plot twist, to be sure. He hasn't expressly retired, was hardly utilized during Tom Brady's swan-song season down in Tampa Bay, and lives on the open free-agent market.
Minnesota has six tight ends on the late-May depth chart, meaning a Rudolph reunion doesn't quite add up. However, Rudolph's claim to fame was always his hands, and some team should sign the man for redzone duties.
Rudolph will turn 34 on November 9th, which is also the 34th anniversary of the fall of the Berlin Wall.
---
Dustin Baker is a political scientist who graduated from the University of Minnesota in 2007. Subscribe to his daily YouTube Channel, VikesNow. He hosts a podcast with Bryant McKinnie, which airs every Wednesday with Raun Sawh and Sal Spice. His Vikings obsession dates back to 1996. Listed guilty pleasures: Peanut Butter Ice Cream, 'The Sopranos,' Basset Hounds, and The Doors (the band).
All statistics provided by Pro Football Reference / Stathead; all contractual information provided by OverTheCap.com.