Purple Rumor Mill: Danielle Hunter Trade Rumpus, the Kicker Competition, Cousins' Leadership
Dec 8, 2019; Minneapolis, MN, USA; Minnesota Vikings defensive end Danielle Hunter. Mandatory Credit: Harrison Barden-USA TODAY Sports.
VikingsTerritory's Purple Rumor Mill is a two-day chronicle each week. All the week's rumors are lassoed and plopped in two spots — articles on Saturday and Sunday — for review. Today is the July 30th edition.
Purple Rumor Mill: Danielle Hunter Trade Rumpus, the Kicker Competition, Cousins' Leadership
Remember — rumors are rumors. What you read on weekends in these pieces is what the world is talking about pertaining to the Vikings, not necessarily items that will come to fruition.
Here's the second batch of the week. Yesterday's can be read here.
Rumor: Multiple teams are pursuing Danielle Hunter via trade.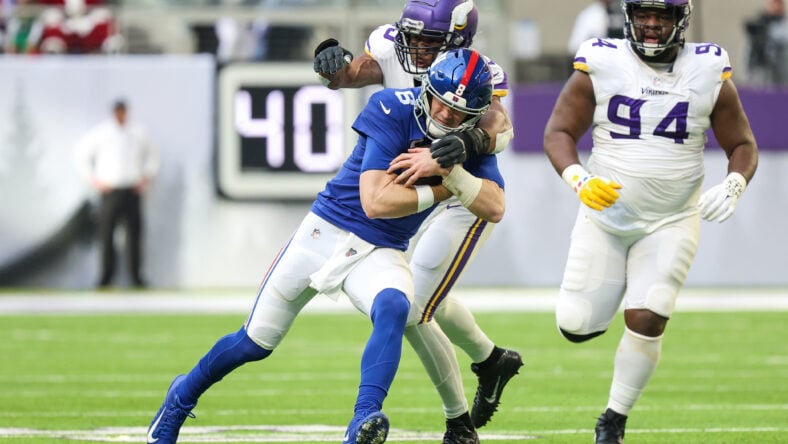 The stakes for a possible Danielle Hunter trade spiked Saturday when ESPN's Jeremy Fowler tweeted, "Sources from multiple teams say the Vikings have been open to trading Pro Bowl DE Danielle Hunter should sides fail to reach an extension. Hunter does not want to play on $4.9M salary, and sides have not made enough progress on a deal."
Hunter's future in Minnesota is truly a coinflip, and the Vikings might be entering September hoping to fix a defense that ranked 30th in points allowed without their two best pass rushers from 2022, Za'Darius Smith and Danielle Hunter.
Not ideal.
Rumor: Minnesota has an honest-to-goodness kicker competition underway at training camp.
Bally Sports' Sam Ekstrom posted on the X app, formerly known as Twitter, on Friday, "ST coordinator Matt Daniels speaking at Vikings camp. Insists it is very much a 'kicking competition' between Greg Joseph and Jack Podlesny."
While most believed Podlesny was indeed at training camp to 'push Joseph to the limit,' Daniels' words confirm a true-blue kicking competition.
The Vikings typically have this phenomenon annually, so it's nothing new for Vikings fans. However, Joseph was extremely clutch in 2022, and some folks thought his job was safe for 2023.
Warm up to this idea — rookie kicker Jack Podlesny could very reasonably be the Vikings Week 1 kicker.
Rumor: Kirk Cousins' leadership schtick has ramped up at training camp.
NFL Network's Steve Wyche said this week about Cousins at training camp, "Thursday after practice, Kirk Cousins for the first time this offseason addressed the team. And I had a coach, and I had a player who told me it was 30 minutes of riveting conversation where Cousins kind of bared his soul much like he did in the quarterback documentary."
"He talked about his journey coming into the league as a backup and how he stayed the course, and then he got into a routine, lift weights a certain day, drink a certain amount of water every day. Just certain things he did so he would keep his sanity and know he would get better," Wyche added.
Cousins has always been a vocal leader for the Vikings; it's just getting more exposure after his role in the Netflix docuseries, Quarterback. This year is nothing new or different.
---
Dustin Baker is a political scientist who graduated from the University of Minnesota in 2007. Subscribe to his daily YouTube Channel, VikesNow. He hosts a podcast with Bryant McKinnie, which airs every Wednesday with Raun Sawh and Sal Spice. His Viking obsession dates back to 1996. Listed guilty pleasures: Peanut Butter Ice Cream, 'The Sopranos,' and The Doors (the band).
All statistics provided by Pro Football Reference / Stathead; all contractual information provided by OverTheCap.com.