Purple Rumor Mill: Hooker Enthusiasm, Worst FA Signing, More FAs on the Way
Mar 4, 2023; Indianapolis, IN, USA; Tennessee quarterback Hendon Hooker (QB07) looks on at Lucas Oil Stadium. Mandatory Credit: Kirby Lee-USA TODAY Sports.
VikingsTerritory's Purple Rumor Mill is a two-day chronicle each week. All the week's rumors are lassoed and plopped in two spots — articles on Saturday and Sunday — for review. Today is the March 26th edition.
Remember — rumors are rumors. What you read on weekends in these pieces is what the world is talking about pertaining to the Vikings, not necessarily items that will come to fruition.
Purple Rumor Mill: Hooker Enthusiasm, Worst FA Signing, More FAs on the Way
Here's the second batch of the week. Yesterday's can be read here.
Rumor: Forget the 3rd Round. The Vikings could take QB Hendon Hooker from Tennesee in Round 1.
Before this week, the Vikings possibly selecting Hendon Hooker in Round 3 or so was a pre-draft talker. Then, NFL.com's Daniel Jeremiah came along and thwacked the draft hype machine, mocking Hooker to Minnesota with the 23rd overall pick.
"The Vikings have been doing their homework on this quarterback class. Hooker is well-liked around the league and he could sit for a year behind Kirk Cousins before taking over and ushering in a new era for Kevin O'Connell," Jeremiah argued.
The next day, CBS Sports' Chris Trapasso mock-drafted Hooker as a Viking, too, in the 1st Round, "The Vikings have other needs, but instead of hoping to bottom out or attempt to a glut of extra picks to move up in next year's draft to pick a quarterback, they pick Hooker and get him with the fifth-year option."
This feels a lot like draft brains shoving Malik Willis into Round 1 last year, a player ultimately bypassed by almost all NFL teams before landing with the Tennessee Titans in Round 3.
But the rumor is real — some believe general manager Kwesi Adofo-Mensah will reach early for Hooker.
Rumor: Adding TE Josh Oliver to the roster was one of the worst free-agent moves leaguewide.
The Vikings want to run the ball more in 2023, adding Oliver to help effectuate the plan. But because the club already has T.J. Hockenson for TE1, the Oliver addition wasn't universally revered.
"Congrats to Josh Oliver for getting paid. He received a three-year, $21 million contract from the Minnesota Vikings, while Dalton Schultz got a one-year, $6.25 million deal from the Houston Texans. Yes, Schultz's deal includes incentives that can boost it, but that's what it is at face value. Oliver gets top 20 tight end money to play alongside T.J. Hockenson," CBS Sports' Jordan Dajani wrote about the transaction, nominating it as one of the worst moves in free agency.
Like all free-agent acquisitions, it really doesn't matter what "people think" of the deal until games begin in September. If Oliver stinks or is not utilized, Dajani will be right. Should Oliver provide an essential role, CBS Sports will be wrong. Plain and simple.
Rumor: The Vikings will continue to add more free agents this week.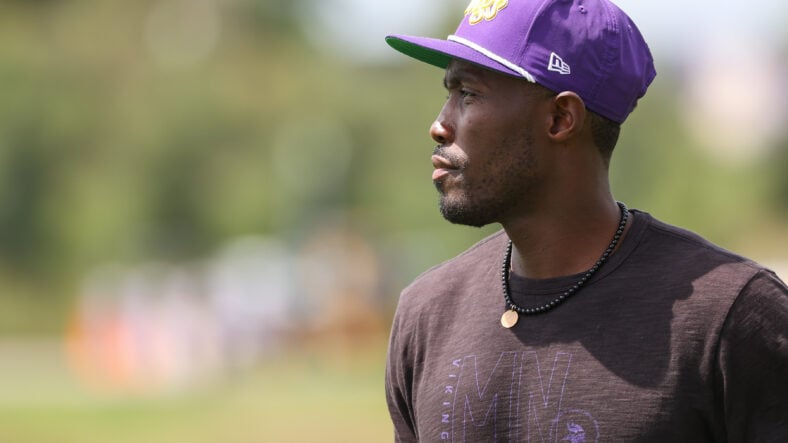 Minnesota doesn't have much cap space, but money could be freed up in a heartbeat with a trade of Za'Darius Smith or Dalvin Cook, a contractual restructure of Brian O'Neill, or any other trick up Adofo-Mensah or Rob Brzezinski's sleeve.
During free agency week No. 3 last year, which is upon us Monday, the Vikings added these players:
🏈 Tye Smith signed
🏈 Chris Reed signed
🏈 Jesse Davis signed
🏈 Nate Hairston signed
🏈 Patrick Peterson re-signed
There's still more roster-building to come. It's just a matter of the player caliber on the way. The "big stuff" happened by now at this time last year. We shall see.
---
Dustin Baker is a political scientist who graduated from the University of Minnesota in 2007. Subscribe to his daily YouTube Channel, VikesNow. He hosts a podcast with Bryant McKinnie, which airs every Wednesday with Raun Sawh and Sal Spice. His Viking obsession dates back to 1996. Listed guilty pleasures: Peanut Butter Ice Cream, 'The Sopranos,' and The Doors (the band).
All statistics provided by Pro Football Reference / Stathead; all contractual information provided by OverTheCap.com.