The 5 Major Takeaways from Vikings Pre-Draft Press Conference
Kwesi Adofo-Mensah & Kevin O'Connell Talk Free Agent Moves, Future at Quarterback & 2023 NFL Draft in Eagan, Minnesota, on April 13th, 2023. Adofo-Mensah and O'Connell joined the organization in January and February 2022, respectively.
The 2023 NFL Draft is less than two weeks away, and the Minnesota Vikings own five picks during the event, at least for now.
Many expect the Vikings to trade down, hoping to stockpile picks in the draft's "sweet spot," defined as picks Nos. 20-100.
The 5 Major Takeaways from Vikings Pre-Draft Press Conference
And with the draft right around the bend, Vikings general manager Kwesi Adofo-Mensah and head coach Kevin O'Connell answered questions from the media Thursday. These are the five essential takeaways from the press conference ranked in order of importance (No. 1 = most important.
You can watch the full press conference here.
5. Don't Forget about the 2022 Draft Class
You might be ticked and disgruntled that Lewis Cine and Andrew Booth didn't play much as rookies in 2022, but that is a you thing.
Adofo-Mensah stressed he very much adores his 2022 draft class — even calling each man out by name, down the line — implying the team has significantly more trust in the group than the fanbase. Just because fans are shaky on players like Andrew Booth or Akayleb Evans doesn't mean the front office and coaching staff agree.
Moreover, because so many injuries ravaged last year's draft class, Adofo-Mensah hinted those men would feel like a new draft class in spirit. Adofo-Mensah loves the batch and isn't disheartened one iota.
4. Oddly Non-Committal about Dalvin Cook
Here's the deal — Dalvin Cook is under contract. Let's get that out of the way.
A reporter asked Adofo-Mensah about Cook's status with the team, and he replied, "Conversations are always ongoing with him. We're trying to be solution-oriented always, trying to put the roster together within our constraints."
All he had to say was Cook is on our roster right now as RB1 — what are you talking about?
Well, he didn't, insinuating something is holding up the Vikings and Cook's continued relationship. Adofo-Mensah almost totally revealed that Cook will not return at his current price tag.
This felt like a textbook answer for a player on the cusp of getting traded or released.
3. Kirk Cousins Won't Be Traded
The media asked O'Connell about Cousins' role in 2023, and the Vikings skipper explained, "But I will say, very excited about Kirk in Year 2 in this system. It's been a while since Kirk's been able to say that he gets to come back in the same system he ran previously with the same play-caller. We've had a lot of great dialogue with him about ways we're gonna look to fine-tune what we did and grow and improve. That'll be a big part of 2023 for me, not only as the head coach, but playcaller, and our offensive staff."
No bland answer was given about Cousins' 2023 status, and in fact, O'Connell offered the opposite — a plan + excitement on his QB1's second year with the same system in ages.
Cousins may be encountering his swan-song season with the team, but nothing about the Thursday press conference suggested a trade is afoot. And the rumor mill has endlessly pounded trade possibilities regarding Cousins to the San Francisco 49ers and New York Jets, for example.
2. More CBs on the Way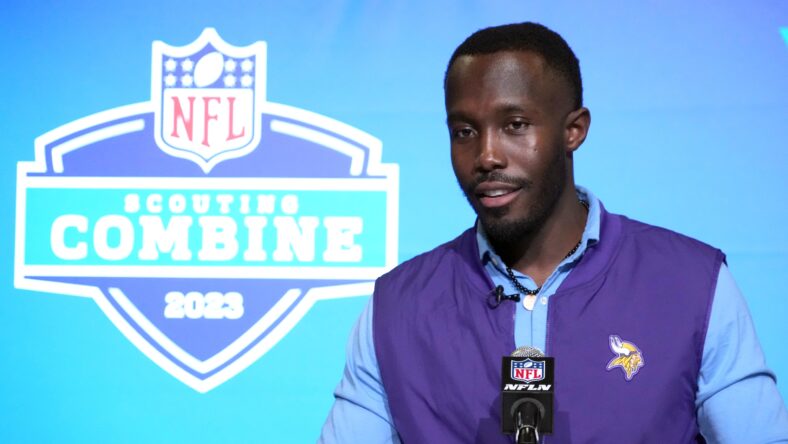 The Vikings employ five cornerbacks as of April 13th, three of which could start. Two are depth players bordering on practice squad classification.
Adofo-Mensah point-blank said the team needs more corners — a fairly obvious observation — so whether the draft in two weeks or free agency as early as now, more CBs are incoming.
The group is not a finished product, and fans should probably expect Minnesota to draft one or two cornerbacks at the end of the month.
1. Drafting a Rookie QB Would Be Ideal but Not Required
Adofo-Mensah was asked about drafting a quarterback in this draft and about the perks of having Cousins' successor in-house before he leaves the team. The Vikings general manager responded, "Ideally, you probably would want to have a year to have the person in the building or something like that, but I don't know if that's necessary."
O'Connell opined on the same question, "Ideally, you would love to have that person in that role developing behind a great player like Kirk, but I don't think you ever sacrifice it being the right player."
"Regardless of the when, the where, the why, the how, you can't sacrifice that. Cause you have to have ultra-belief and connection on making that decision cause it is such an important decision," O'Connell continued.
Unfortunately, all these two replies really did was increase the mystery of the Vikings draft plans. They might draft Cousins' replacement in the draft; maybe they won't.
The takeaway? Drafting a quarterback somewhere in the draft is not off the table. But the club certainly doesn't feel backed into a corner to do so.
---
Dustin Baker is a political scientist who graduated from the University of Minnesota in 2007. Subscribe to his daily YouTube Channel, VikesNow. He hosts a podcast with Bryant McKinnie, which airs every Wednesday with Raun Sawh and Sal Spice. His Vikings obsession dates back to 1996. Listed guilty pleasures: Peanut Butter Ice Cream, 'The Sopranos,' and The Doors (the band).
All statistics provided by Pro Football Reference / Stathead; all contractual information provided by OverTheCap.com.