The 3 Most Fascinating Midseason Storylines for Vikings
Sep 14, 2023; Philadelphia, Pennsylvania, USA; Minnesota Vikings quarterback Kirk Cousins (8) throws for a touchdown against the Philadelphia Eagles during the third quarter at Lincoln Financial Field. Mandatory Credit: Bill Streicher-USA TODAY Sports.
After a Monday Night Football triumph for the 2023 Minnesota Vikings, the team's stock is suddenly heading northward, especially per fans' expectations.
The 3 Most Fascinating Midseason Storylines for Vikings
The Vikings defeated the San Francisco 49ers by five points, a team considered the NFL's best heading into the primetime matchup.
Now, as the middle of the season approaches — which will technically be halftime of the Falcons-Vikings game next weekend — several storylines present mystery.
These are the three most fascinating storylines ranked in ascending order (No. 1 = most fascinating).
3. Buyers, Sellers, or Nothing at Trade Deadline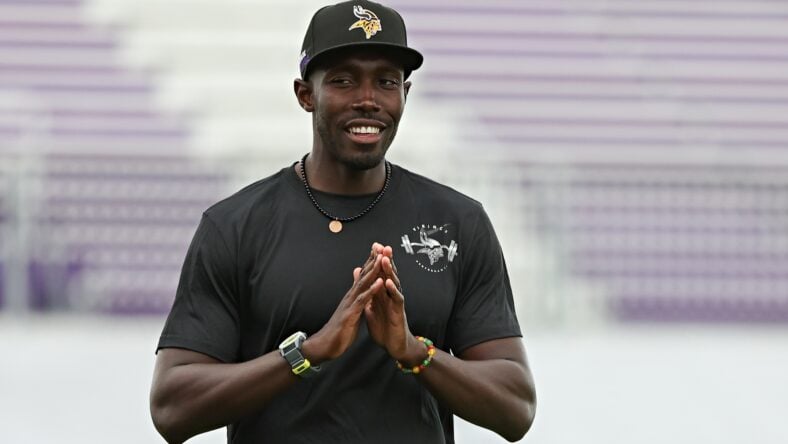 Before Monday Night Football, most conversations regarding the Vikings swirled around trades involving Kirk Cousins and Danielle Hunter. Cousins has said he wasn't interested in waiving his no-trade clause, and Hunter was theorized to the Jacksonville Jaguars by oodles of media outlets.
But after the MNF showing, Minnesota suddenly has a reasonable chance to create a playoff push, especially because Kevin O'Connell's team lives in the NFC's No. 7 seed as of October 28th.
So, does general manager Kwesi Adofo-Mensah actually sell assets, with his team apparently turning around its fortune? Or does he become a buyer of talent, probably scouring the trade market for defensive tackles or outside linebackers? Plenty of pass rushers are available, such as Chase Young, Brian Burns, and Montez Sweat.
Minnesota could also do nothing by the Halloween trade deadline, although trader Kwesi feels like a safer bet.
Last year, Adofo-Mensah netted a big fish in T.J. Hockenson on trade-deadline day, completely enhancing the Vikings offense. Perhaps the young executive hits the wishing well again.
2. Kirk's Final Days in Purple?
Right now, Kirk Cousins' stock is high — and it should be. The man was close to flawless against the 49ers a few nights ago, finally provided a pocket from his suddenly good offensive line. Cousins led the NFL in touchdown passes after Week 7, so suggesting his "final days" in Minnesota might seem wacky.
But what if the Vikings miss the postseason or lose in the first playoff game? Would Adofo-Mensah really sign up for a seventh year of Cousins and assume 2024 would magically be different?
The Vikings probably need to win a playoff game or two with Cousins this January, and if they do not, the purple team may splash in the 2024 NFL Draft for a new quarterback.
There is nothing to complain about regarding Cousins' current productivity, but when it's all said and done, his team has won one playoff game in 2018. If that stat remains, another year with the same QB1 seems unlikely.
1. Is the 2023 Season Closer to 2017 or 2020?
In 2017, the Vikings lost Sam Bradford and Dalvin Cook and looked dead in the water. Dead, dead. Thereafter, they beat the Chicago Bears at Soldier Field and went on a little winning streak. Sound familiar?
Three years later, in 2020, Minnesota bumbled to a 1-5 start, irritating fans and causing pundits to call for an end to the Cousins era with the Vikings. But by early December, the Vikings righted the ship and owned a 6-6 record.
So, is this 2023 season closer to a 2017 example, with the club doing some damage in the playoffs? Or — is this one of those years when they dink around and finish close to 8-9 or 9-8?
It could truly go either way. The outcome seems to depend on how quickly the fumbles and interceptions are eradicated on offense and special teams.
---
Dustin Baker is a political scientist who graduated from the University of Minnesota in 2007. Subscribe to his daily YouTube Channel, VikesNow. He hosts a podcast with Bryant McKinnie, which airs every Wednesday with Raun Sawh and Sal Spice. His Vikings obsession dates back to 1996. Listed guilty pleasures: Peanut Butter Ice Cream, 'The Sopranos,' Basset Hounds, and The Doors (the band).
All statistics provided by Pro Football Reference / Stathead; all contractual information provided by OverTheCap.com.