5 Trade Destinations for Danielle Hunter
Nov 4, 2018; Minneapolis, MN, USA; Minnesota Vikings defensive end Danielle Hunter (99) returns a fumble for a touchdown during the fourth quarter against the Minnesota Vikings at U.S. Bank Stadium. Mandatory Credit: Brace Hemmelgarn-USA TODAY Sports.
The Danielle Hunter trade sweepstakes erupted Wednesday with one tweet from NFL Network's Ian Rapoport, "Here is my understanding of where it stands. Sources say that teams have been calling the Minnesota Vikings regarding Danielle Hunter. He has in fact generated some trade interest."
5 Trade Destinations for Danielle Hunter
It seems the rumor may be driven by a non-Vikings source, but without a contract extension, Hunter's future in Minnesota is undetermined.
If the Vikings don't want to shell out $20 to $25 million per year for Hunter, here's where he could be traded, listed alphabetically.
1. Baltimore Ravens
Current Starting EDGE Rushers: Odafe Oweh | David Ojabo | Tyus Bowser
Cap Space: $11.5 million
Why the Ravens? Baltimore always seems to find the juice in adding premium defensive talent. In fact, when the Vikings experiment with Yannick Ngakoue went pear-shaped three years ago, then-GM Rick Spielman traded him to the Ravens.
The Ravens just feel like a team that would enjoy Hunter's undeniably proficient services, and they own a wee bit of cap space to get the deal done.
2. Kansas City Chiefs
Current Starting EDGE Rushers: George Karlaftis | Charles Omenihu
Cap Space: $650,000
Why the Chiefs? The richer always get richer in America, and Kansas City shouldn't be classified as an exception to the rule.
If you're a casual fan of the NFL, you might not even know Karlaftis or Omenihu. The Chiefs also drafted Felix Anudike-Uzomah in the 1st Round a couple of months ago, but he may need some fertilizer to grow as a rookie.
Hunter can bridge the gap, shoving the Chiefs defense near the top of the league per personnel — if general manager Brett Veach can figure out the money part.
3. New York Giants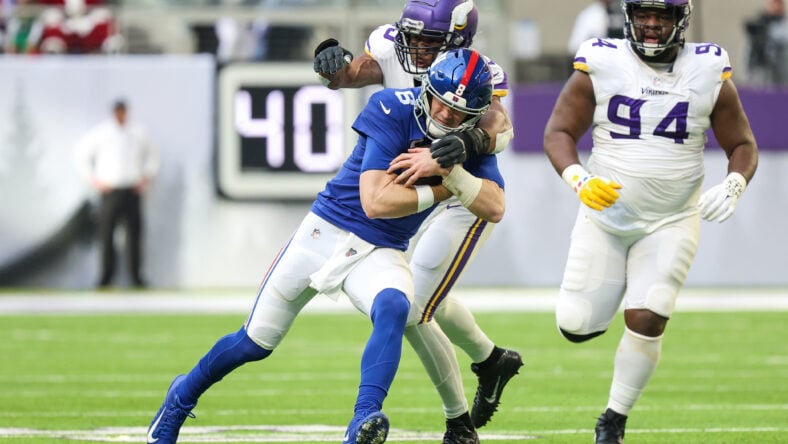 Current Starting EDGE Rushers: Kayvon Thibodeaux | Azeez Ojulari
Cap Space: $3.8 million
Why the Giants? The most recent slayer of the Vikings could use an upgrade vis-à-vis Hunter, especially because the man who reared the pass rusher, Andre Patterson, works for the Giants. Patterson is the Giants defensive line coach and spent seven terrific years with Hunter (when injuries didn't derail him).
As Thibodeaux and Ojulari continue to develop, adding Hunter for two or three years would vastly improve New York's defensive trenches.
4. New York Jets
Current Starting EDGE Rushers: Carl Lawson | John Franklin-Myers
Cap Space: $24.8 million
Why the Jets? Because a notorious Viking killer is employed by the Jets in Aaron Rodgers, they've convinced themselves that they can contend for a Super Bowl for the first time since the Mark Sanchez era.
Lawson and Franklin-Myers might be 'fine,' but this team screams the need for an EDGE enhancement. And that's precisely what Hunter would provide — on Day One.
The Jets also have the cap space — somehow — to bend their cap to Hunter's liking.
5. Washington Commanders
Current Starting EDGE Rushers: Chase Young | Montez Sweat
Cap Space: $11.6 million
Why the Commanders? This is where it gets fun.
A subtle trade rumor mill has begun swirling for Chase Young, so why not some sort of swap involving Hunter and Young? Vikings general manager Kwesi Adofo-Mensah loves high-upside players on rookie deals, and Young is the posterchild for the preference.
If the Young trade fodder is real, the Commanders could onboard a sure-thing commodity in Hunter while sending Young to Minnesota for nourishment and maturation.
Too, this would satiate all Vikings fans skittish about trading Hunter in the first place.
---
Dustin Baker is a political scientist who graduated from the University of Minnesota in 2007. Subscribe to his daily YouTube Channel, VikesNow. He hosts a podcast with Bryant McKinnie, which airs every Wednesday with Raun Sawh and Sal Spice. His Vikings obsession dates back to 1996. Listed guilty pleasures: Peanut Butter Ice Cream, 'The Sopranos,' Basset Hounds, and The Doors (the band).
All statistics provided by Pro Football Reference / Stathead; all contractual information provided by OverTheCap.com.