Brian Flores Offers Encouraging News on Vikings Pro Bowler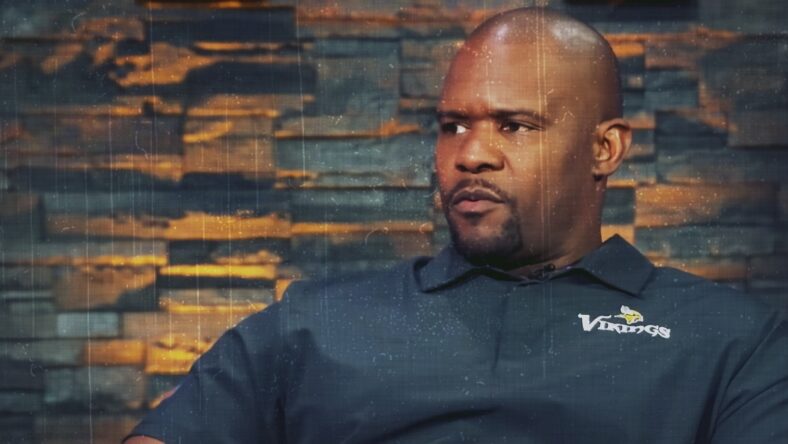 Minnesota Vikings defensive coordinator Brian Flores chatting with Tatum Everett on February 15th, 2023. The Vikings hired Flores from the Pittsburgh Steelers, where he was a linebackers coach for one season.
If the Minnesota Vikings somehow keep the following group intact, they'll employ one of the deepest and best EDGE groups in the NFL during 2023:
OLB1: Danielle Hunter
OLB2: Marcus Davenport
OLB3: Za'Darius Smith
OLB4: D.J. Wonnum
OLB5: Patrick Jones
OLB6: Luiji Vilain
OLB7: Benton Whitley
OLB8: Curtis Weaver
Za'Darius Smith said farewell to Minnesota on Twitter five weeks ago, but then nothing happened, and he remains on the Vikings roster.
Brian Flores Offers Encouraging News on Vikings Pro Bowler
And about a month ago, longtime Vikings insider Judd Zulgad said on SKOR North's Purple Daily YouTube show that the Vikings have "gotten calls" about a Danielle Hunter trade.
While it's probably true Vikings general manager Kwesi Adofo-Mensah listened to trade offers for Hunter, he's unlikely to depart the club after new defensive coordinator Brian Flores' alleged musings.
According to KSTP's Darren Wolfson, who appeared on the Mackey & Judd Show Wednesday, Hunter is a defensive centerpiece for the upcoming season, "I did hear that Brian Flores is really really pumped up to coach Danielle; that Danielle, it's mutual, is pumped up to play under Brian Flores."
"So, do the Vikings find a way to give him some sort of bump, extend him? I think that will play out come May and June, maybe into July," Wolfson added.
Minnesota can't realistically release Hunter, as such a maneuver would damage their salary cap standing even further. In theory, a trade would make the most sense if Adofo-Mensah wanted to move on from Hunter. Per Wolfson, though, it sure sounds like Flores is excited to work with the eight-year veteran and vice versa.
Hunter graded as the NFL's seventh-best EDGE rusher in 2022 with an 87.7 score, according to Pro Football Focus. He spent the early part of the 2022 campaign acclimating to a 3-4 defense for the first time in his career, and indeed, it took a few weeks to get cooking. That's just the way it goes for defenders habitually encountering alternate defensive schemes for most of their careers. Hunter's adaptation to a 3-4 system after about a month should actually be commended.
Flores, too, runs a 3-4 system at heart, meaning the potential trade of Hunter almost seems silly — he's arguably the Vikings best defender. If Adofo-Mensah traded Hunter, plus Smith's desire to leave, Minnesota would be down to some semblance of newcomer Marcus Davenport and third-year pass rush Patrick Jones in line to start, which feels a bit upside down for a team currently employing Hunter and Smith.
The most sensible resolution, probably after the draft, is a Hunter extension for one to three years. He's wrapping up a team-friendly deal signed by Rick Spielman five years ago and deserves a large payday.
A Hunter trade never made too much sense, particularly after the Vikings moved all-in with the Flores hire, and it's wildly unsurprising that Flores wants to retain his best player.
---
Dustin Baker is a political scientist who graduated from the University of Minnesota in 2007. Subscribe to his daily YouTube Channel, VikesNow. He hosts a podcast with Bryant McKinnie, which airs every Wednesday with Raun Sawh and Sal Spice. His Vikings obsession dates back to 1996. Listed guilty pleasures: Peanut Butter Ice Cream, 'The Sopranos,' and The Doors (the band).
All statistics provided by Pro Football Reference / Stathead; all contractual information provided by OverTheCap.com.