Brian Flores Excited about the Return of One Viking
Minnesota Vikings Defensive Coordinator Brian Flores addressed the media from the TCO Performance Center. Flores was hired in February 2023 to take over for Ed Donatel after Minnesota finished 30th in points allowed.
Outside of the force known as Danielle Hunter, the Minnesota Vikings pass rush has been puny through three games of 2023.
Unsurprisingly, in large part thanks to that factoid, Minnesota is 0-3 out of the gate in Kevin O'Connell's second season.
Brian Flores Excited about the Return of One Viking
But a defensive reinforcement could be on the way in the form of outside linebacker Marcus Davenport.
The 27-year-old didn't practice Wednesday and has only played a few snaps in 2023 because of an ankle injury, but Davenport is expected to practice in a limited capacity on Thursday or Friday before a Week 4 determination.
And when Davenport actually hits the field — Vikings fans are clamoring for it — defensive coordinator Brian Flores will be closer to his vision for the team's fledgling defense.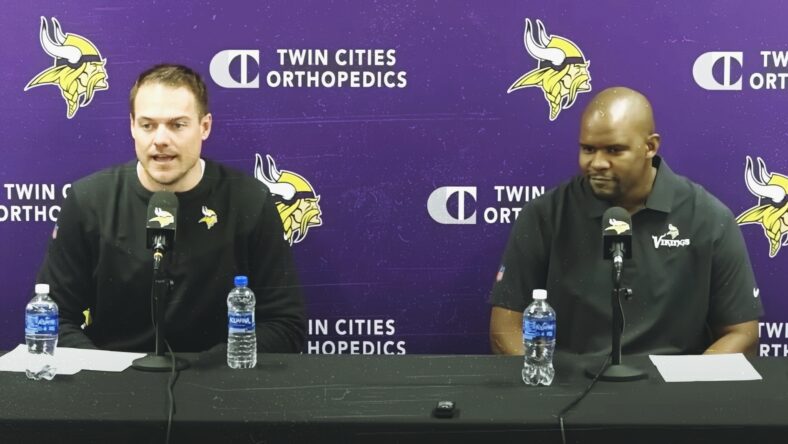 Flores said about Davenport on Thursday, "It sounds like we may get him back on a limited basis today. We'll see how it goes, but yeah, he would bring an element that we need of just pass rush and physicality in the run game. When we get him back, nobody will be happier than me."
In Davenport's stead, pass rushers D.J. Wonnum and Patrick Jones have filled in — with rather limited success. Neither man is forcing quarterback pressure, at least not consistently.
VikingsTerritory's Sean Borman tweeted Monday morning, one day after the Vikings fell to 0-3 following a loss to the Los Angeles Chargers, "DJ Wonnum and Pat Jones II rank 109 and 110 in PFF's pass rush grade among edge rushers with at least 25 snaps."
Wonnum has fired up a 48.7 Pro Football Focus grade, with Jones at 46.9. Long story short, Minnesota needs Davenport on the defensive line, and Flores knows it.
Hunter is doing his part — he's second in the NFL in sacks behind T.J. Watt of the Pittsburgh Steelers — but Minnesota is left to simulate pressure from non-outside linebackers after Hunter's name on the depth chart. In theory, the fix could be simple. When Davenport is ready to go, perhaps he alone can torment quarterbacks at the current spot filled by Wonnum or Jones. Playing alongside Hunter has historically freed up the "non-Hunter guy" to feast. Ask Ifeadi Odenigbo about it from the 2019 season.
Davenport is paid at a price that suggests he should or will be the missing link, but the ex-New Orleans Saint logged just 0.5 sacks in 2022. If he doesn't change that performance, Minnesota will continue an already bleak season.
But Davenport produced an impressive 76.8 PFF grade last year, so his eventual return almost has to mean something — probably why Flores is counting down the days.
The Vikings are favored by four points to defeat the Carolina Panthers on Sunday, with or without Davenport.
---
Dustin Baker is a political scientist who graduated from the University of Minnesota in 2007. Subscribe to his daily YouTube Channel, VikesNow. He hosts a podcast with Bryant McKinnie, which airs every Wednesday with Raun Sawh and Sal Spice. His Vikings obsession dates back to 1996. Listed guilty pleasures: Peanut Butter Ice Cream, 'The Sopranos,' Basset Hounds, and The Doors (the band).
All statistics provided by Pro Football Reference / Stathead; all contractual information provided by OverTheCap.com.