Section 121: PurplePTSD's Growing Archive of Vikings Knowledge
Jul 27, 2022; Eagan, MN, USA; Minnesota Vikings general manager Kwesi Adofo-Mensah. Mandatory Credit: Matt Krohn-USA TODAY Sports.
Since taking over as the GM in January of 2022, Kwesi Adofo-Mensah has been a busy man. At times, our Vikings knowledge can struggle to corral all that he has done.
Indeed, he has guided the Vikings through a pair of drafts and free agency periods. He helped the team navigate a reasonably successful opening season; he's now doing his utmost to prepare his squad for the challenge that awaits in 2023. Crucially, he has been doing so while still keeping an eye on life beyond the current season.
Yes, the so-called competitive rebuild has led to a lot of consequential (controversial?) decisions. Can you remember every trade that has been made? Even more generally, can you remember the total of amount of trades that have come to fruition?
Similarly, there can be fuzziness about a ton of other small details (not just the trades, as fascinating as those often are). In a perfect world, Section 121 can help to satisfy some of the desire for clear, precise information.
Section 121: Building Up Vikings Knowledge
The basic idea with Section 121 is to develop a spot at PurplePTSD that can function as a nice resource for readers.
So far, there have been five article tossed into Section 121 on PurplePTSD. Take a look at what has been included:
Consider, for instance, just the trades piece. Putting them all in a single place allows us to see trends and tendencies. The GM isn't shy about doing business in the division or the conference more broadly, but he has favored the AFC (the score is 10-5 in favor of the AFC).
He has pulled off nine trades in his pair of drafts.
In four instances, his deals have brought a new player in: QB Nick Mullens, DT Ross Blacklock, WR Jalen Reagor, and TE T.J. Hockenson. The final three players are ones who were acquired to reinforce a position with a still-young player who was still working on his rookie contract. In each instance, the player came to Minnesota with a couple years of team control still available to the Vikings.
Looking at all the draft picks reveals that LSU is the program to offer the most players to Minnesota in Adofo-Mensah's time leading the charge. He has picked three players from that specific program, the most of any single college.
More significantly, we see that he has placed a major emphasis on adding young talent to the secondary. After the 2022 and 2023 drafts, Adofo-Mensah added five defensive backs — Lewis Cine, Andrew Booth Jr., Akayleb Evans, Mekhi Blackmon, & Jay Ward — to his team. Apparently, the defensive backfield is one of the critical areas that needs rebuilding to be competitive.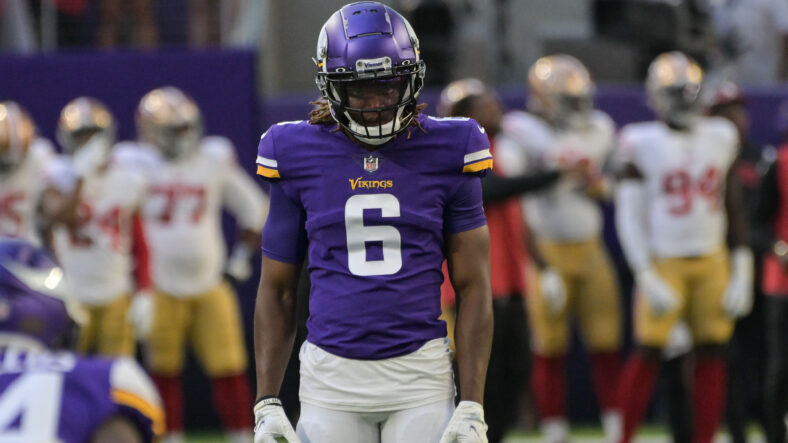 Of course, Section 121 doesn't claim to have a monopoly on Vikings knowledge. There's simply no way that's at all true.
Instead, the new section on PurplePTSD seeks to be a helpful resource for readers. All of the information could be found elsewhere, but (we hope) to offer things in a concise, efficient manner.
Being able to see how the most recent GMs — Spielman & Adofo-Mensah — are impacting the roster may allow us to see how large the personnel changes have been in 2022-23. Similarly, the trades and draft pick trackers are instructive just as the 3-year outlook allows us to capture a sense of what kind of talent could be added in future trades and/or picks. The nicknames? Well, hopefully that's just fun.
The vision for Section 121 isn't to have a static collection of articles. On the contrary, the pieces can and should be updated as more things happen. Kwesi Adofo-Mensah pulls off another trade? Great, it'll be included in the trade tracker. Ditto for the other areas.
Oh, and a final thing: keep an eye on PurplePTSD for another addition to Section 121 today. As always, the author welcomes feedback on the articles. If an error is spotted, be sure to let him know on Twitter.