Purple Rumor Mill: Anthony Barr, Christian Darrisaw's Status, an Extra RB
Oct 9, 2016; Minneapolis, MN, USA; Minnesota Vikings linebacker Anthony Barr (55) against the Houston Texans at U.S. Bank Stadium. The Vikings defeated the Texans 31-13. Mandatory Credit: Brace Hemmelgarn-USA TODAY Sports.
VikingsTerritory's Purple Rumor Mill is a two-day chronicle each week. All the week's rumors are lassoed and plopped in two spots — articles on Saturday and Sunday — for review. Today is the November 12th edition.
Purple Rumor Mill: Anthony Barr, Christian Darrisaw's Status, an Extra RB
Remember — rumors are rumors. What you read on weekends in these pieces is what the world is talking about pertaining to the Vikings, not necessarily items that will come to fruition.
Here's the second batch of the week. Yesterday's can be read here.
Rumor: Anthony Barr could end up with the Pittsburgh Steelers.
Barr last played for the Dallas Cowboys in 2022, departing the Vikings after the 2021 campaign, and has remained a free agent since the Cowboys relationship ended. He's available to sign anywhere in the NFL, and some believe that could or should be with the Steelers.
Bleacher Report opined this week on Barr-to-Steelers, "The Steelers already needed help at linebacker going into the Thursday night game against the Titans. Then Cole Holcomb suffered a season-ending knee injury, and the need became even worse. The Steelers' chances of continuing to win rely on playing good defense, so finding a veteran who can fill in could be crucial."
Pittsburgh had skimpy linebacker depth before last week but then also lost Cole Holcomb.
"Anthony Barr is among the most qualified free agents to take that job. He started 10 games for the Cowboys last season and compiled 58 total tackles with two for a loss, a sack and four quarterback hits," Bleacher Report concluded about Barr's free agency.
This transaction, Barr to Pittsburgh, would make sense but hasn't occurred yet.
Rumor: Christian Darrisaw is a full go for Sunday versus the Saints.
Darrisaw missed Week 9 because of a groin injury, an ailment that fell out of the sky just one day before the Falcons showdown. Thankfully for the purple team's sake, reservist LT David Quessenberry took Darrisaw's spot and performed wonderfully.
But Minnestoa received positive news when the final injury report dropped Friday — Darrisaw is off the list altogether.
Barring something fluky [again] Sunday morning, Darrisaw will play against the Saints.
Rumor: The Vikings need an extra running back after Cam Akers' injury but have not signed one.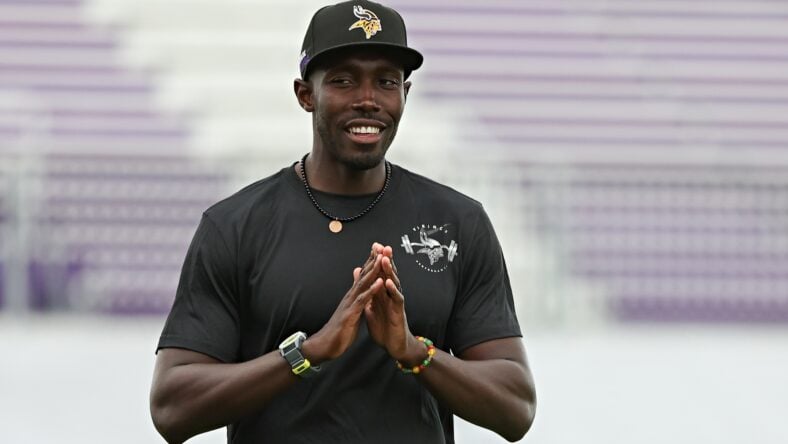 The Vikings lost Cam Akers to an Achilles tear at Atlanta, and two days later, the Los Angeles Rams released Myles Gaskin, who lived on the Vikings roster for a bit this season.
Many believed — this website included — that Gaskin would rejoin the Vikings roster in light of the Akers IR trip. But it hasn't happened yet.
For now, Minnesota will venture into the rest of the season with this RB room:
Alexander Mattison
Ty Chandler
Kene Nwangwu
DeWayne McBride (PS)
Keep Gaskin on your radar, especially if the ground attack is terrible versus New Orleans.
---
Dustin Baker is a political scientist who graduated from the University of Minnesota in 2007. Subscribe to his daily YouTube Channel, VikesNow. He hosts a podcast with Bryant McKinnie, which airs every Wednesday with Raun Sawh and Sal Spice. His Vikings obsession dates back to 1996. Listed guilty pleasures: Peanut Butter Ice Cream, 'The Sopranos,' Basset Hounds, and The Doors (the band).
All statistics provided by Pro Football Reference / Stathead; all contractual information provided by OverTheCap.com.