9 Predictions for Vikings First Offseason Domino
Oct 16, 2022; Miami Gardens, Florida, USA; Minnesota Vikings wide receiver Justin Jefferson. Mandatory Credit: Rich Storry-USA TODAY Sports.
VikingsTerritory writers were asked to provide one offseason prediction apiece, forecasting the Minnesota Vikings first offseason domino.
The franchise is underwater via cap space — an annual tradition — and will presumably address aging veterans' contracts to wiggle under the cap.
9 Predictions for Vikings First Offseason Domino
Some predictions will double up as the panel did not use groupthink tactics during the exercise. In those circumstances, consider the prediction all the more popular.
1. Sign CB Cameron Sutton from PIT
Prediction Maker = Adam New
The Vikings have potential at cornerback with Andrew Booth and Akayleb Evans. So, rather than looking for another young corner in the draft, the Vikings move for starting CB with experience via the free agency market.
Minnesota will grab free-agent corner Cameron Sutton, who spent six years in Pittsburgh and impressed first in the slot before moving to the outside the last two seasons. Sutton's versatility is a valuable asset, and he'd be a solid piece to add to the Vikings secondary.
2. T.J. Hockenson Extended
Prediction Maker = Kyle Joudry
The first major move of the offseason is a T.J. Hockenson extension. After sending over some reasonably large draft capital to a division rival, the Vikings won't hesitate to go after a long-term extension, especially since they can gain a hefty chunk of cap space by doing so.
Expect this offense to build around Christian Darrisaw, Justin Jefferson, and T.J. Hockenson for the next several years, with the TE inking the first extension of the three.
3. Justin Jefferson Extended
Prediction Maker = Josh Frey
Before the Vikings do anything, they must ensure their best player sticks around for years to come. Step No. 1 of the Vikings offseason will be getting Justin Jefferson his long-term — probably market-resetting — contract extension.
4. Adam Thielen Paycut or Departure
Prediction Maker = Ted Schwerzler
While I think the Dalvin Cook situation could sort itself out in short order, let's go with a resolution on Adam Thielen.
With ties so close to the state and organization, I don't think that's a scenario that the Vikings will want to drag out. He's either taking a paycut or finding a new home.
5. A Kirk Cousins Decision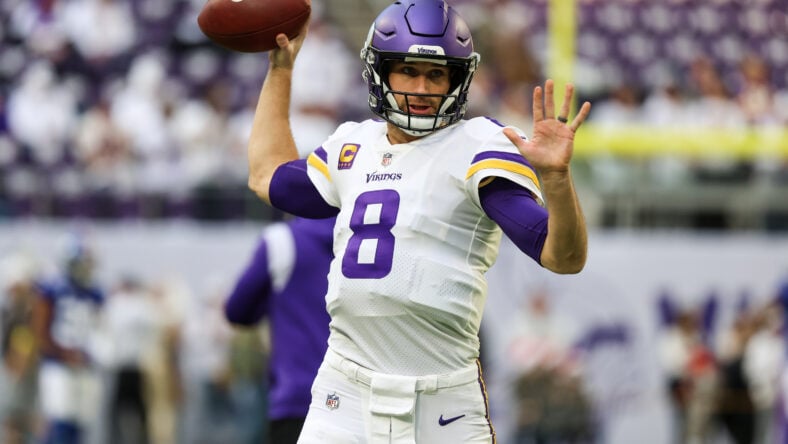 Prediction Maker = Mitch Massman
The first offseason move [or non-move] will be Kirk Cousins. The Vikings must become cap compliant before the start of the league year. He is set to make $36 million against the cap in 2023.
If Cousins does not get a new deal or restructure, it likely indicates there will not be a new deal done, and Cousins plays on a contract year. In that case, Adam Thielen will be restructured to reduce his cap hit.
6. Jordan Hicks Released
Prediction Maker = Janik Eckardt
The veteran linebacker lost more and more playing time to rookie Brian Asamoah late in the 2022 season. By releasing Hicks, the Vikings can save $5 million in cap space. The decision is a no-brainer, especially because Asamoah showed some flashes in his limited playing time while Hicks struggled.
7. Hicks & Kendricks Released
Prediction Maker = Cole Smith
The first major offseason move to set fans into a frenzy will be cutting Eric Kendricks and Jordan Hicks. The two aging linebackers won't be trade-worthy for other teams like Dalvin Cook might be.
This will be the first real step toward Kwesi Adofo-Mensah and Kevin O'Connell molding the roster into their own, whereas last year, they essentially brought back the Spielman-Zimmer roster. Young, speedy (and cheap) replacements will take over at inside linebacker(s).
8. Hicks & Kendricks Released
Prediction Maker = Dustin Baker
A caveat to these transactions — a partner of sorts — is that Minnesota signs either Tremaine Edmunds from the Buffalo Bills or David Long of the Tennessee Titans. Those men are young off-ball linebackers, and the Vikings will part ways with Eric Kendricks and Jordan Hicks to make room.
Releasing Kendricks and Hicks would net Minnesota $14.5 million in cap space, and that's after dead cap hits.
Ordinarily, the Vikings first offseason domino is a Kirk Cousins extension, but they may let the QB1 play out the final year of his contract in 2023.
9. Eric Kendricks Released
Prediction Maker = Ali Siddiqui
The Vikings will save $9.5 million by releasing the beloved linebacker. Kendricks has been a very good player during his eight years with the team, but he's on the decline. Yes, the 3-4 defense wasn't the right fit for him — but he's also declining.
With the Vikings cap situation, they have some tough decisions ahead. Moving on from Kendricks should be one of those decisions, and they will do precisely that.
---
Dustin Baker is a political scientist who graduated from the University of Minnesota in 2007. Subscribe to his daily YouTube Channel, VikesNow. He hosts a podcast with Bryant McKinnie, which airs every Wednesday with Raun Sawh and Sal Spice. His Vikings obsession dates back to 1996. Listed guilty pleasures: Peanut Butter Ice Cream, 'The Sopranos,' and The Doors (the band).
All statistics provided by Pro Football Reference / Stathead; all contractual information provided by OverTheCap.com.