The Vikings Have 8 Possible Scenarios at QB in 2024
Nov 13, 2022; Orchard Park, New York, USA; Minnesota Vikings quarterback Kirk Cousins (8) gets instrucyion from head coach Kevin O'Connell in the first quarter game against the Buffalo Bills at Highmark Stadium. Mandatory Credit: Mark Konezny-USA TODAY Sports.
In January or February — so not far away — all attention regarding the Minnesota Vikings will turn to the quarterback position.
The Vikings Have 8 Possible Scenarios at QB in 2024
Kirk Cousins was injured in October, tearing his Achilles tendon and sidelining the 35-year-old for the rest of the year. The club acquired Josh Dobbs via trade, started Jaren Hall for the 1st Quarter of a game before injury, inserted Dobbs, and Dobbs is now the QB1 the rest of the way.
While the 2023 season has seven games remaining, plus a playoff tournament, Minnesota will have eight options at quarterback as soon as the offseason arrives. These are those, ranked in ascending order of eventual fruition (No. 1 = most likely to occur).
8. Jaren Hall Only
Via the smallest chances, on the list and in general, there's a planet where the Vikings leadership is enamored with Hall behind the scenes.
In this scenario, the Vikings would let Cousins and Dobbs walk in free agency, roll with Hall, and not invest draft capital in a quarterback this April.
It's a crazy longshot, but it had to be included for thoroughness.
7. Jaren Hall & Draft a Rookie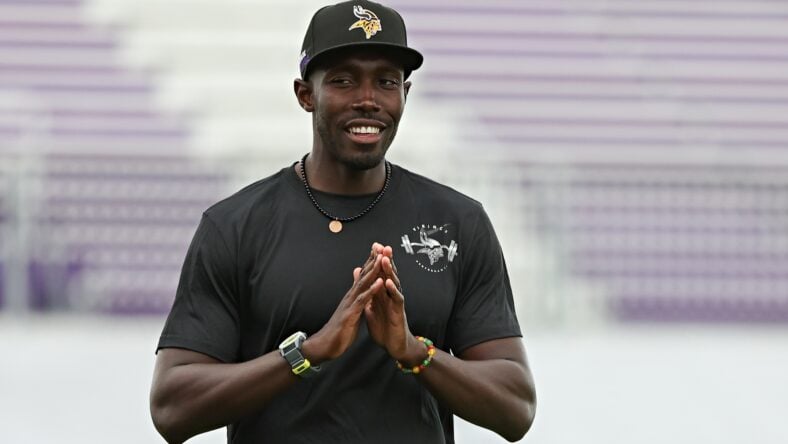 Unlikely to materialize but not impossible, the Vikings would allow Cousins and Dobbs to embark on free agency and sign with new teams. Then, the Vikings would promote Hall to QB1, if only for a month, and draft a quarterback with high-draft capital in April.
Between Hall, Nick Mullens, and the new guy, a summer quarterback battle would be underway in July.
6. Trade for a Veteran QB & Jaren Hall Stays
Minnesota swerves, trading for a high-profile quarterback on the trade market. One or two typically grace the market each year in February.
The Cardinals could use high-round draft capital to select Caleb Williams or Drake Maye, orphaning Kyler Murray and creating a robust trade sweepstakes for his services.
The one item holding the Vikings back from this scenario is money. Minnesota must pay Justin Jefferson, Danielle Hunter, and Chrirstian Darrisaw this offseason, and Murray may be too spendy.
5. Re-Sign Dobbs, Hall Stays, Cousins Leaves, No Rookies
The Vikings tell Cousins thanks for six years of service and hop on board for the full-time Dobbs Experiment, with Hall as the contingency plan if Dobbs fizzles.
Cousins hits free agency and signs somewhere like New England or Atlanta. General manager Kwesi Adofo-Mensah does not draft a quarterback with Round 1 or 2 draft capital and considers Hall the guy to groom behind Dobbs.
4. Re-Sign Cousins, Hall Stays, Dobbs Leaves, No Rookies
Minnesota thanks Dobbs for the 2023 memories, much like the Case Keenum era ended six years ago. Cousins is retained on a one- or two-year deal, with Hall as QB2 and the QB of the future when Cousins gallops into the sunset.
No 1st- or 2nd-Round quarterback is drafted in April because the Vikings like Cousins and Hall.
3. Keep Cousins, Dobbs, and Hall
Hell, let's keep the whole gang.
The Vikings leadership can't decide if Cousins or Hall is the better option in 2024, so Adofo-Mensah finds a way to sign both, with Hall remaining at QB3 after a presumed Nick Mullens departure.
This method will be expensive, but it stocks the QB room and hedges the bet to injury.
2. Keep Dobbs & Hall, Draft a Rookie, Cousins Leaves
Minnesota re-signs Dobbs on a prove-it deal while using its 20-something draft pick on Michael Penix Jr., Jayden Daniels, or Bo Nix, for example. Hall sticks around because he has three years left on his contract, but Dobbs is the QB1 in September, with Penix Jr., Daniels, or Nix on deck as the next guy when Dobbs moves on.
This option could careen to No. 1 if Dobbs takes the Vikings to the NFC Championship or Super Bowl.
1. Keep Cousins & Hall, Draft a Rookie, Dobbs Leaves
Back to square one.
Dobbs is thanked for his efforts, Cousins is re-signed for one or two years, and Adofo-Mensah spends a 1st- or 2nd-Round pick on Penix Jr., Daniels, Nix, etc.
This would be the most realistic option if Dobbs begins struggling between now and the end of the season. It's the Dobbs-Turns-Into-A-Pumpkin theory.
---
Dustin Baker is a political scientist who graduated from the University of Minnesota in 2007. Subscribe to his daily YouTube Channel, VikesNow. He hosts a podcast with Bryant McKinnie, which airs every Wednesday with Raun Sawh and Sal Spice. His Vikings obsession dates back to 1996. Listed guilty pleasures: Peanut Butter Ice Cream, 'The Sopranos,' Basset Hounds, and The Doors (the band).
All statistics provided by Pro Football Reference / Stathead; all contractual information provided by OverTheCap.com.