7 QB Prospects Vikings Fans Should Know Heading into the Senior Bowl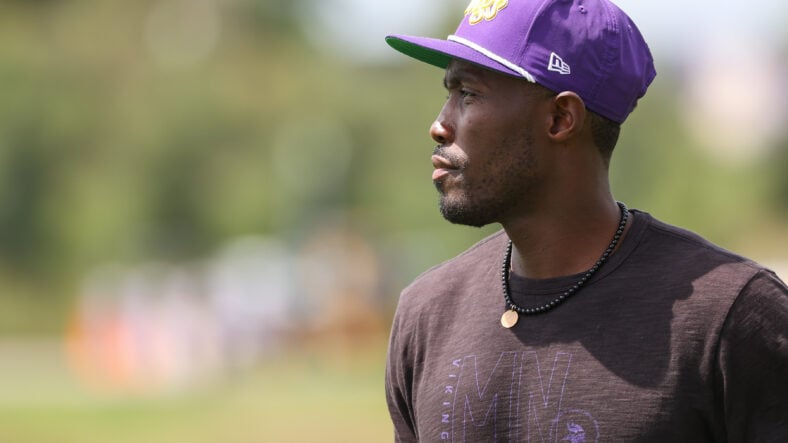 Jul 27, 2022; Eagan, MN, USA; Minnesota Vikings general manager Kwesi Adofo-Mensah looks on at TCO Performance Center. Mandatory Credit: Matt Krohn-USA TODAY Sports.
The Reese's Senior Bowl is an annual event down in Mobile, Alabama, that allows NFL Draft prospects to show off their skills in simulated real-game scenarios as well as drills and practices.
Throughout this next week, 2023 Draft prospects will once again gather for the event, with practices taking place from Tuesday-Thursday, and the game being played on Saturday, February 4th. With the Vikings potentially looking to find their QB of the future in this upcoming draft, here are all 7 QB prospects that Vikings fans should know about heading into the event.
Tyson Bagent- Shepherd
Tyson Bagent is the only Division II quarterback that will participate in the Senior Bowl this week, but there's a reason that he got the invite. Throughout his time at Shepherd University, the QB put up ridiculous numbers. In 2021, he passed for 5000 yards and 53 TDs, and then he followed that up with 4580 yards and 41 TDs during the 2022 season.
Because of how under-the-radar his collegiate career was, Bagent easily has the most to gain from the Senior Bowl. If he performs well against some of the top defensive prospects, the D-2 product could see a massive rise in his draft stock heading into the combine.
Malik Cunningham- Louisville
Louisville is known for producing some of the more electrifying QBs in college football (Teddy Bridgewater, Lamar Jackson). While Cunningham isn't projected to be a first-round pick like some of his predecessors, he remains a very intriguing dual-threat QB option.
Throughout his collegiate career, he passed for 9660 yards and 70 TDs while also rushing for 3179 yards and an additional 50 TDs. These rushing numbers included over 1000 yards rushing and 20 rushing touchdowns in 2021. Cunningham has limits as a passer, but his athleticism will be on full display in Mobile.
Max Duggan- TCU
The TCU Horned Frogs went on a miracle run in 2022 all the way to the national title game. A big reason for that was the play of their standout QB Max Duggan, who projects as a Day Two pick, perhaps early Day Three when the 2023 NFL Draft arrives.
Duggan has already performed at the highest level of college football this season, and while the national championship wasn't exactly outstanding, we should not overlook his 4-TD performance against Michigan in the CFP semifinal. The Senior Bowl provides him with another chance to show that he truly does belong with some of the best prospects in this draft.
Jake Haener- Fresno State
Throughout his career at Fresno State, Jake Haener became one of the premiere quarterbacks in the Mountain West conference. Granted, there aren't many outstanding QBs in that conference on a year-to-year basis, but Haener stands out as someone with terrific arm talent.
In each of his three seasons at Fresno State after transferring from Washington, Haener ranked among the top four QBs in both passing yards and passing TDs in the conference. He is the first Fresno State QB prospect to have a real shot at being drafted since Derek Carr back in 2014.
Jaren Hall- BYU
Jaren Hall is the guy that will probably have the most clips circulating the Internet of the mid-tier QB prospects. The BYU quarterback has some terrific arm strength, easily chucking the ball 50+ yards downfield.
Teams may be wary of Hall because of how things have gone with Zach Wilson for the Jets, and it's a valid concern to have. They are the same model of QB as prospects: rough around the edges but with scrambling ability and huge arm talent to cover up some mistakes. It will be very interesting to see how teams evaluate Hall at the NFL level.
Hendon Hooker- Tennessee
If not for suffering a torn ACL back in November, there likely would be a bit more buzz for Hendon Hooker belonging in the first round of the 2023 Draft. Hooker is a bit older than the typical prospect at 25 years old, but Joe Burrow was the No. 1 overall pick in 2020 despite playing his rookie season at 24.
Hooker led the Tennessee Volunteers to one of their best seasons in recent memory, passing for 3135 yards and 27 touchdowns over the course of 11 games. He won't play in the actual Senior Bowl game, but he will participate in practices throughout the week.
Clayton Tune- Houston
Personally, Clayton Tune is a prospect that I hope the Vikings have their eyes on heading into the spring. At Houston, he burst onto the scene over the past two seasons, combining for over 7500 passing yards as well as 70 TDs in 2021 and 2022. Tune is also a willing runner, rushing for over 500 yards and 5 TDs in 2022.
Granted, Houston didn't enjoy the same team success this season that many expected after going 12-2 in 2021, but Tune is a very intriguing draft prospect because of his size, athleticism, and arm talent.
Josh Frey is a Class of 2020 graduate of The College of Idaho with a bachelor's degree in Creative Writing. He also earned minors in History, Human Biology, and Journalism. When he's not writing about the NFL, Josh enjoys marathon training, playing video games, or rooting for the Milwaukee Brewers and Bucks. For more of his opinions, check out his Twitter account: @Freyed_Chicken.