Dustin Baker's 7 Draft Predictions for Vikings | 2023
2023 NFL Draft.
Folks, you're less than 2.5 days away from the 2023 NFL Draft, where the Minnesota Vikings will add at least five new players — unless they beget a funky trade up the board for a quarterback.
The Vikings have long-term roster needs at cornerback, off-ball linebacker, and interior defensive line, while wide receiver and quarterback could use some attention, too.
Dustin Baker's 7 Draft Predictions for Vikings | 2023
Last year's draft predictions were a success, and those can be read here.
Here are seven more for 2023, ranked in no particular order.
1. Kwesi Trades Back
The moment Kwesi Adofo-Mensah traded for T.J. Hockenson last November, he knew rectifying that pick swap would be a cinch. The Vikings have no 2nd-Rounders and just four picks after Round 1.
To acquire more draft capital, fully bringing to life his 'value' speech, Adofo-Mensah trades back from the 23rd pick, adding more assets in the draft's first 120 picks. Picks 20-100 are allegedly the sweet spot of this event and Minnesota pounces.
If you dislike trading back, you'll once again experience sorrow. The franchise has traded out of a 1st-Round pick in three consecutive drafts — and it's about to be four. Watch for the Houston Texans, Cincinnati Bengals, New Orleans Saints, Kansas City Chiefs, and Philadelphia Eagles as possible trade partners.
2. A Defensive Lineman Is the Vikings First Pick
With the San Francisco 49ers, Adofo-Mensah and his friends built the defensive trenches, adding six defensive linemen in Rounds 1-2 during his 49ers front office tenure (eight drafts).
Minnesota hasn't drafted a defensive lineman in the 1st or 2nd Round since 2013 — 10 years ago. That will change, and Adofo-Mensah will make a defensive lineman his first pick of the event, whenever that may be. Look for a defensive tackle to become the newest Viking.
3. Cousins and Hunter Not Traded
This should be as plain as day for everyone, but it is not.
Trading Kirk Cousins or Danielle Hunter — Cousins, especially — before June 1st would be a financial absurdity. The Vikings would intentionally, for the lack of a better term, screw themselves by trading either man during the draft.
They'd lose money against the cap — that is, subtract money from an already skimpy budget — and disallow any free-agent signings in the summer and make even signing the draft class difficult.
Trades cannot be designated with a 'post-June-1st' caveat like player releases. Cousins and Hunter remain on the roster. Exploring trades for either man is a different story in the summer.
4. Vikings End up with 7-10 Picks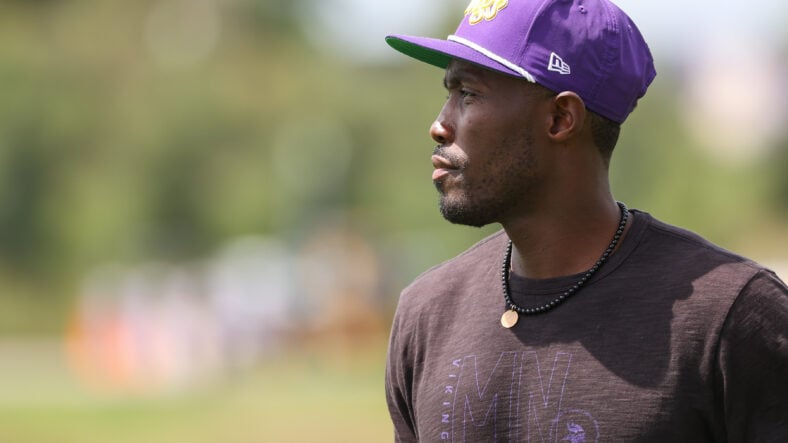 With Adofo-Mensah trading like a stock broker, you'll look back and giggle at the idea of "only having five picks" heading into the draft. The young executive will again conduct a trading frenzy throughout Thursday, Friday, and Saturday, and when you look at the draft haul, 7-10 new players will jump off the page.
Adofo-Mensah likes scratching draft lottery tickets, and accruing players in Rounds 2, 3, and 4 might just be his new pastime later this week.
5. Hendon Hooker Not Chosen with 23rd Pick
A little over a month ago, NFL.com's Daniel Jeremiah mock-drafted Hendon Hooker to the Vikings, igniting a firestorm of copycats that still publish to this day.
If Hooker goes to any team in the 1st Round, it's allegedly the Vikings. But that will turn out as a falsehood.
The value-minded general manager adding a quarterback with 3rd-Round draft stock six weeks ago simply doesn't add up. Minnesota could indeed draft Hooker, but it'll be after the 23rd pick, not at the organic spot.
6. Guard or Center Drafted in Late Rounds
The Vikings don't have many offensive guards. They need depth. Taking a flyer on a 5th-, 6th-, 7th-Round interior offensive lineman should be considered probable, adding oomph to the OL room after Ezra Cleveland, Ed Ingram, and Chris Reed.
Adofo-Mensah seems to enjoy big schools during the draft, so look for a guard from a prominent institution.
7. You Leave the Draft Flabbergasted by the Lions Haul
Detroit owns the 6th, 18th, 48th, and 55th picks — prime real estate to seize juicy rookie prospects who could be named Jalen Carter, Bijan Robinson, etc.
The Lions will select a formidable draft class, and the "look out for Detroit" slogan circulating the internet will echo even louder. If you were afraid of the Lions before Thursday, your anxiety will intensify by Saturday night.
Now, if they quit gambling on sports at team facilities, they'll be in good shape.
---
Dustin Baker is a political scientist who graduated from the University of Minnesota in 2007. Subscribe to his daily YouTube Channel, VikesNow. He hosts a podcast with Bryant McKinnie, which airs every Wednesday with Raun Sawh and Sal Spice. His Vikings obsession dates back to 1996. Listed guilty pleasures: Peanut Butter Ice Cream, 'The Sopranos,' and The Doors (the band).
All statistics provided by Pro Football Reference / Stathead; all contractual information provided by OverTheCap.com.