Dustin Baker's Final 53-Man Roster Prediction for Vikings
Aug 26, 2023; Minneapolis, Minnesota, USA; Minnesota Vikings quarterback Kirk Cousins (8) leaves the field before a game against the Arizona Cardinals at U.S. Bank Stadium. Mandatory Credit: Brad Rempel-USA TODAY Sports.
The Minnesota Vikings kick off the 2023 regular season in 13 days at home against the Tampa Bay Buccaneers.
Dustin Baker's 53-Man Roster Projection for Vikings | 2nd-to-Last Edition
Minnesota is expected to finish in second place inside the NFC North behind the Detroit Lions, with the Green Bay Packers in third and the Chicago Bears in last.
The club will reveal its 53-man roster on August 29th, so in one day. Here's the final verdict on how that might look.
Note: Many 'projected to miss 53-man roster' players will hit the practice squad.
— Offensive Roster Projection — (26 players)
Quarterback (3)
QB1: Kirk Cousins
QB2: Nick Mullens
QB3: Jaren Hall
Projected to Miss 53-man Roster: Jordan Ta'amu
Hall, alas, is carried over to the active roster as the team's "emergency quarterback" under the NFL's new accommodation.
Running Back (3)
RB1: Alexander Mattison
RB2: Ty Chandler
RB3: Kene Nwangwu
Projected to Miss 53-man Roster: DeWayne McBride, Abram Smith, Aaron Dykes
McBride hits the practice squad, a stone's throw away from a regular season call-up.
Fullback (1)
FB1: C.J. Ham
Projected to Miss 53-man Roster: n/a
Wide Receiver (6)
WR1: Justin Jefferson
WR2: K.J. Osborn
WR3: Jalen Nailor
WR4: Jordan Addison
WR5: Jalen Reagor
WR6: Brandon Powell
Projected to Miss 53-man Roster: Blake Proehl, Trishton Jackson, Lucky Jackson, Thayer Thomas, Garett Maag, Jacob Copeland
The Vikings keep six WRs — as they did in 2021 — and can keep Reagor and Powell, who seem to be on the roster bubble.
Tight End (4)
TE1: T.J. Hockenson
TE2: Josh Oliver
TE3: Johnny Mundt
TE4: Nick Muse
Projected to Miss 53-man Roster: Ben Sims, Colin Thompson
Muse played too damn well to hit the practice squad or the waiver wire.
Left Tackle (2)
LT1: Christian Darrisaw
LT2: Christian DiLauro
Projected to Miss 53-man Roster: n/a
After Sunday night's trade involving Vederian Lowe to the New England Patriots, the Vikings must keep a player who wasn't expected to make the roster a week or so ago, so let's go with DiLauro here for depth.
Right Tackle (2)
RT1: Brian O'Neill
RT2: Oli Udoh
Projected to Miss 53-man Roster: n/a
In a pinch, OG Blake Brandel could slide over to tackle — because this depth projection looks skimpy.
Center (2)
C1: Garrett Bradbury
C2: Austin Schlottmann
Projected to Miss 53-man Roster: Alan Ali
Ali is the odd man out.
Left Guard (1)
LG1: Ezra Cleveland
Projected to Miss 53-man Roster: Chris Reed, Josh Sokol, Jack Snyder
Reed could make the final roster, but no one has seen him on the field this summer.
Right Guard (2)
RG1: Ed Ingram
RG2: Blake Brandel
Projected to Miss 53-man Roster: n/a
— Defensive Roster Projection — (24 players)
Outside Linebacker (5)
OLB1: Danielle Hunter
OLB2: Marcus Davenport
OLB3: Patrick Jones
OLB4: Luiji Vilain
OLB5: D.J. Wonnum
Projected to Miss 53-man Roster: Andre Carter II, Benton Whitley
Carter II and Whitley encounter practice squad fates.
Defensive End (4)
DE1: Harrison Phillips
DE2: Dean Lowry
DE3: Jonathan Bullard
DE4: Jaquelin Roy
Projected to Miss 53-man Roster: Esezi Otomewo, Ross Blacklock, Junior Aho, Sheldon Day
Minnesota should probably keep Sheldon Day, but he's trending the wrong way for the 53-man roster.
Nose Tackle (1)
NT1: Khyiris Tonga
Projected to Miss 53-man Roster: T.J. Smith, Calvin Avery
Tonga is the only true nose tackle on the 2023 roster.
Middle Linebacker (1)
MLB1: Brian Asamoah
Projected to Miss 53-man Roster: Abraham Beauplan, Wilson Huber, Troy Dye
To accommodate "extra" spots at running back and tight end, the fat is trimmed at off-ball linebacker. The Vikings keep only three.
Weakside Linebacker (2)
WLB1: Jordan Hicks
WLB2: Ivan Pace, Jr.
Projected to Miss 53-man Roster: Troy Reeder, Tanner Vallejo
Pace Jr. will play substantially in 2023, an incredible undrafted free-agency story.
Cornerback (6)
CB1: Byron Murphy
CB2: Akayleb Evans
CB3: Andrew Booth
CB4: Joejuan Williams
CB5: Mekhi Blackmon
CB6: NaJee Thompson
Projected to Miss 53-man Roster: Tay Gowan, Kalon Barnes, C.J. Coldon, Jaylin Williams, Jameson Houston
Training camp and the preseason are a case study on making a regular season roster, authored by Najee Thompson.
Safety (5)
S1: Harrison Smith
S2: Camryn Bynum
S3: Lewis Cine
S4: Josh Metellus
S5: Jay Ward
Projected to Miss 53-man Roster: Theo Jackson, Jake Gervase
To make up for just three inside linebackers, the Vikings keep five safeties to fly around the defense.
— Special Teams Roster Projection — (3 players)
Kicker (1)
K1: Greg Joseph
Projected to Miss 53-man Roster: n/a
Punter (1)
P1: Ryan Wright
Long Snapper (1)
LS: Andrew DePaola
Kick Returner
KR1: Kene Nwangwu
KR2: Ty Chandler
Punt Returner
PR1: Jalen Reagor
PR2: Brandon Powell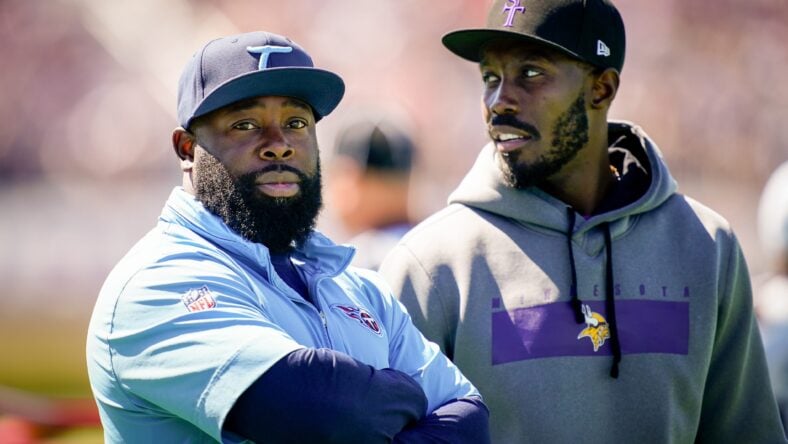 Minnesota is projected with a repeat win forecast this season as of late August — 8.5 wins. It's the same Vegas forecast from last summer. Most experts believe the franchise unabashedly overachieved in 2022 with a 13-4 record and will take a step back in Kevin O'Connell's second year. The franchise has a +4000 Super Bowl moneyline — sharing odds with the Denver Broncos and New Orleans Saints.
---
Dustin Baker is a political scientist who graduated from the University of Minnesota in 2007. Subscribe to his daily YouTube Channel, VikesNow. He hosts a podcast with Bryant McKinnie, which airs every Wednesday with Raun Sawh and Sal Spice. His Vikings obsession dates back to 1996. Listed guilty pleasures: Peanut Butter Ice Cream, 'The Sopranos,' Basset Hounds, and The Doors (the band).
All statistics provided by Pro Football Reference / Stathead; all contractual information provided by OverTheCap.com.