5 Things We Learned about the Vikings from Free Agency
Sep 19, 2022; Philadelphia, Pennsylvania, USA; Minnesota Vikings running back Alexander Mattison (2) on the sidelines against the Philadelphia Eagles at Lincoln Financial Field. Mandatory Credit: Eric Hartline-USA TODAY Sports.
Some Minnesota Vikings mysteries were solved in the 4.5 weeks, as free agency turns one month old on April 13th.
Josh Oliver (TE, Ravens), Marcus Davenport (EDGE, Saints), Byron Murphy (CB, Cardinals), Dean Lowry (DT, Packers), Brandon Powell (WR, Rams), and Troy Reeder (LB, Chargers) joined the franchise as free-agent newcomers.
Cameron Dantzler (CB, Commanders), Eric Kendricks (LB, Chargers), Patrick Peterson (CB, Steelers), Adam Thielen (WR, Panthers), Dalvin Tomlinson (DT, Browns), Duke Shelley (CB, Raiders), Irv Smith (TE, Bengals), and Kris Boyd (CB, Cardinals) departed.
5 Things We Learned about the Vikings from Free Agency
With those 14 transactions complete, plus 13 re-signings of existing players, these are the five things we learned about the 2023 Vikings in the last month since free agency kicked off, ranked in ascending order of importance (No. 1 = most impactful).
5. As Expected, Longtime Vets Gone
These Vikings, some of them franchise stalwarts, left in the last month:
Eric Kendricks, ILB — Joined Chargers
Adam Thielen, WR — Joined Panthers.
Cameron Dantzler, CB — Joined Commanders. (Was waived by MIN)
Patrick Peterson, CB — Joined Steelers.
Dalvin Tomlinson, DT — Joined Browns.
Duke Shelley, CB — Joined Raiders.
Irv Smith, TE — Joined Bengals.
Kris Boyd, CB — Joined Cardinals.
That's a big deal, especially Thielen and Kendricks. Most ardent Vikings fans knew the roster would experience upheaval, and there were no real curveballs regarding the "tough decisions."
Moreover, that list contains about five starters from the late part of the 2022 season. While the Vikings still aspire to playoff contendership, the roster will feel a little weird in September.
4. Osborn as WR2 Feels Real
This is subject to change in two weeks during the early part of the 2023 NFL Draft, but for now, 2022 WR3 K.J. Osborn feels like the odds-on favorite to start Week 1 as the Vikings WR2.
General manager Kwesi Adofo-Mensah could've signed D.J. Chark for $5 million bucks and instantly slid the man into the Vikings WR2 spot. Alas, he did not sign Chark or anybody outside of Brandon Powell from the Rams, whose resume reads like a WR5 punt returner.
If the Vikings don't snag Jaxon Smith-Njigba (Ohio State), Jordan Addison (USC), Quentin Johnston (TCU), or Zay Flowers (Boston College) from the first section of the draft, the only choice [outside of a splashy trade] at WR2 is Osborn.
3. Commitment to Running the Ball
C.J. Ham was used on 15% of offensive plays last year. The Vikings ran the football the third least in 2022.
Right away in free agency, Adofo-Mensah signed an expensive run-blocking tight end (Oliver) and re-upped with Ham. Whether folks like it or not, this team will run the football more in 2023. Somebody in the organization whispered to another guy, "You must run the ball in this league a little more."
Kevin O'Connell apparently listened, and the 2023 Vikings won't throw, throw, throw this autumn. They're trending toward balance via playcalling.
2. Will Figure Out CB Later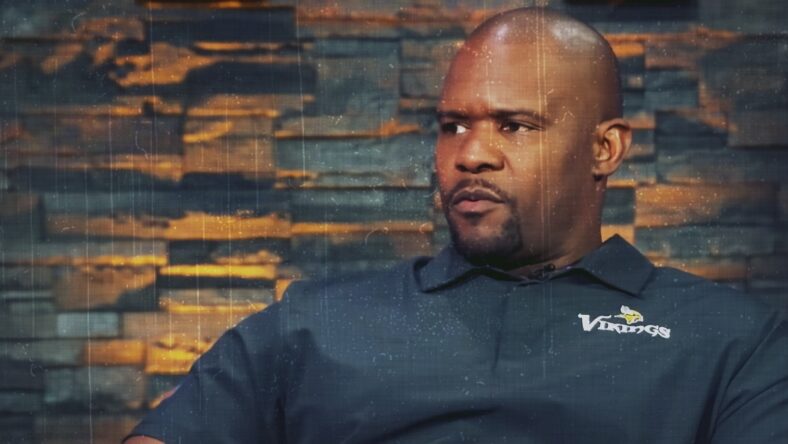 Fortifying the cornerback section of the depth was decidedly not emphasized in free agency. The club welcomed Byron Murphy from the Arizona Cardinals — a wonderful addition — but then watched as Patrick Peterson, Duke Shelley, Cameron Dantzler, Kris Boyd, and Chandon Sullivan exit stage left.
Now what?
Free agents like Marcus Peters, Rock Ya-Sin, and Shaquill Griffin are available to sign on the open market — like now — but the Vikings aren't doing that, at least not yet.
Adofo-Mensah and new defensive coordinator Brian Flores must have a snazzy cornerback draft plan because the roster is missing startable cornerbacks.
It's debatable, but this is the most confusing aspect of the Vikings offseason and free agency — the lack of cornerback attention.
1. Cousins Not Extended
Without any debates — beyond the absolute shadow of a doubt — the Vikings not extending Kirk Cousins' contract beyond 2023 is the most important news item for the future of the franchise. Adofo-Mensah could've plopped an extra year or two onto Cousins' contract, gluing him to the roster through 2025.
He didn't do it.
If the end is nigh for Cousins, this is how the graphic novel starts. At the moment, the Vikings have no commitment aside from $28.5 million in dead cap funds to Cousins after this year. Do you want to know why every Vikings fan and mock drafter is spitballing a quarterback to Minnesota in the draft on April 27th? Easy — it's because the franchise is signaling the possible end of Cousins.
For the first time in five years, Minnesota has an exit ramp if it's ready to end the Cousins era. No such outlet valve existed five weeks ago.
---
Dustin Baker is a political scientist who graduated from the University of Minnesota in 2007. Subscribe to his daily YouTube Channel, VikesNow. He hosts a podcast with Bryant McKinnie, which airs every Wednesday with Raun Sawh and Sal Spice. His Vikings obsession dates back to 1996. Listed guilty pleasures: Peanut Butter Ice Cream, 'The Sopranos,' and The Doors (the band).
All statistics provided by Pro Football Reference / Stathead; all contractual information provided by OverTheCap.com.