5 Surprises from Vikings 1st Preseason Game
Aug 10, 2023; Seattle, Washington, USA; Seattle Seahawks linebacker Boye Mafe (53) tries to block a pass by Minnesota Vikings quarterback Nick Mullens (12) during the first half at Lumen Field. Mandatory Credit: Steven Bisig-USA TODAY Sports.
The Minnesota Vikings undertook the first of three preseason games on Thursday night, netting a 24-13 loss at the Seattle Seahawks.
5 Surprises from Vikings 1st Preseason Game
Minnesota hopped out to a 10-0 lead. After a 54-year field goal from kicker Greg Joseph making the score 13-10 in favor of the Vikings late in the 3rd Quarter, all the prosperous happenings for the purple team pretty much stopped.
On the whole, wins and losses in the preseason are meaningless — the Vikings went 0-3 during last year's preseason and later finished 13-4 in the regular season — but a handful of items stood off the page in Seattle.
These are those listed in no particular order.
1. Ed Ingram Started
The Vikings started the game without 'established starters' on the field — and Ingram ran with the first-teamers. He was the only man labeled as a starting offensive lineman to get reps early. Brian O'Neill, Christian Darrisaw, Ezra Cleveland, and Garrett Bradbury stood pad-less on the sidelines.
This suggested Ingram still has some work to do in securing the RG job and also doesn't rule out a free-agent acquisition like Dalton Risner or Andrew Norwell.
Moreover, Ingram didn't necessarily dominate the Seahawks defensive line.
2. NaJee Thompson Excelled
Thompson became a field general on special teams, if only for a night.
Before the Seattle showdown, the new Vikings CB was buried on the depth chart, a prayer to make the 53-man roster on August 29th. But he helped his case substantially on special teams, tackling punt returners and downing punts deep in Seattle's territory.
This man ascended from a certain roster-cut personality to a roster-bubble participant.
3. Luiji Vilain Looked like a 53-Man Roster Given
The Vikings no longer employ Za'Darius Smith, and D.J. Wonnum enters the final year of his contract in 2023. New defensive coordinator Brian Flores needs a reservist EDGE rusher to splash in 2023, and Vilain looked the part in the first preseason game.
Vilain was aggressive, tabulating 3 tackles and a sack. Last year's undrafted free agent didn't steal a roster spot beyond the shadow of a doubt but is on a promising path to do so.
4. Andrew Booth Played like a 3rd-Teamer
Foremost, Booth received playing time in the second half, which is when the benchwarmers get to show off. And this cornerback was a 2nd-Round pick last year, meaning, on paper, he should've received action in the first half.
Thereafter, Booth was beaten by an unknown wide receiver, Jake Bobo, for a touchdown, and that's all Vikings fans will remember about Booth for Thursday night.
Booth's second NFL season has started with a whimper — in a year where he must eventually create positive strides.
5. Khyiris Tonga Started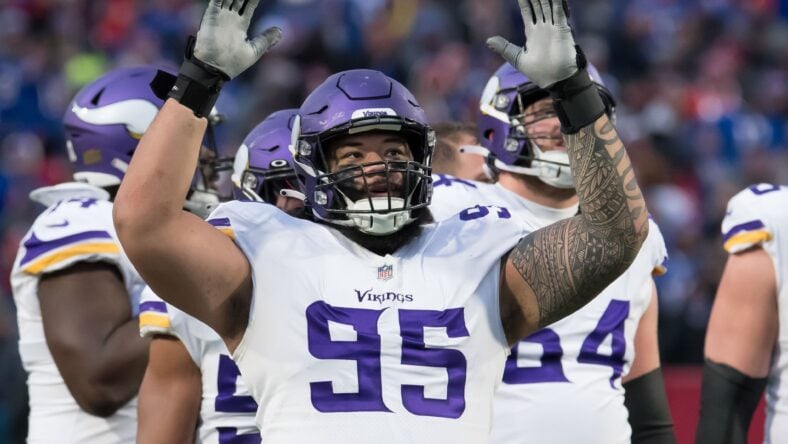 In NFL-speak, Tonga is a relative unknown. But he is listed as the Vikings starting nose tackle, according to the first-but-unofficial depth chart. Then, like Ingram mentioned above, Tonga started on the field with the second-teamers. It is unclear why Tonga isn't considered an established starter. His contract reflects that of a roster-bubble candidate — one year, $940,000 — but almost by default, he's the Vikings current starting nose tackle.
Tonga is likely safe for the final roster shave-down, but keep an eye on him, NT teammates, and NT free agents for the next 2-3 weeks.
---
Dustin Baker is a political scientist who graduated from the University of Minnesota in 2007. Subscribe to his daily YouTube Channel, VikesNow. He hosts a podcast with Bryant McKinnie, which airs every Wednesday with Raun Sawh and Sal Spice. His Vikings obsession dates back to 1996. Listed guilty pleasures: Peanut Butter Ice Cream, 'The Sopranos,' Basset Hounds, and The Doors (the band).
All statistics provided by Pro Football Reference / Stathead; all contractual information provided by OverTheCap.com.