5 Predictions for the Vikings 2023 Offseason
The 2023 Minnesota Vikings hope to improve on the 2022 season next September, a tall task as the franchise finished with a 13-4 record in head coach Kevin O'Connell's first season.
O'Connell won the NFC North by a healthy margin over the Lions, Packers, and Bears and begins the long process of team-building for his sophomore campaign as early as now. The roster will experience some noteworthy change as aging veterans depart and a satchel of rookies arrive.
5 Predictions for the Vikings 2023 Offseason
These are five predictions for the Vikings offseason (in no particular order).
1. Kwesi Adofo-Mensah Will Trade the No. 23 Pick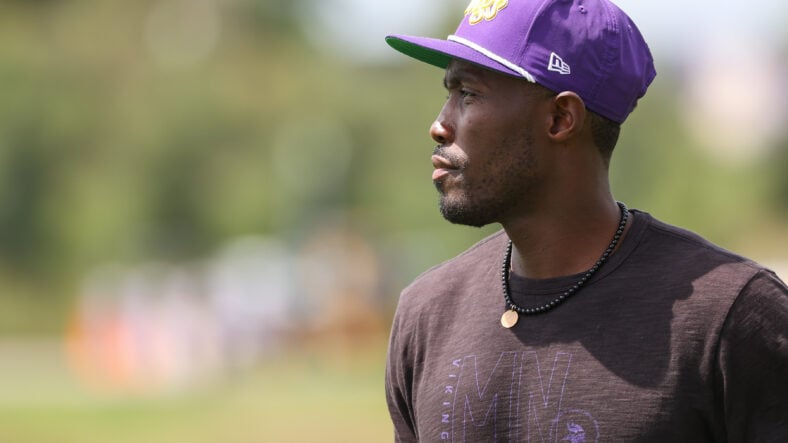 Adofo-Mensah took over the organization 13 months ago and has traded more than 30 other teams. And in last year's draft, he owned the title of most trades by any general manager during the three-day event.
Heading into his second draft, Adofo-Mensah has just four picks on the menu — it will expand to five when a 5th-Round compensatory pick is formally announced — and he will change that on the fly.
Minnesota acquired T.J. Hockenson last November for a 2nd-Rounder and pick swaps from Detroit, and Adofo-Mensah will look to regain a 2nd-Round asset by trading his 23rd overall pick.
2. Patrick Peterson Re-Signs in Minnesota
Peterson has hinted all offseason — and even in interviews before that — that he wants to return for Year Three with the Vikings. He also told reporters prior to the 2022 season he wanted to play three more seasons.
Well, we believe his second-to-last hurrah will transpire with the Vikings. Peterson tweeted this last week:
That's the good version of a "cryptic tweet."
3. Vikings Draft a WR with 1 of First 2 Picks
The Vikings will tackle off-ball linebacker, cornerback, and perhaps interior defensive line needs in free agency, leaving the draft as a forum for drafting the "best players available."
If Adam Thielen returns to the Vikings, he'll no longer be the unabashed WR2, meaning somebody else must fill the role. Drafting a wide receiver in Round 1 or 2 this April would create an affordable and hopefully-productive pass-catching option for the next 4-5 years alongside Justin Jefferson.
Although the defense needs the most attention, a new WR2 joins the team early in the draft.
4. Danielle Hunter's Contract Extended
While acclimating to a 3-4 defense for the first time in his career, Hunter was a QB-pressure machine and remained healthy for the first time since 2019.
His contract isn't favorable to him as the last part of the Rick Spielman team-friendly deal runs out, and the Vikings will extend Hunter, 28, for 2-3 more years. Super Bowl contenders cannot limp into fresh seasons with meh pass rushers, and a Vikings team without Hunter next autumn could have blasé solutions at EDGE. That won't happen.
5. Cook, Ham, Hicks, & Kendricks Do Not Return
The painful one — Dalvin Cook, C.J. Ham, Jordan Hicks, and Eric Kendricks depart the organization after a combined 21 years of service. None of those men are free agents but would save the Vikings mucho dinero if released or traded.
Ham, Hicks, and Kendricks will be released, whereas the Vikings could explore a trade with Cook. This is indeed the sad part of the business, yet those four players may not be worth their current contractual value.
And if there's one item Adofo-Mensah preaches repeatedly, it's "value."
---
Dustin Baker is a political scientist who graduated from the University of Minnesota in 2007. Subscribe to his daily YouTube Channel, VikesNow. He hosts a podcast with Bryant McKinnie, which airs every Wednesday with Raun Sawh and Sal Spice. His Vikings obsession dates back to 1996. Listed guilty pleasures: Peanut Butter Ice Cream, 'The Sopranos,' and The Doors (the band).
All statistics provided by Pro Football Reference / Stathead; all contractual information provided by OverTheCap.com.