The Vikings 4 Most Underrated Offseason Moves
Jan 8, 2023; Chicago, Illinois, USA; Chicago Bears running back Khalil Herbert (24) runs against the Minnesota Vikings defensive tackle Khyiris Tonga (95) during the second half at Soldier Field. Mandatory Credit: Matt Marton-USA TODAY Sports
The Minnesota Vikings parted ways with various veterans this offseason, including Cameron Dantzler (CB, Commanders), Eric Kendricks (LB, Chargers), Patrick Peterson (CB, Steelers), Adam Thielen (WR, Panthers), Dalvin Tomlinson (DT, Browns), Duke Shelley (CB, Raiders), Irv Smith (TE, Bengals), Kris Boyd (CB, Cardinals), Chandon Sullivan (CB, Steelers), and Za'Darius (Trade, EDGE Browns).
The Vikings 4 Most Underrated Offseason Moves
Josh Oliver (TE, Ravens), Marcus Davenport (EDGE, Saints), Byron Murphy (CB, Cardinals), Dean Lowry (DT, Packers), Brandon Powell (WR, Rams), Troy Reeder (LB, Chargers), Joejuan Williams (CB, Patriots), and John Reid (CB, Falcons) arrived as newcomers.
Here's a look at the four most underrated moves of the offseason, ranked in ascending order (No. 1 = most underrated).
4. Signing TE Josh Oliver
Yes, you complained when he was signed. No, the Vikings didn't have an urgent need at tight end. And, of course, Oliver's contract is considerable.
But when the regular season rolls around in four months, you will enjoy the Vikings newfound, balanced playcalling. You know the kind — where the team actually runs the football. In 2022, the Vikings ranked third least per run-play percentage, and that stuck a knife in the stomach of Minnesota's time-of-possession stats. The defense was always tired because the offense got off the field in a hurry.
Oliver's specialty is run-blocking. For now, the Vikings employ five semi-big-name running backs. They also re-signed C.J. Ham. The club will run the ball more this season, and Oliver will help plow lanes for the Mattisons, Chandlers, and McBrides. Book it.
3. Drafting RB DeWayne McBride
The NFL is a fast-moving place, and you could look up one year from now and see DeWayne McBride listed as the Vikings RB1.
And this isn't conspiratorial. It could really happen. Running backs are falling into the 'a dime a dozen' territory per the modern NFL motto, and McBride could be the last man standing as the 2024 season rolls around.
Minnesota scooped the man out of the 7th Round of last month's draft, an incredibly impressive value for a man who averaged 7.3 yards per carry in college. McBride doesn't catch the ball well out of the backfield, at least he didn't at UAB, but he's a battering ram otherwise.
2. Retaining DT Khyiris Tonga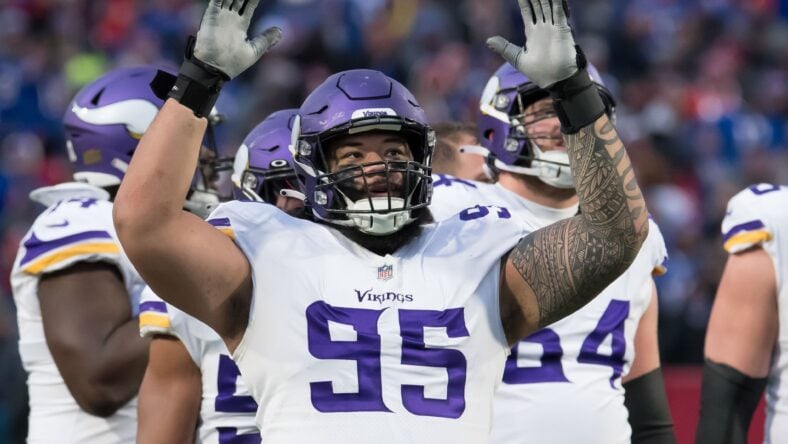 This man cost 940,000 bucks.
Wouldn't you know it — he ranked 13th in the NFL among interior defenders last year with a 77.8 grade, according to Pro Football Focus. Monitoring Tonga's progression — or upkeep of his nifty 2022 performance — will be one the most intriguing Vikings storylines in 2023. If he fires up a PFF grade in the 70s again, Tonga will become one the best value players in the league.
At his remarkably cheap pricetag, affording Tonga a second act in 2023 was music to fans' ears. The same couldn't be said for cornerback Duke Shelley, who had a Tongian season and now plays for the Las Vegas Raiders.
1. The UDFA Class
General manager Kwesi Adofo-Mensah grabbed two men on the undrafted free-agent wire who were pegged as mid-round picks by most draft heads — LB Ivan Pace Jr. and OLB Andre Carter II. The Vikings flung expensive-for-a-UDFA contracts at Pace Jr. and Carter II, implying the two will make the 53-man roster in August, or at least the practice squad.
If the theory holds — that is, both men playing on defense in 2023 — Adofo-Mensah discovering the defenders mere minutes after the draft will go down as a wow moment in Vikings history.
---
Dustin Baker is a political scientist who graduated from the University of Minnesota in 2007. Subscribe to his daily YouTube Channel, VikesNow. He hosts a podcast with Bryant McKinnie, which airs every Wednesday with Raun Sawh and Sal Spice. His Vikings obsession dates back to 1996. Listed guilty pleasures: Peanut Butter Ice Cream, 'The Sopranos,' Basset Hounds, and The Doors (the band).
All statistics provided by Pro Football Reference / Stathead; all contractual information provided by OverTheCap.com.