3 Pending Vikings FAs Who Must Prove Their Worth
Dec 24, 2022; Minneapolis, Minnesota, USA; Minnesota Vikings place kicker Greg Joseph (1) celebrates his game winning field goal after the game against the New York Giants at U.S. Bank Stadium. Mandatory Credit: Matt Krohn-USA TODAY Sports.
The Minnesota Vikings head into a Week 10 showdown with the New Orleans Saints, starting a game with a winning record for the first time this season. The Vikings have shown great resilience in turning their season around, and there is warranted optimism that something special is starting to be built. Three pending Vikings FAs must prove their worth to continue being a part of that next season.
3 Pending Vikings FAs Who Must Prove Their Worth
The Vikings have a lot of players set to hit free agency at the end of the season. I previously looked at five guys who have done nothing but increase their chances of being offered a new contract for next season. Now, I will look at three guys from whom we need to see more over the remaining eight games — plus any potential playoff games.
1. K.J. Osborn
Starting with K.J. Osborn, it was set to be a big season for the wideout as he began as WR2 ahead of Jordan Addison.
The rookie has certainly usurped him on the depth chart after a flying start to his career. Meanwhile, Osborn struggled badly to start the season and didn't topple 50 receiving yards in a game until Week 8 in Green Bay. He led the Vikings in receiving yards on the day with eight catches for 99 yards. Having seemed to have found form, catching both targets for 17 yards early in the game at Atlanta. He was abruptly knocked out of the contest from a nasty hit that caused a concussion.
Amazingly, Osborn hasn't been ruled out of this week's game. He was designated as questionable when Friday's injury report was released.
It was a difficult start to the season for number 17. The numbers were average at best, and there were some bad drops in crucial moments. Those types of plays highlight a player who is struggling, and while there was an occasional good catch, nothing that warranted the "three deep" chatter the Vikings receivers were getting coming into the season. With Justin Jefferson (when he returns), Jordan Addison, and T.J. Hockenson out on the field, Osborn needs to make more of the opportunity given by all the attention they will receive.
Osborn needs more games like the one in Green Bay to demand an increased stay in Minnesota — or get a good contract elsewhere.
2. Greg Joseph
The season started well for Greg Joseph, who made all his field goals and extra points in the first five games. Then the misses started.
Joseph missed four field goals and two extra points in the three games between Week 6 and Week 9. Consistency has always been the problem with the South African kicker, who has proved he can make any kick. He has a 61-yard game-winner to his name from the regular season game with the Giants last season.
That ability would have heavily influenced the decision to bring back Joseph in 2023. The inconsistency that has plagued his game is why it was only a one-year contract.
If Joseph can finish the season the way he started it and put down the flurry of misses to a mid-season blip. Bringing him back for a fourth season in Minnesota would be a viable option. However, if he has another spell of three or more games where he misses a couple of kicks per game, then the Vikings will have to reassess. Misses of 50+ yards are somewhat excusable, but Joseph has a couple of field goal misses under 50, as well as the XP misses. Missing short kicks regularly just isn't acceptable.
It's quite literally all down to Greg's leg where this situation goes from here.
3. Khyiris Tonga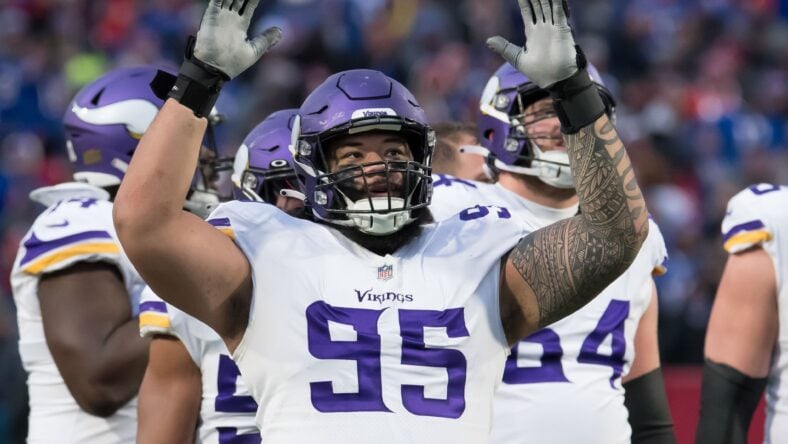 There looked to be an opportunity for Khyiris Tonga to be the Vikings starting nose tackle this season. A seventh-round pick by the Chicago Bears in 2021, Tonga found his way to the Vikings last season and played in 11 games, starting two. He impressed with his run defense, earning a grade of 73.4 per Pro Football Focus — with an overall mark of 77.9.
He looked like one of the Vikings players that might be about to break out, but that hasn't happened. He has played in six games this season and has just five tackles to show for it. His PFF grade has dropped to 54.8, and he has only played on 20% of the Vikings defensive snaps.
Brian Flores' defense is all about the blitz and many defensive backs on the field. Harrison Phillips takes up the bulk of the big-man duties, with Tonga only usually seen in obvious running downs like 3rd or 4th and short.
The Vikings run defense is giving up 102.6 yards per game (12th-best in the league) and was particularly good at stuffing the run against Atlanta when the Falcons only needed short yardage. However, on their penultimate drive, the Falcons ran the ball 12 times in a row for 65 yards and a touchdown. The Vikings defense looked gassed and had no answer, but that's where Tonga needs to step up. The defensive line is a major area for the Vikings to address next season. A dominant nose tackle and athletic interior pass rusher should be on the Vikings offseason wish list. 
Tonga needs a much improved second half of the season. Otherwise, he will be in danger of being jettisoned for any newcomers.
---