Vikings 2023 Win Forecast Is Familiar
Sep 19, 2022; Philadelphia, Pennsylvania, USA; Minnesota Vikings quarterback Kirk Cousins. Mandatory Credit: Bill Streicher-USA TODAY Sports.
The Minnesota Vikings finished head coach Kevin O'Connell's first season with a 13-4 record in 2022 and the team's first division crown since 2017.
His club will hope to maintain, improve, or merely stave off regression at all costs in September, a challenging assignment as the Vikings have a more difficult schedule [on paper] and nine road games instead of eight in 2022.
Vikings 2023 Win Forecast Is Familiar
And while doing so, the franchise will have a familiar win-loss projection. It's basically the same as sportsbooks' prognostications last year.
It's 8.5 Wins — Again
There are 16 teams in the NFC, and oddsmakers perceive the Vikings around the sixth-best squad. The Detroit Lions, after a hot finish to 2022 and worldwide enthusiasm about their trajectory, have lapped the Vikings in terms of Vegas win-loss totals in 2023.
Like last year — yes, the time is a flat circle stuff — sportsbooks believe Minnesota will win 8.5 games.
The Vikings were in this boat last March — staring up at the Packers, not the Lions — and later won 13 games. The eight- or nine-win forecast was too low. It's worth noting when the regular season approached, oddsmakers bumped O'Connell's team up to 9.5 wins, but that wasn't until late August.
So, here we go again. Perhaps it's a good omen. Last year wasn't terrible.
The Cousins Effect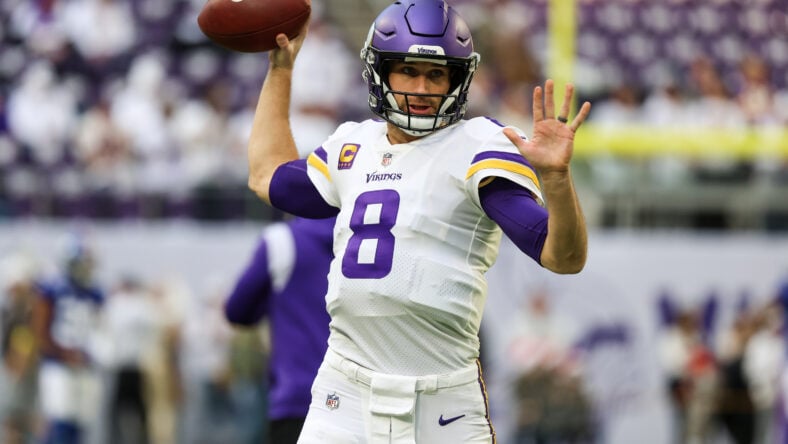 Why is it "only 8.5 wins?" Call it The Kirk Cousins Effect.
Cousins has a reputation as an "8-8 quarterback," although a team led by Cousins in Washington and Minnesota has never finished 8-8 in a season. Folks love to bang the drum on Cousins' "QB record," a statistic that implies quarterbacks are like tennis players duking it out one-and-one on the football field — the other 52 players on a team be damned.
Interestingly, for those who preach quarterback record as a trustworthy stat, Cousins now has a better QB record than Drew Bledsoe, Daunte Culpepper, Boomer Esiason, Justin Herbert, Dan Fouts, Eli Manning, Warren Moon, Joe Namath, Cam Newton, Matthew Stafford, Fran Tarkenton, and Deshaun Watson. Yet, the minute this is mentioned, the QB Wins crowd retreats to a "well, QB record isn't everything" argument — which was true the whole time.
Still, Vegas pegs Cousins as a middle-of-the-road passer, and hence the Vikings will stare at an 8.5-win projection for most of the spring and summer.
Additions / Departures
The Vikings have lost Cameron Dantzler (CB, Commanders), Eric Kendricks (LB, Chargers), Patrick Peterson (CB, Steelers), Adam Thielen (WR, Panthers), Dalvin Tomlinson (DT, Browns), and Duke Shelley (CB, Raiders) during free agency's first two weeks.
Josh Oliver (TE, Ravens), Marcus Davenport (EDGE, Saints), Byron Murphy (CB, Cardinals), Dean Lowry (DT, Packers), Brandon Powell (WR, Rams), and Troy Reeder (LB, Chargers) joined the club.
That player overhaul batch isn't enough to plop Minnesota ahead of Detroit, probably because of the sticker shock involved with Thielen, Kendricks, Peterson, and Tomlinson leaving.
Overall, just like last year, the only item that will matter on Vegas' forecast is how the Vikings play out of the gate in September.
---
Dustin Baker is a political scientist who graduated from the University of Minnesota in 2007. Subscribe to his daily YouTube Channel, VikesNow. He hosts a podcast with Bryant McKinnie, which airs every Wednesday with Raun Sawh and Sal Spice. His Vikings obsession dates back to 1996. Listed guilty pleasures: Peanut Butter Ice Cream, 'The Sopranos,' and The Doors (the band).
All statistics provided by Pro Football Reference / Stathead; all contractual information provided by OverTheCap.com.