1 Particular Starter Plans to Re-Sign with Vikings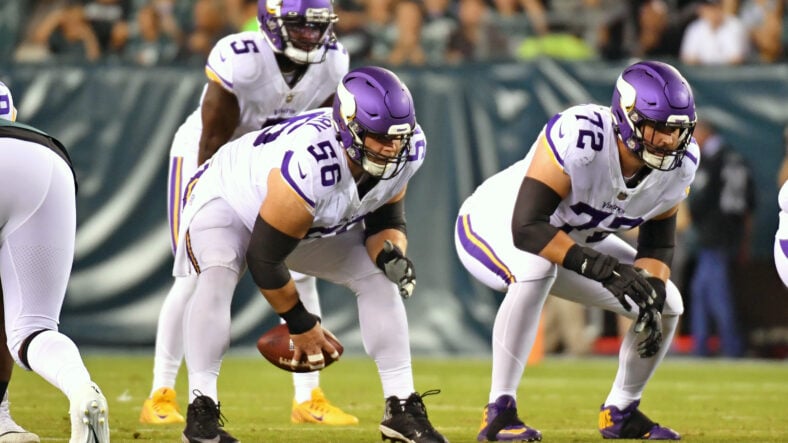 Sep 19, 2022; Philadelphia, Pennsylvania, USA; Minnesota Vikings center Garrett Bradbury (56) snaps the football along side of guard Ezra Cleveland (72) against the Philadelphia Eagles at Lincoln Financial Field. Mandatory Credit: Eric Hartline-USA TODAY Sports
The New York Giants ended the Minnesota Vikings fancy 13-4 season on Sunday, advancing to the Divisional Round of the postseason with a 31-24 win at U.S. Bank Stadium.
The Vikings loss kickstarted the team's offseason about a week or two sooner than most fans expected. In the next two months, general manager Kwesi Adofo-Mensah will contemplate the futures of several Vikings veterans, on-board free agents, and formulate a draft plan.
1 Particular Starter Plans to Re-Sign with Vikings
One area that curiously won't need much attention is the offensive line. Generally, at this time on the calendar, Vikings enthusiasts take out a notepad and decide how the team should remedy oft-struggling offensive trenches. But in 2022, Minnesota's pass protection stabilized — for the first time in about a decade — and the offensive line isn't a grim concern entering the offseason (if that can be believed).
Minnesota employs two terrific tackles, Brian O'Neill and Christian Darrisaw. Left guard Ezra Cleveland is solid. And rookie Ed Ingram will likely morph into a steady starter after an up-and-down 2022 rookie campaign.
But what about center? Well, that solution may already be built-in. The Pioneer Press' Chris Tomasson tweeted Monday, "Vikings center Garrett Bradbury reiterates he wants to re-sign with the team when he becomes a free agent in March."
Bradbury, 27, experienced a career metamorphosis in 2022, totally revamping himself with the tutelage of a new, offense-first coaching staff led by Kevin O'Connell. When the dust settled on the 2022 regular season, Bradbury fired up a 67.5 Pro Football Focus grade, the 11th-best in the NFL. He markedly improved, and fans noticed.
Because Bradbury wasn't trending in the right direction from 2019 to 2021, the franchise declined his fifth-year rookie contract option last offseason, a move that wasn't too silly because the pricetag was around $13 million. Teams rarely draft centers in the 1st Round, but former Vikings general manager Rick Spielman did precisely that four years ago, meaning Bradbury's mammoth fifth-year option was likely to be declined no matter how well he played.
Yet, Bradbury indeed performed better in 2022, paving the way for a return to Minnesota on a second contract. The man "wants to be here," a fabulous opening salvo for contract talks.
If Minnesota is interested in a Bradbury reunion, the North Carolina State alumnus will probably snuggle into $7-$11 million per season territory, a reasonable figure with the NFL salary cap expanding. Otherwise, Adofo-Mensah could draft a rookie center in the middle of the 2023 NFL Draft and "start over."
But the talker here is that Bradbury wants to be back. A year ago, fans would've laughed and said aloud, "Of course you do." Now, however, the idea of Bradbury's fifth year with the Vikings doesn't seem too foolish.
---
Dustin Baker is a political scientist who graduated from the University of Minnesota in 2007. Subscribe to his daily YouTube Channel, VikesNow. He hosts a podcast with Bryant McKinnie, which airs every Wednesday with Raun Sawh and Sal Spice. His Vikings obsession dates back to 1996. Listed guilty pleasures: Peanut Butter Ice Cream, 'The Sopranos,' and The Doors (the band).