Danielle Hunter Has Warning Signs. The Vikings Need to Read Them.
Nov 13, 2022; Orchard Park, New York, USA; Minnesota Vikings linebacker Danielle Hunter (99) warms up before a game against the Buffalo Bills at Highmark Stadium. Mandatory Credit: Mark Konezny-USA TODAY Sports.
Just twelve months ago, the Minnesota Vikings were boasting their shiny new edge rusher tandem of Danielle Hunter and Za'Darius Smith. They even adopted the famed Purple People Eaters' mantra, "Meet at the Quarterback," alluding to the expectations that they held for themselves.
Danielle Hunter Has Warning Signs. The Vikings Need to Read Them.
Fast forward to 2023 Training Camp, the Vikings "edge department" has lost one of its two lead actors, while the second is holding out for a contract extension. As this and many other media outlets have posited, the move makes sense for a player who has shown flashes of utter dominance and believes he is worth far more than the puny $5.5 million he is owed for 2023.
Although asking price and offer specifics have not been made public, general speculation has Hunter worth somewhere in the $20-million-a-year range, which would land him inside the 10 highest annual salaries for edge rushers.
Without Hunter around, the Vikings begin Training Camp with an unproven edge department, with players like Patrick Jones II and newcomer Marcus Davenport looking to make a name for themselves with Smith and potentially Hunter out of the mix in 2023. Even with uncertainty surrounding their ability to rush the passer, the Vikings' brass likely sees multiple reasons to avoid signing Hunter to a long-term extension, if to one at all.
The Cap
Salary cap space is always an issue. While the $19 million in space for 2023 can assuredly be worked with, looming contract extensions for T.J. Hockenson and Justin Jefferson squeeze future purchasing power without even accounting for what a potential Kirk Cousins reunion in 2024 would do to the books.
If the 2022 offseason revealed anything, Kwesi Adofo-Mensah would take opportunities to save cap space by cutting aging one-time star players on the back nine of their careers. Adam Thielen, Eric Kendricks, Patrick Peterson, and Dalvin Cook: all fan-favorites, all former Pro Bowlers. But in Adofo-Mensah's mind, all were no longer valuable at their current pay slot.
The same value proposition is in front of the Vikings' front office as they ascertain whether to pay a long-term premium for Danielle Hunter, a once-rising star whose best days are likely behind him.
The Concerns
Since coming into the league in 2015, Hunter ranks eighth among all players in sacks and 12th in tackles for loss. In 2018 and 2019, he was at the peak of his powers, stacking back-to-back 14.5-sack seasons, compiling 36 total tackles for loss, earning two Pro Bowl trips, and finishing fifth in Defensive Player of the Year voting in 2019.
Danielle did have somewhat of a bounceback year in 2022, although one would have liked to see him wreck more havoc with Za'Darius Smith getting a bulk of offenses' protections. Among all edge rushers, Hunter ranked 8th in both sacks and Approximate Value (a measure from Pro Football Reference that attempts "to put a single number on the seasonal value of a player") and was the 7th-highest-graded edge rusher from PFF.
However, in a league wrought with injury risk and quick career declines, contracts are not solely based on what a player has done but rather what he will do. For a once-rising star who missed all of 2020 and half of 2021 with different injuries, what he will do in his age-29 season and beyond is not guaranteed.
Of the current top 10 annual salaries for edge rushers, eight of the deals were inked while the player was 27 or younger; eight of the 10 were also four years or longer. Based on these facts, it's reasonable to believe that a franchise as value-driven as the Vikings will balk at handing a long-term, expensive deal to the nearly 29-year-old Hunter.
The Commitment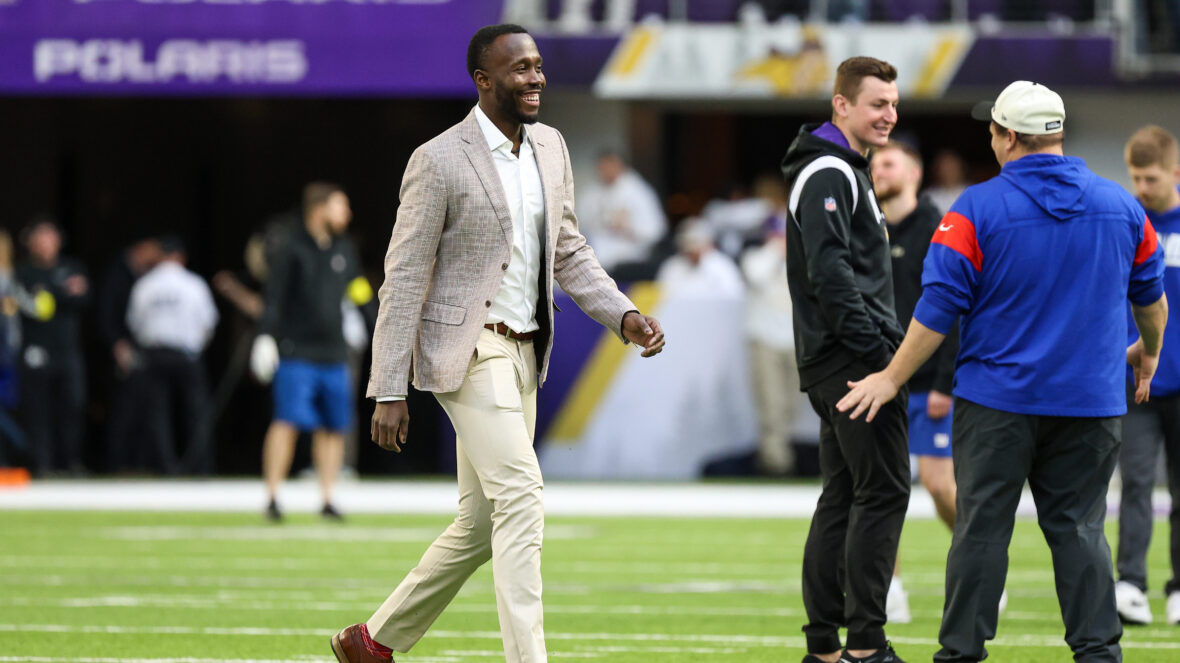 For a team starving for proven performance from their pass rush, Minnesota would do well to keep Hunter around – at least in the short term. With the risks of recurring injury and age hovering over Hunter, the franchise appears skittish to long-term guaranteed money, according to KSTP's Darren Wolfson.
If an agreement can't be reached that meets somewhere in the middle, Minnesota may be better off trading Hunter, even if it amounts to a Za'Darius-like pennies-on-the-dollar trade.
With Training Camp kicking off for rookies on Sunday and veterans on Tuesday, a resolution to the Danielle Hunter drama could well be revealed within days. And there is a real possibility that Meet at the Quarterback 2.0 will have evaporated like a distant memory.
---
Notes: Contract and salary details were sourced from Spotrac. Statistics were sourced from Pro Football Reference / Stathead.
Will is a husband, father, and earned an undergraduate degree in Economics (just like Kwesi Adofo-Mensah). Will's favorite pastimes are water skiing, Minnesota sports, and Cinnamon Toast Crunch. He is the co-host of the Load the Box Vikings Podcast with Jordan Hawthorn. Follow him on Twitter (@willbadlose) and find his other sports content at Twins Daily and his very own Bad Loser Blog.