Vikings Sound as Noncommittal as Ever about Kirk Cousins
Image Courtesy of @diannaESPN on Twitter. Minnesota Vikings head coach Kevin O'Connell talking to reporters about the 2023 offseason and quarterback Kirk Cousins whose contract runs out after 2023.
The NFL hosted its 'Annual Meeting' this week in Phoenix, an event stuffed to the gills with head coaches and general managers.
And with the draft community ablaze picking quarterbacks in Round 1 for the Minnesota Vikings, plus the budding Lamar Jackson trade sweepstakes, Vikings head coach Kevin O'Connell, although complimentary, sounded as noncommittal as ever regarding quarterback Kirk Cousins' future with the club.
Vikings Sound as Noncommittal as Ever about Kirk Cousins
Speaking to reporters, O'Connell said about his 34-year-old signal-caller, "I'm excited for year two with him in this offseason. The goal is for 2023 to be one of the best seasons of his career, and when that happens, it's going to be a great thing."
To be clear, there is nothing whatsoever inflammatory about those sentences; they're commendatory, in fact, and show genuine excitement from O'Connell about his second year in the saddle.
But the statement is a dance.
O'Connell's musings don't signal an incoming trade for the aforementioned Jackson or imply Cousins is explicitly on his way out. Yet, last year at this time, most Vikings leaders' statements involved something to the effect of, "Kirk's our guy," and these O'Connell statements are not that.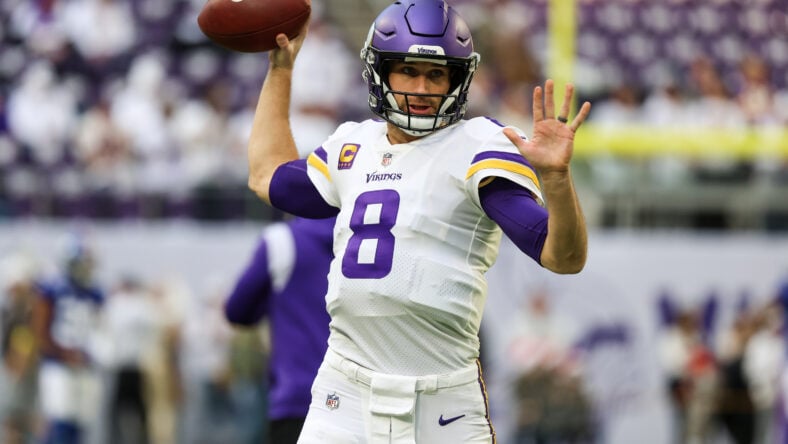 Cousins could throw 40+ touchdowns and 5,000+ yards in 2023, equipped with almost total offensive continuity for the first time in his career as a starter. And if that's the case, Minnesota can re-sign Cousins for a handsome fee in 11 months. For now, though, he'll play on the final year of his contract, a rarity for a man of his production level, especially at quarterback. General managers usually lock up "their guy" before the final contract year.
Two weeks ago, Vikings co-owner Mark Wilf joined host Kyle Brandt, an ardent Cousins fan, on Good Morning Football. Brandt explained his ardor for Cousins and asked Wilf about Cousins' future with the club. Wilf replied, "Kirk's an outstanding quarterback. He's done a great job for us. This past season with Kevin O'Connell, he took our offense to the next level. So, we're looking for great things in 2023. Kirk's going to be the leader on our offense."
The comments from O'Connell and Wilf are basically the Spider-man meme, enthusiastic about 2023 and following up on a 13-4 season.
But then that's it.
There's no money behind a 2024 season with the Vikings and Cousins — aside from the $28.5 million dead cap hit that will hit Minnesota's books if Cousins leaves at this time next year. They're on the hook for that, no matter what.
Both statements from O'Connell and Wilf seem to hint at the exploration of the quarterback after Cousins, likely a rookie from the 2023 or 2024 NFL Draft. If the team wasn't flirting with the idea of a "quarterback on a rookie contract," it would've just re-signed Cousins, like it generally does early in the offseason.
Cousins will turn 35 this summer, which is the brand new element of fans' undying "Cousins debate." Before this offseason, performing at a prime level was a reasonable expectation, as players don't hit walls or decline between ages 30 and 34. Per history, though, 35 and up is a different story.
And that's likely why the Vikings brass, through their words and actions, has all options on the table at quarterback.
---
Dustin Baker is a political scientist who graduated from the University of Minnesota in 2007. Subscribe to his daily YouTube Channel, VikesNow. He hosts a podcast with Bryant McKinnie, which airs every Wednesday with Raun Sawh and Sal Spice. His Vikings obsession dates back to 1996. Listed guilty pleasures: Peanut Butter Ice Cream, 'The Sopranos,' and The Doors (the band).
All statistics provided by Pro Football Reference / Stathead; all contractual information provided by OverTheCap.com.