Vikings May Be Buyers — Not Sellers — at Trade Deadline
Nov 24, 2022; Minneapolis, Minnesota, USA; Minnesota Vikings general manager Kwesi Adofo-Mensah looks on before the game against the New England Patriots at U.S. Bank Stadium. Mandatory Credit: Matt Krohn-USA TODAY Sports.
Two and a half weeks ago, the Minnesota Vikings dwelled in the NFC North's cellar with a 1-4 record while folks speculated that the team could hold a fire sale at the end of October.
The NFL's trade deadline is October 31st, so teams have six days to decide if they're buyers, sellers, or idle.
Vikings May Be Buyers — Not Sellers — at Trade Deadline
And it may sound farcical because Vikings fans just spent the last three weeks discussing Kirk Cousins and Danielle Hunter rumors, but the club is more likely to morph into a buyer of assets rather than selling its keynote players.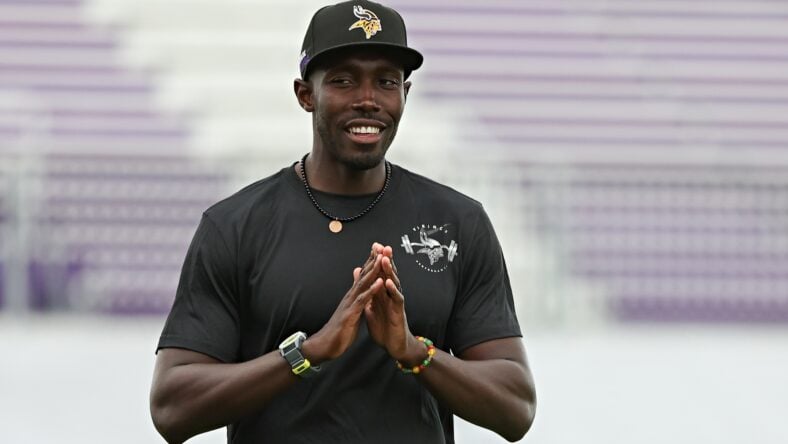 Why? Well, the Vikings are right in the thick of the NFC's playoff race after defeating the San Francisco 49ers, currently inhabiting the eighth seed and just two games back of another NFC North crown behind the suddenly sputtering Detroit Lions.
Here's the math:
Here's why general manager Kwesi Adofo-Mensah could bring in players instead of shipping them out.
One Primary Need
Marcus Davenport is on injured reserve for at least three more games, and he's the primary pass-rushing component next to Danielle Hunter on the Vikings depth chart. His absence also seems like it could last longer than the IR-scheduled four games.
D.J. Wonnum has performed admirably, but another purple outside linebacker was stolen by the Carolina Panthers on Tuesday — Luiji Vilain.
Minnesota, at the moment, employs Hunter, Wonnum, Patrick Jones, an injured Davenport, Andre Carter, and practice squader Benton Whitey. If Adofo-Mensah believes his team can effectuate this season turnaround — that already feels like it's in progress — more EDGE bodies are needed.
One might argue that some sort of pass rusher is the Vikings only need. Somehow, the roster is in pretty commendable shape, even with a 3-4 record. So — who could the Vikings acquire? These are some defenders in the league's rumor mill and the trade deadline around the bend:
Jonathan Allen (Commanders, DT)
Brian Burns (Panthers)
Carl Lawson (Jets)
Yannick Ngkaoue (Bears)
Montez Sweat (Commanders)
Josh Uche (Patriots)
Leonard Williams (Giants, DT)
Chase Young (Commaners)
The Benefit of T.J. Hockenson Last Year
Last year at the trade deadline, the Vikings shipped a 2nd-Round draft pick and a 3rd-Rounder to the Detroit Lions for T.J. Hockenson and a pair of 4th-Rounders.
The deal turned out absolutely marvelous for the Vikings, transforming the offense within a matter of days and keeping this season afloat with Hockenson's availability in the middle of the field after Justin Jefferson's injury.
Adofo-Mensah finagled a splashy trade in his first year on the job — at the deadline — and it worked beyond the shadow of a doubt. Hockenson brought new, enhanced juice to Minnesota's offense, and Adofo-Mensah may have something in mind for the defense this time, particularly with Davenport's injury pedigree.
Perhaps he could dangle a Hockensonian deal to the Commanders for Chase Young or one of its pass rushers.
Cousins + Hunter Trades Never Made Sense in the First Place
Listen — the men in the Vikings trade rumor mill really never made sense to begin with. Kirk Cousins has a no-trade clause and emphatically doesn't seem like the type of cat who'd want to learn a new offense in five days before getting shoved onto the field. And that was before Cousins even personally said he didn't have the time or energy to consider a trade.
Moreover, Hunter as a trade candidate was a bit looney because — the Vikings would have no starting pass rushers after Davenport's injury. Adofo-Mensah called the fan-loved process of "tanking" an NFL season unconscionable at the NFL Combine eight months ago.
Adofo-Mensah was never going to tank, Cousins has a no-trade clause, and Hunter told the media in the summer he wants to be a Viking for life.
The Vikings usual suspects, per the NFL rumor mill, probably weren't getting traded when Minnesota had a 1-4 record and really aren't getting jettisoned after the purple team toppled the 49ers.
Unless Adofo-Mensah stays idle on Halloween, the Vikings are more likely to buy a player or two in the next six days.
---
Dustin Baker is a political scientist who graduated from the University of Minnesota in 2007. Subscribe to his daily YouTube Channel, VikesNow. He hosts a podcast with Bryant McKinnie, which airs every Wednesday with Raun Sawh and Sal Spice. His Vikings obsession dates back to 1996. Listed guilty pleasures: Peanut Butter Ice Cream, 'The Sopranos,' Basset Hounds, and The Doors (the band).
All statistics provided by Pro Football Reference / Stathead; all contractual information provided by OverTheCap.com.