ESPN's Two-Fold Prediction on Kirk Cousins' Future Nails It
Aug 3, 2023; Eagan, MN, USA; Minnesota Vikings quarterback Kirk Cousins (8) practices during training camp at TCO Stadium. Mandatory Credit: Brad Rempel-USA TODAY Sports.
This week, Minnesota Vikings owner Mark Wilf said about Kirk Cousins' future with the franchise, "We'll leave that to Kwesi and Coach to work through those discussions. There's always conversations on that. But our real focus is 100% on 2023 and getting where we need to be and where I know we can be."
ESPN's Two-Fold Prediction on Kirk Cousins' Future Nails It
Vikings general manager Kwesi Adofo-Mensah chose not to extend Cousins beyond 2023 this offseason, tentatively scheduling the 34-year-old for free agency next March.
Wilf's statement aligns precisely with all Vikings leaders' musings throughout the last six months, including Cousins. Regarding his next steps in Minnesota beyond the upcoming season, everyone has explained Cousins is in a contract year, and then it's "we'll see" next February and March.
Meanwhile, ESPN's Dan Graziano sized up shaky quarterback situations around the NFL, pertaining to 2023 and further, and Cousins made the cut because of his mysterious future in purple. He outlined 19 quarterbacks — yes, that many — around the sport who could head elsewhere as early as next year.
And when he reached the Cousins section of the analysis, Graziano nailed it.
Graziano defined the 'most likely outcome' for Cousins in 2023 and next offseason, "The Vikings don't win 13 games again, but they contend for and maybe even secure a wild-card spot. That puts them too far down the draft order to grab one of the top QB prospects, and when they look around, they decide that keeping Cousins is the best option, so they re-sign him in free agency."
Cousins' Vikings likely need a playoff win — and perhaps two — to convince the team's brass that he's the solution in 2024 and 2025. To date, Cousins has helped create just one postseason triumph in five tries from 2018 to 2022.
Graziano also outlined what he called the 'longshot outcome' for Minnesota and Cousins, "The bill for last season's 11 one-score wins comes due, and the Vikings bottom out, finishing last in the NFC North. It triggers a full-on rebuild behind a high draft pick at QB — and Cousins signs with the 49ers next March."
The 'full-on rebuild' aspect is unlikely to materialize; Adofo-Mensah has already detailed — repeatedly — his preference for a 'competitive rebuild,' where the roster is transformed on the fly. Folks may call it a full rebuild if Cousins departs, but the depth-chart reformation started one year ago when Adofo-Mensah took the job. That's why men like Anthony Barr, Michael Pierce, Dalvin Cook, Adam Thielen, Eric Kendricks, and Dalvin Tomlinson, among others, play elsewhere.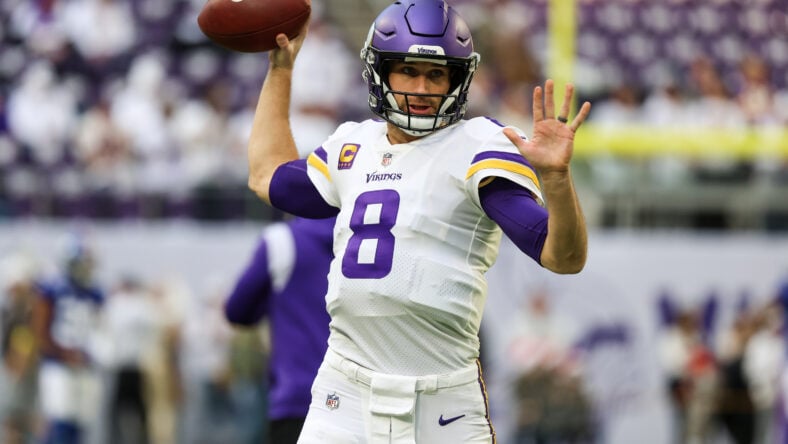 On the whole, Graziano accurately described the stakes. If Cousins and the Vikings make noise — in a good way — this season, culminating in one or two playoff wins, he'll probably be back for a seventh season. But if the club loses prematurely in the postseason, like last year, Cousins is likely on track for free-agent visits with teams like the San Francisco 49ers or New England Patriots in seven months.
---
Dustin Baker is a political scientist who graduated from the University of Minnesota in 2007. Subscribe to his daily YouTube Channel, VikesNow. He hosts a podcast with Bryant McKinnie, which airs every Wednesday with Raun Sawh and Sal Spice. His Vikings obsession dates back to 1996. Listed guilty pleasures: Peanut Butter Ice Cream, 'The Sopranos,' Basset Hounds, and The Doors (the band).
All statistics provided by Pro Football Reference / Stathead; all contractual information provided by OverTheCap.com.