The Weird Aspect of the Kirk Cousins Rumor Mill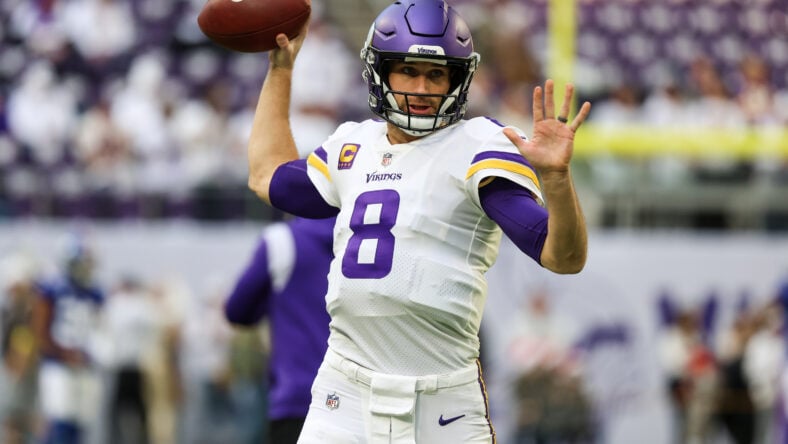 Dec 24, 2022; Minneapolis, Minnesota, USA; Minnesota Vikings quarterback Kirk Cousins (8) warms up before the game against the New York Giants at U.S. Bank Stadium. Mandatory Credit: Matt Krohn-USA TODAY Sports.
The Minnesota Vikings possess a 1-4 record and have dates with the Chicago Bears, San Francisco 49ers, and Green Bay Packers afoot — plus Justin Jefferson is out for at least a month.
And that means Kirk Cousins could be traded, according to the masses, if the next few games result in losses.
The Weird Aspect of the Kirk Cousins Rumor Mill
Vikings general manager Kwesi Adofo-Mensah must decide in the next 19 days to forge ahead with glowing hopes of a midseason turnaround from his club or hold a fire sale, offloading veteran players for future draft assets.
Those are the stakes.
Above any possible trade candidates on the Vikings roster, a decision looms on Cousins because, in theory, he could be traded to another team and guide that club to the postseason. That's the working theory, anyway.
Yet, here's the weird aspect of the nonstop Cousins trade rumor mill — what Super Bowl-contending or playoff-bound team really needs him?
Think about it.
Teams with Super Bowl aspirations aren't chomping at the bit for a good quarterback five or six weeks into an NFL season. They already have a great, good, or decent QB1 and, hence, own Super Bowl dreams. Most good football teams, barring sudden injury, aren't a quarterback away from the Lombardi trophy in the middle of the season.
Meanwhile, there are about five pseudo-realistic teams that twist in the Cousins trade rumor mill:
Atlanta Falcons
New England Patriots
New York Jets
Pittsburgh Steelers
Tennessee Titans
So, let's begin to understand why any of them would want Cousins, who would actually be quite affordable for the rest of 2023 per his contract structure.
Atlanta probably makes the most sense of the fivesome. But the Falcons haven't even given Taylor Heinicke, a former Viking, a look at QB1. Too, do the Falcons really believe Cousins would help them unlock a Super Bowl in 2023? Do you think the Cousins-led Falcons would defeat the San Francisco 49ers in the postseason? Bizarre thinking.
The Falcons only add up if reaching the playoffs is the goal. Perhaps that's "enough" for Atlanta to swing a Cousins trade.
The Patriots are a hop, skip, and jump from total 2023 futility and are a notoriously stubborn organization. Would New England, with a 1-5 or 1-6 record, believe Cousins could save the season, cause them to win about seven games in a row, and then go win the chip?
The Jets already sunk oodles of draft capital via trade into the Aaron Rodgers experiment. It didn't fare well. Are they in a hurry to trade more draft assets for Cousins, with Rodgers claiming he'll return as early as a couple of months from now? Oh, and New York has a 2-3 record — not exactly keeping pace in the AFC.
A deal with the Steelers would put a stake through the heart of Kenny Pickett's long-term development. Adding Cousins would signal Pittsburgh was "done" with Pickett, which seems wickedly premature for a quarterback who has started just 17 games.
And the Titans? That one is really zany. Tennesee employs Ryan Tannehill, Malik Willis, and Will Levis. Willis and Levis haven't even set foot on the field as starters in 2023. General managers would likely want to audition "their guys" at the position before trading for Cousins,
Teams with February dreams already have the QB position solidified. If Vikings fans want Cousins traded before the NFL's October 31st deadline, an injury to Brock Purdy or a different QB1 — like this week or next — may be the only way to fetch meaningful draft capital for Cousins.
Otherwise, folks will merely hope some average team acquires Cousins to chase a wildcard berth or, in Altanta's case, an NFC South title.
---
Dustin Baker is a political scientist who graduated from the University of Minnesota in 2007. Subscribe to his daily YouTube Channel, VikesNow. He hosts a podcast with Bryant McKinnie, which airs every Wednesday with Raun Sawh and Sal Spice. His Vikings obsession dates back to 1996. Listed guilty pleasures: Peanut Butter Ice Cream, 'The Sopranos,' Basset Hounds, and The Doors (the band).
All statistics provided by Pro Football Reference / Stathead; all contractual information provided by OverTheCap.com.