Vikings Should Sign Veteran CB — but Not for the Reason You'd Think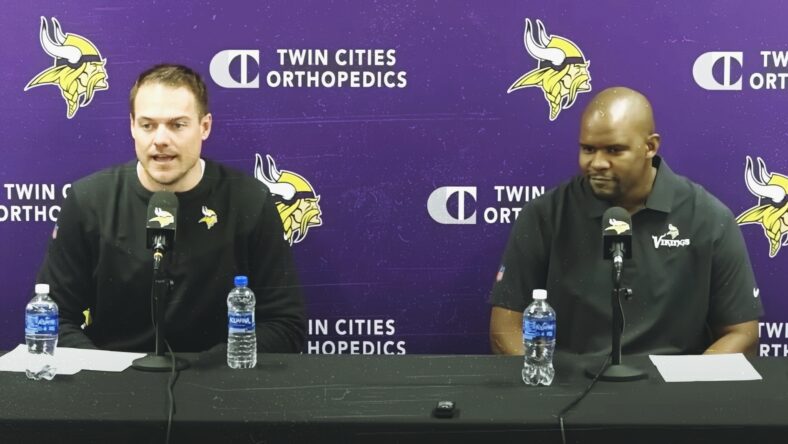 Minnesota Vikings Head Coach Kevin O'Connell introduced new Defensive Coordinator Brian Flores from the TCO Performance Center on February 15th, 2023. Flores coached for the New England Patriots, Miami Dolphins, and Pittsburgh Steelers before joining the Vikings in 2023.
Heading into the 2023 offseason, the Minnesota Vikings possessed a roster need at cornerback, especially if free agents Patrick Peterson, Duke Shelley, and Chandon Sullivan walked.
Guess what? Peterson, Shelley, and Sullivan walked to new teams, while Minnesota also waived Cameron Dantzler and chose not to re-sign Kris Boyd.
Vikings Should Sign Veteran CB — but Not for the Reason You'd Think
Yet, through the addition of free-agent Byron Murphy from the Arizona Cardinals, the 2023 NFL Draft, undrafted free agency, and pickups like Joejuan Williams (New England Patriots) and John Reid (Atlanta Falcons), the Vikings now have a crowded CB room — which isn't a bad thing.
But here's the deal: Minnesota should add one more veteran cornerback, not because depth is needed but to hedge the bet against injury. Many moons ago, former Vikings head coach Mike Zimmer announced about cornerbacks, "They always get hurt." Truer words are rarely spoken.
As of mid-May, the Vikings have this CB depth chart on deck for mandatory minicamp on June 13th:
CB1: Byron Murphy
CB2: Andrew Booth
CB3: Akayleb Evans
CB4: Joejuan Williams
CB5: Mekhi Blackmon
CB6: Tay Gowan
CB7: John Reid
CB8: Kalon Barnes
CB9: C.J. Coldon
CB10: NaJee Thompson
CB11: Jaylin Williams
A lot of dudes — you get it. The plan seems to be that Murphy, Booth, and Evans will show up at training camp and in the preseason and thrive, an outcome Vikings fans will welcome and applaud. Because the Vikings trust the trio, so much that they added no big-name free-agent CBs outside of Murphy, one should almost expect Booth and Evans to 'take the next step.'
However, even if Booth and Evans transform into defensive majesty, their injury history cannot be minimized. It just can't. There's a pathway to development and starting assignments, but no one can predict injuries, and these two were already beset by oodles of injuries as rookies.
And that's why Adofo-Mensah should comb the free-agent wire for one more veteran corner — to prepare for a Booth or Evans setback. Evans battled concussions in 2022, not a fun injury. Booth had about three different things wrong with him since joining the club in the 2022 NFL Draft. Plus, unlike Evans, when Booth played in the preseason and regular season, he was awful.
All of this screams 'add one more vet CB.' Should the Vikings take the advice, these are the options, and yes, the allotment is down to nubbins:
Eli Apple
William Jackson
Marcus Peters
Bradley Roby
Of course, adding one cornerback would be a moot topic had the Vikings retained Dantzler, who was still on a rookie deal, but he played his way out of two separate Vikings coaching regimes in 2021 and 2022.
Therefore, without Dantzler, Minnesota should explore one more experienced cornerback, solely to plan for injuries. The Vikings have about $9.5 million in cap space at the moment.
---
Dustin Baker is a political scientist who graduated from the University of Minnesota in 2007. Subscribe to his daily YouTube Channel, VikesNow. He hosts a podcast with Bryant McKinnie, which airs every Wednesday with Raun Sawh and Sal Spice. His Vikings obsession dates back to 1996. Listed guilty pleasures: Peanut Butter Ice Cream, 'The Sopranos,' Basset Hounds, and The Doors (the band).
All statistics provided by Pro Football Reference / Stathead; all contractual information provided by OverTheCap.com.