Vikings Have a Choice — Rally or Rebuild
Aug 3, 2023; Eagan, MN, USA; Minnesota Vikings head coach Kevin O'Connell and team owner Ziggy Wilf talk at training camp at TCO Stadium. Mandatory Credit: Brad Rempel-USA TODAY Sports.
The Minnesota Vikings, with a 1-4 record, have a 9.6% chance to reach the postseason, according to Fantasy FTN's DVOA metric.
Per oddsmakers, those odds climb a bit higher to 18%.
Vikings Have a Choice — Rally or Rebuild
Some sportsbooks aren't even offering playoff odds for the Vikings this week, probably because Justin Jefferson is likely heading to injured reserve for at least four games. NFL Network's Tom Pelissero tweeted Tuesday morning, "The Vikings plan to place WR Justin Jefferson on injured reserve because of the hamstring injury he suffered in Sunday's loss to Kansas City, per sources. The exact timeline is TBD based on how he responds to treatment. But Jefferson is out at least four games."
And life without Jefferson tosses Minnesota in a precarious zone, forcing general manager Kwesi Adofo-Mensah to "pick a side" of his famous competitive rebuild mantra.
These are the stakes.
Rally the Thing
No Vikings player or coach is moping around the team's locker room, trying to decide if all is lost. That's not how competitors are wired. The club very vividly believes it will topple the Chicago Bears this Sunday, rallying around Jefferson's probable absence and beginning to cleanse the 1-4 start.
A Vikings offense sans Jefferson will force the purple team to run the ball more often, as Minnesota ranks dead last in the NFL at the moment per rushing playcall percentage. Compared to other teams, the Vikings are running the ball at a wimpy rate. And when a squad doesn't or can't run the pigskin, the time of possession lags, placing the defense on the field for more extended sessions.
Too, quarterback Kirk Cousins has ample experience leading an offense without a standout wide receiver. He's enjoyed life in Minnesota with Adam Thielens, Stefon Diggses, and Justin Jefferson Jeffersons, but with the Washington Commanders from 2012 to 2017, Cousins worked alongside a weapon stable akin to Jordan Addison, K.J. Osborn, T.J. Hockenson, Alexander Mattison, and Brandon Powell.
In fact, Cousins is an ideal candidate to lead the charge sans Jefferson, mainly because he's done it before. The man is experienced.
It would also be a rather "Vikings thing to do" to start winning games when the best player hits the shelf. When fans expect the Vikings to zig, they zag — and vice versa.
Rallying past Jefferson's IR trip would keep the season interesting, and because the club hasn't played a division game yet, keep focus on a fringe playoff berth, with optimistic hope that Jefferson will return in early November.
Rebuild the Thing
On the other hand, there's a figurative billboard with flashing lights around the perimeter yelling at the Vikings to embrace the tank. Few Vikings fans would truly be upset by a fire sale; it would be understandable if not encouraged.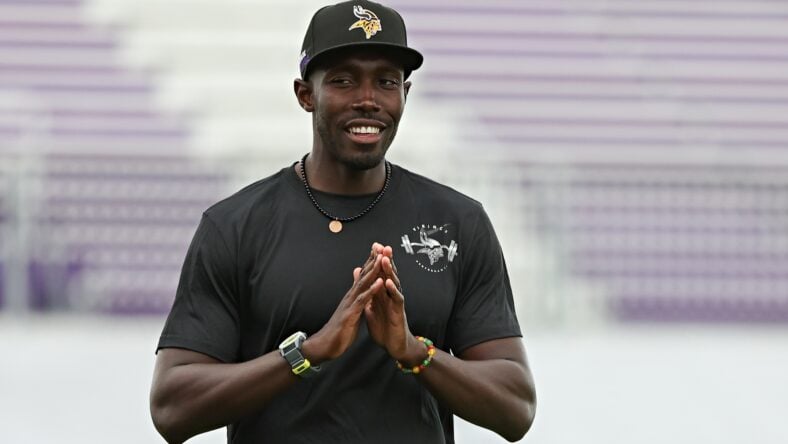 In theory, Adofo-Mensah could obtain some mixture of 1st- and 2nd-Round draft picks by trading Kirk Cousins and Danielle Hunter, labeling those assets as Save For Later and possibly flipping them in April to climb the draftboard for Caleb Williams or Drake Maye, assuming the Cousins era in Minnesota is done.
Truth be told, the Vikings 1-4 record, plus Jefferson's injury, suggests they may not even have to announce a tanking event. The team could just be that bad all on its own, especially if the fumbles continue weekly.
Still, trading Cousins and Hunter while leaving Jefferson to marinate on IR all but guarantees a horrid record — and a juicy draft pick in six months. Adofo-Mensah is unlikely to encounter another tailor-made season like this, where all the puzzle pieces are waiting to be snapped into place for an excusable rebuild. This is his get-out-of-jail-free moment.
The Vikings could also receive a prolonged glimpse at rookie quarterback Jaren Hall if Cousins left town. QB2 Nick Mullens is banged up with a back injury, and all eyes would turn to Hall if Cousins were traded and Mullens is hurt.
Adofo-Mensah has preached a competitive rebuild ad nauseam for 21 months. Now, the adjectives as standalone words are screaming at him to choose one or the other.
---
Dustin Baker is a political scientist who graduated from the University of Minnesota in 2007. Subscribe to his daily YouTube Channel, VikesNow. He hosts a podcast with Bryant McKinnie, which airs every Wednesday with Raun Sawh and Sal Spice. His Vikings obsession dates back to 1996. Listed guilty pleasures: Peanut Butter Ice Cream, 'The Sopranos,' Basset Hounds, and The Doors (the band).
All statistics provided by Pro Football Reference / Stathead; all contractual information provided by OverTheCap.com.